Paella is a marvelous dish. It is the king of dishes in Spain. There are so many types of paella, black, white, Valencian, seafood, etc. This recipe would be a "mixed" paella since it has both meat and seafood. It is also not necessarily traditional, since it as chorizo in it. As far as I can tell, Jamie Oliver (who is decidedly not Spanish) was one of the first to post a paella recipe with chorizo, and he took a lot of flack for it. The reality is that it's delicious so I don't care.
I started trying to make paella about a year ago, and initially found it to be quite tricky. I started out by trying different recipes that I found online. Each batch I made tasted sort of bland. It didn't have the richness and hit-your-gut power of the authentic paellas I had had before.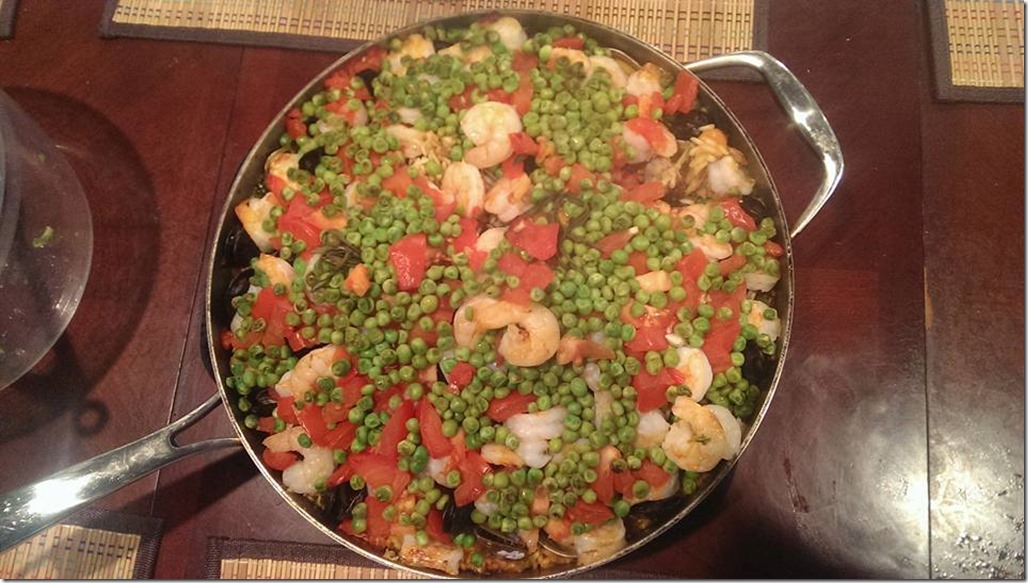 Here is a shot of my first paella, you can see the undercooked tomatoes
I learned a few things, first, you need a lot of heat when cooking paella. Cook it fast and hot. The other is that the heat needs to come from the bottom, recipes that use an oven don't seem to yield the right results. The biggest learning came as a sort of epiphany. I realized that paella is like any other Latin stew. From French cassoulet to the Argentine guisos that I am so fond of, paella is just a stew that has had it's liquid absorbed with a starch. Once I realized this, then I let go of following a recipe and just let my instincts run the show. I suggest doing the same. Think of this recipe as a guide, but improvise and adjust to your own style and preferences.
Some thoughts on setup: In the end I purchased a 22" paella pan. You don't have to use a paella pan, any large skillet will do, but I ended up being very happy with the one I chose (I bought this one). Here is a smaller one on Amazon that will work on a stovetop. I ended up purchasing a stand to cook directly over a fire too. This allows me more heat and a smoky flavor when I'm finished. It's also closer to the authentic preparation that makes paella great!
Any way you do it, have fun and invite someone over to share!
Mixed Paella with Chorizo (sized for 18-22" pan)
Cooking oil
2 lbs. – Boneless, skinless chicken thighs, cubed
1 lbs. – Spanish chorizo, loose
2 – Large onions, diced
1 head – Garlic, minced
1 – Large green or red pepper, diced
6-8 cups – Chicken broth (I use homemade broth, find something good!)
1 Tbsp. – Whole black peppercorns
1 Tbsp. – Tumeric
2 Ribs – Celery stalks, whole
4-5 strands – Saffron
1/4 cup – Butter
2 Tbsp. – Sweet paprika
1 Tbsp. – Oregano
3 – Bay leaves
1/2 cup – Tomato paste
1 cup – Fresh parsley, minced
2 cups – Bomba or Arborio rice
1 lb. – Shrimp
2 lbs. – Littleneck clams
1 lb. – Bay scallops (optional)
1 cup – Peas
1 – Lemon, cut into wedges
2 cups – Paprika alioli (recipe follows)
Prep all ingredients. Shell shrimp, reserve shells. Heat the broth. Add peppercorns, reserved shrimp shells, tumeric, bay leaves, celery, and saffron strands. Let stand for 10-15 minutes, strain and keep hot. Place the clams in a bowl of cold water. This will help the clams to expel any sand.
Heat your paella pan at maximum heat (if using fire, wait until the fire is good and hot), add a generous amount of oil (1/2 – 1 cup). Add chicken and chorizo and saute until just browned.
Add the onion, garlic, and pepper and saute until soft and the onions are clear. Add shrimp and saute lightly. Stir in the butter, tomato paste, oregano, paprika, and parsley. Once hot, push all ingredients to the side of the pan. Remove all ingredients from the pan, store in a dish and keep warm. Add an additional 1/4 cup of oil in the clear side of the pan and add the rice. Stir continually, toasting the rice. Stir the ingredients together, toast a bit more. Add half of the broth, stirring continually until the broth dissolves. Add the reserved meat mixture. Stir and taste for salt (add more as needed). Add the remaining broth, peas, and scallops; stir well. Once the broth is half dissolved, add the clams, slit side up.
Once the broth is gone and the clams are all opened (discard any that don't), remove from heat and let rest. Serve with lemon wedges and alioli.
Paprika Alioli
3 – Eggs, room temperature
1/2 Tbsp. – Smoked paprika
1 clove – Garlic
1 tsp. – Black pepper
1 Tbsp. – Salt
3 Tbsp. – Lemon juice
Light Oil (light vegetable, canola, safflower, etc.)
Add eggs, paprika, garlic, pepper to a blender, blend smooth. Leave the blender running on low. Cover all but one corner of the blender, then begin drizzling oil in. Continue to add oil until the mixture emulsifies (about 2-3 cups). Once the mixture is very thick, stir in lemon juice and salt. Taste and add more juice and salt to taste.
Keeps for several weeks in the refrigerator. I like adding it to a squeeze bottle for easy serving.