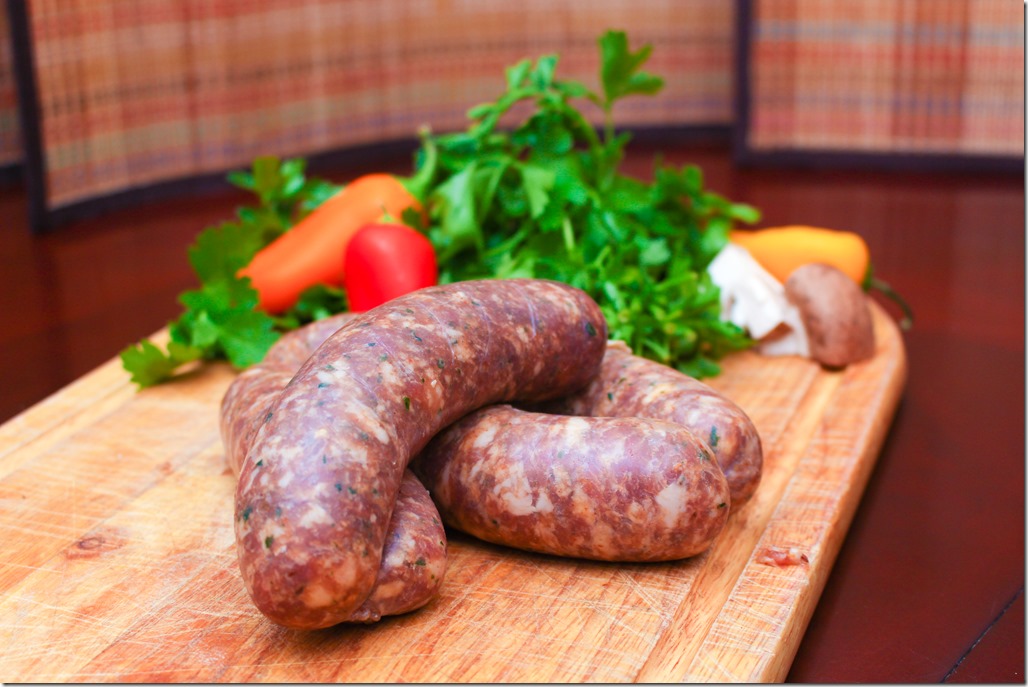 I recently had a request on the Moonlit Kitchen Facebook page for instructions on how to make homemade sausage. It just so happens that one of my earliest posts was on homemade sausage, but I didn't have any measurements on the ingredients. This recipe is an Italian sausage with a Spanish flair. It works as a light Spanish chorizo or a mild Italian sausage. I also include a basic recipe for sausage and peppers pasta. It makes for one good use of the sausage, though I found that I liked it better in Italian Wedding soup, where the taste of the sausage was more pronounced (this is a really good sausage, don't cover it up!). Note – To make sausage, you need a meat grinder and if you want to stuff them in casings, you will need the stuffer.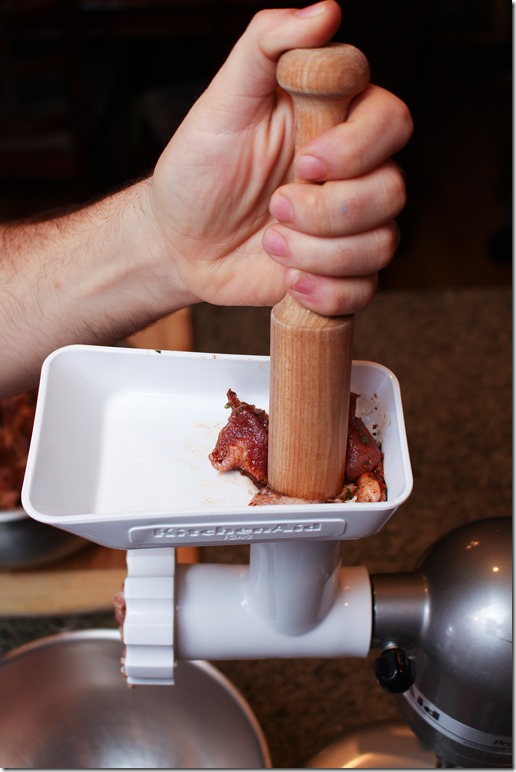 Spanish Chorizo
8lb – Boneless pork shoulder, chilled to near freezing
1lb – Pork fat (or 2lbs bacon), chilled to near freezing
1 Tbsp. – Cumin
1 Tbsp. – Paprika
1 Tbsp. – Black peppercorns
1/2 Tbsp. – Red pepper flakes
1/2 Tbsp. – Allspice
1 tsp. – Anise
1 tsp. – Caraway seeds
1/2 cup – Red wine (I used Burgundy)
1/4 cup – Kosher salt
1/4 cup – Sugar
1/2 cup – Flat leaf parsley, minced
1/8 tsp. – Pink Salt (Curing nitrites), optional
~5 Feet – Natural pork casings
Begin by dicing the pork shoulder and fat into 1 inch cubes. It's important the the pork be very cold (and kept that way throughout the process) because it makes it easier to cut and is crucial for getting a good grind later on.
Next add the spices to a mortar and pestle.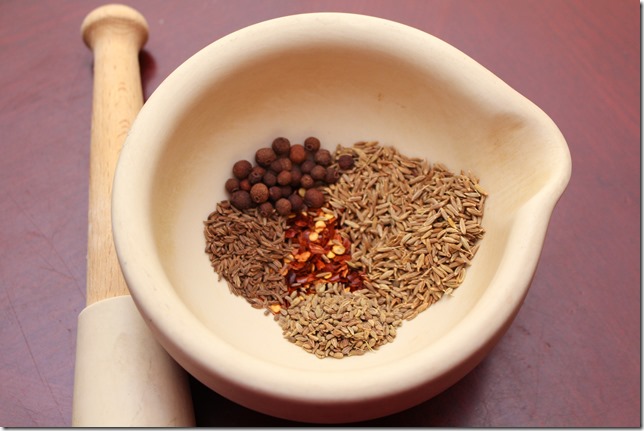 Grind until smooth. Add the pink salt, which is a nitrite salt that will allow the meat to cure. This is valuable if you plan on letting the sausage age for a better flavor.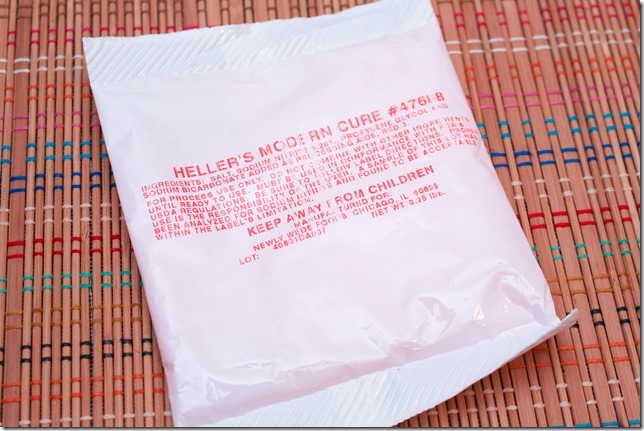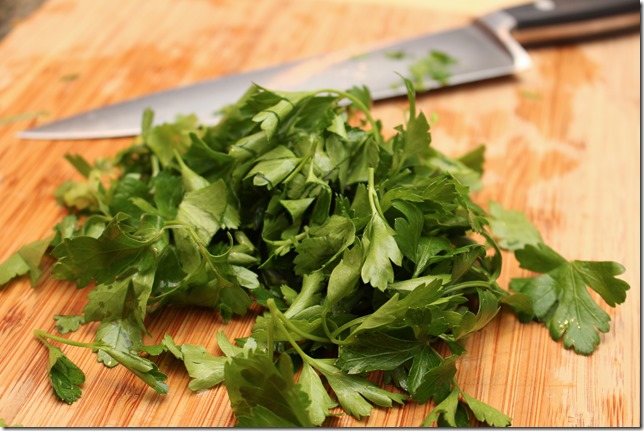 Add the salt, sugar, flat leaf parsley, spice mix, and wine to the meat and fat.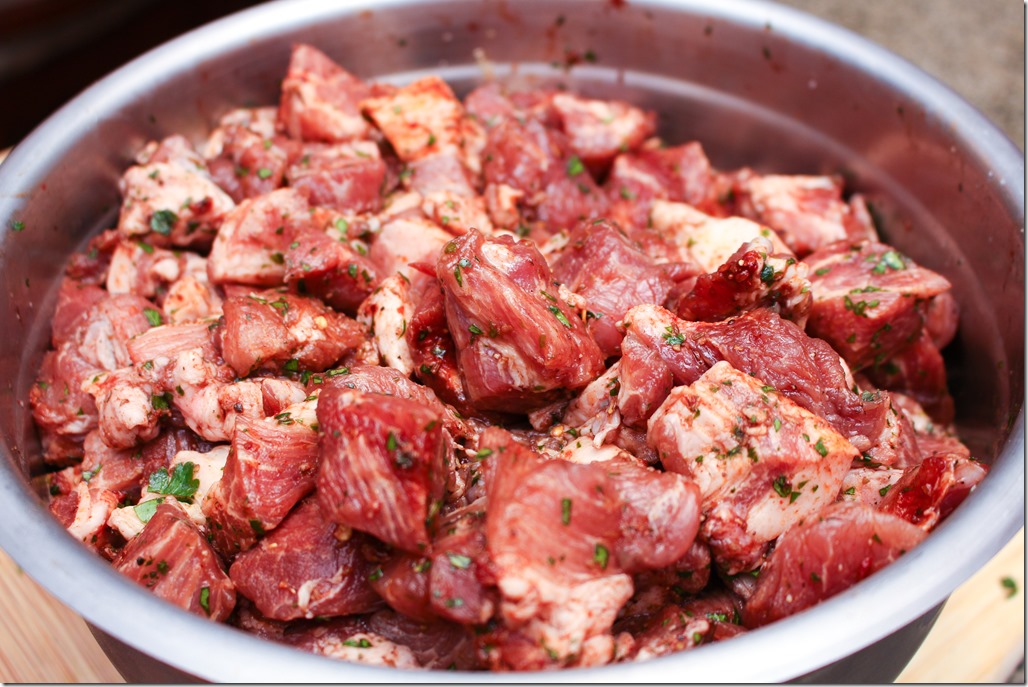 Mix thoroughly and return to the freezer until half frozen. Now for the fun part! Set the sausage grinder on a coarse grind and press about a 1/2 cup of meat through the grinder. Return the rest of the meat to the freezer. Heat a skillet and fry the sausage that you've made. I always do this to test for salt and sugar. If it needs more then add it a bit at a time, mix the unground sausage and repeat the process until you get it the way you like it.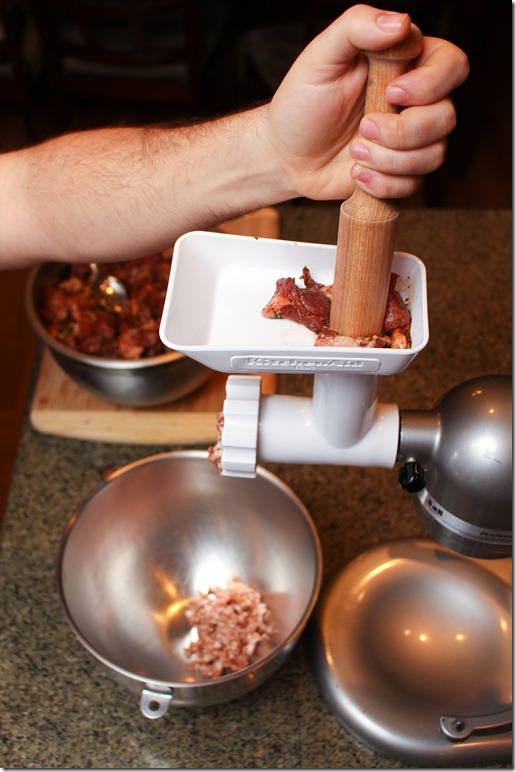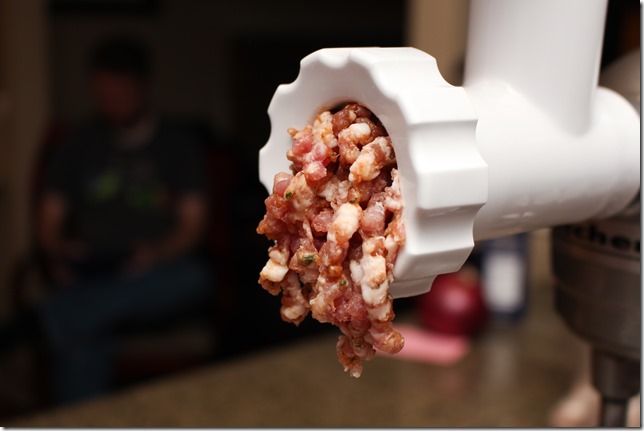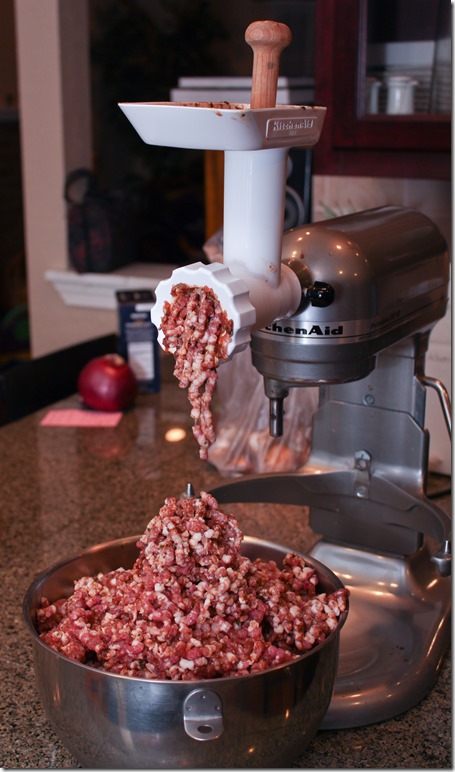 If you don't plan on casing the sausage, let it rest overnight and then enjoy. If you plan on casing it, soak the casings in warm water. I like to use natural casings (they are thinner and taste better) but you can use collagen casings as well. Remove the grind blade and fit the stuffer. Grease generously. Find the end of the casings and work it up over the end of the nozzle. Work all but 5-6 inches of casings onto the nozzle. Tie a knot in the end.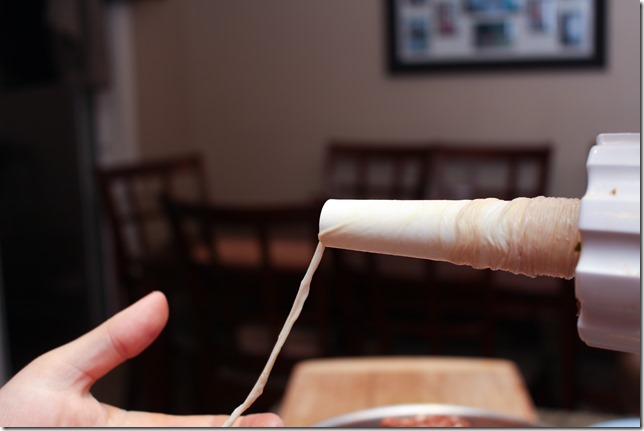 Start the grinder and slowly stuff the sausage. Using a fork or toothpick to puncture the sides of the sausage. This will help press air out of the casing. Make sure to force as much sausage into the casing as possible. Let rest overnight or cure in a curing fridge until it loses 40% of it's weight.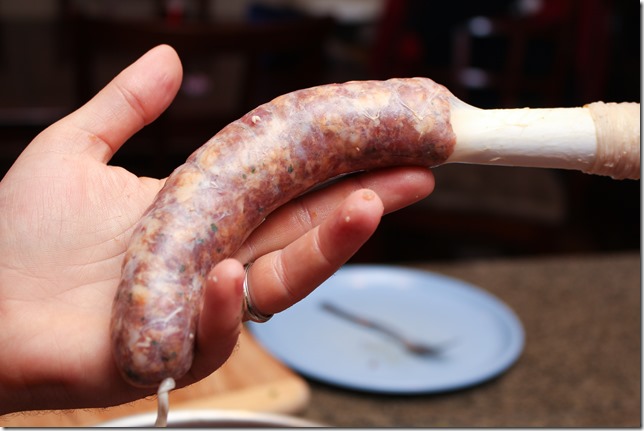 Sausage and Pepper Pasta
2 Tbsp. – Olive oil
1 – Large onion, diced
6 cloves – Fresh garlic, minced
1 cup – Red wine
28 oz – Stewed tomatoes
6 oz – Tomato paste
2 Tbsp. – Basil
1 Tbsp. – Oregano
1/2 Tbsp. – Marjoram
2 cups – Crimini mushrooms, halved
1 cup – Red and Yellow pepper, coarsely chopped
1 lb – Spanish Chorizo or Mild Italian sausage
4 cups – Fresh tagliatelle pasta (I use my homemade recipe here)
Salt, pepper, and fresh Pecorino cheese
This is a basic marinara sauce that has sausage, mushrooms, and peppers added at the end.
Preheat the oven at 425 degrees. Add a pan with the sausage and roast for 20 minutes or until well cooked. Let rest.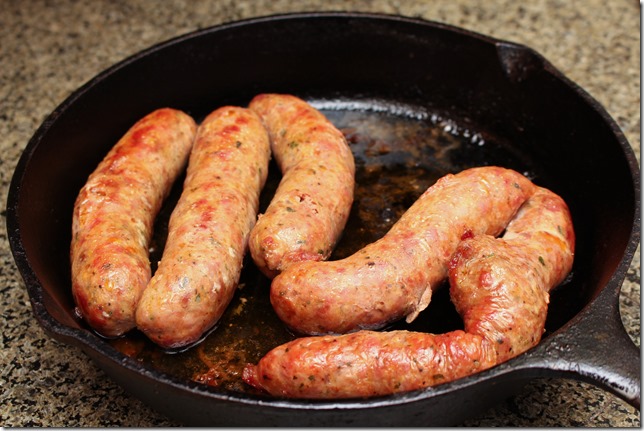 Heat a Dutch oven or large pot on medium heat. Add oil and sauté the onion and garlic until clear. Raise the heat to high and add the wine. Simmer until reduced by half. Lower heat medium-low and add the tomatoes and tomato paste. Cover and cook for ten minutes. Add the basil oregano, and marjoram. Stir in well, cover and cook an additional 10 minutes.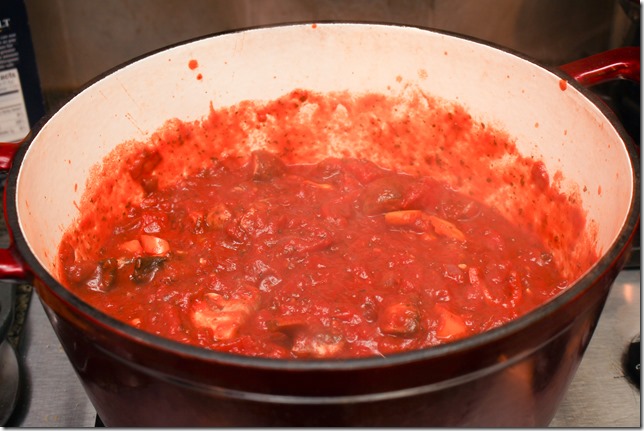 Add the mushrooms, peppers, and sliced sausage, stir well and cook for 5 additional minutes. Salt and pepper to taste.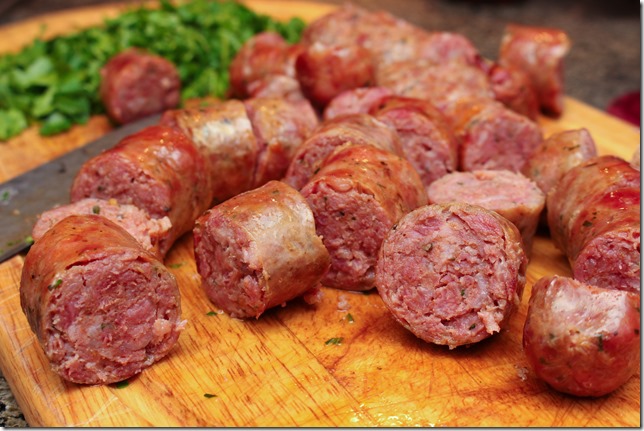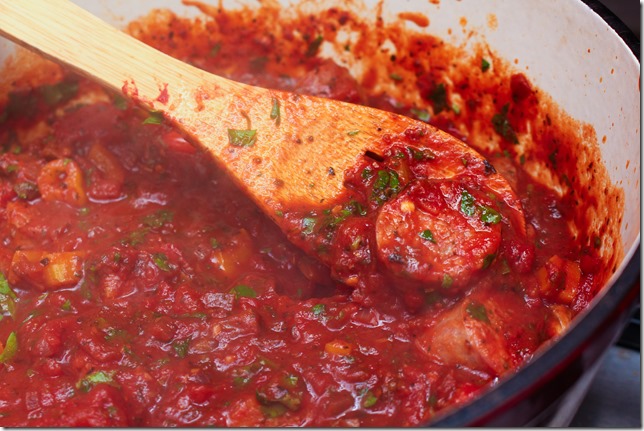 Cook the pasta until 'Al dente'. Serve sauce on top of pasta. Top with Pecorino cheese.