Ramps are a lovely spring veggie that is usually foraged rather than grown. You can usually find them in your local farmers market from April to June. These pickled ramps are great by themselves or served with rabbit, chicken, Asian noodles, or on a salad.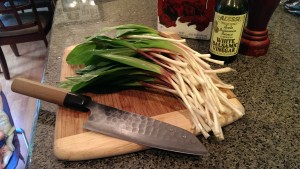 Pickled Ramps
1 Bunch – Fresh Ramps
2 cups – water, hot from the tap
1 cup – Rice wine vinegar (or white balsamic as pictured here)
3/4 cup – sugar
4 1/2 tsp – kosher salt
Mix all ingredients except ramps until sugar and salt dissolve. Clean ramps and lay in a wide dish so that they just fit in 1-2 layers. Pour pickling liquid over the top. Let sit 10 minutes, gently stir, then place in the refrigerator for 1-2 hours or until cool.