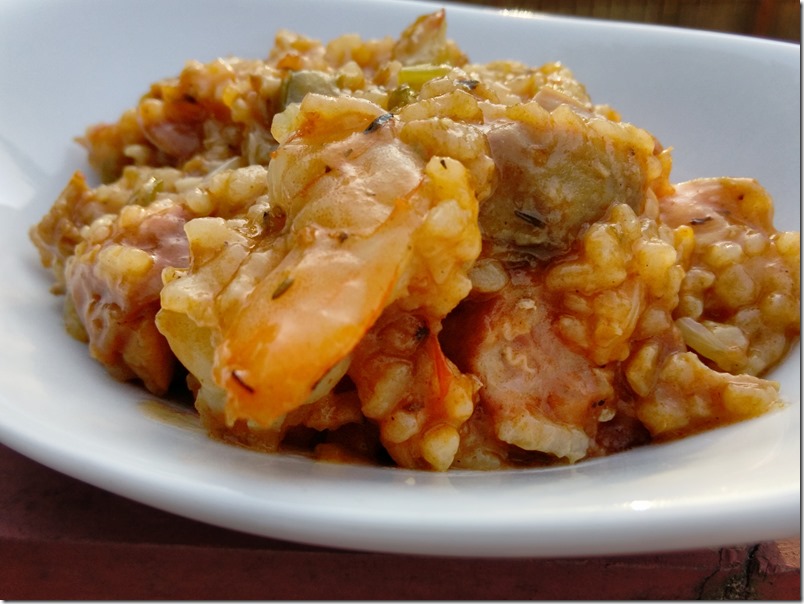 I love some good spicy Cajun food and jambalaya is probably at the top of my list. It's a simple dish that combines the spice and flare of New Orleans with the simple meal of the working class. It is the French Quarter's answer to Spain's amazing paella (oooh, I need to make that soon!). In place of saffron, jambalaya uses cayenne pepper, making for a hot, bright one plate meal that sticks to your ribs. I do one thing that is different here, which is to add potato to the mix. I haven't seen this done anywhere else but it adds a starchiness and body that traditional jambalaya just doesn't have.
It also makes for great leftovers. I like to scramble some eggs in the morning, and throw eggs, jambalaya, shredded cheese, and extra hot sauce, into a flour tortilla as a breakfast burrito.
Jambalaya
1 lb – Chicken thighs (on the bone, with skin)
12 oz – Andouille sausage, sliced at a bias, about 1/3 inch thick
1 large – Potato, diced course
1 – Onion, diced
1 – Green bell pepper, diced
3 stalks – Celery, diced
5 cloves – Garlic, minced
5 – Tomatoes, diced
2 Tbsp. – Tomato paste
1 Tbsp. – Oregano, minced
1 Tbsp. – Thyme, minced
1 Tbsp. – Paprika, minced
1/4 tsp. – Cayenne pepper (or more to taste)
1 Tbsp. – Vinegar
2 cup – Rice
4 cups – Chicken broth
1 lb – Shrimp, large and peeled
Salt, pepper, and oil (or rendered pork fat)
Begin by heating a large skillet on medium high, add oil/fat (1-2 Tbsp.). Salt the chicken thighs and add them to the skillet. Brown well on both sides. Remove and let cool. Pick the meat and skin clean from the bones and dice finely (especially the skin). Return to the skillet along with the sausage and brown thoroughly. Add to a large heavy pot. Add another 2 Tbsp of oil to the skillet. Add the potato, onion, bell pepper, celery, and garlic to the skillet. Stir often to loosen the bits of browned chicken bits from the pan. Sauté until the veggies are clear. Add to the pot with the chicken and sausage. Add the rice to the skillet and toast lightly. Add rice to the pot.
Heat the pot on low and add the tomatoes, paste, vinegar, spices, and chicken broth. Heat to a simmer. Cover but stir often to keep the rice from sticking to the bottom. As the rice gets closer to finished, taste for salt and heat. Once the rice is cooked through add the shrimp, stir well, and cut the heat. Cover. The residual heat will finish the shrimp.
Serve!