This classic French dish is prepared in simplicity and balance. Making the Béarnaise sauce from scratch is the key to this great meal. While this dish is commonly made with pommes frites, I opted for garlic mashed potatoes which, while starchy, is a bit less fatty. This is the sort of dish where each part brings balance to the dish, from the haricot verts to the popovers.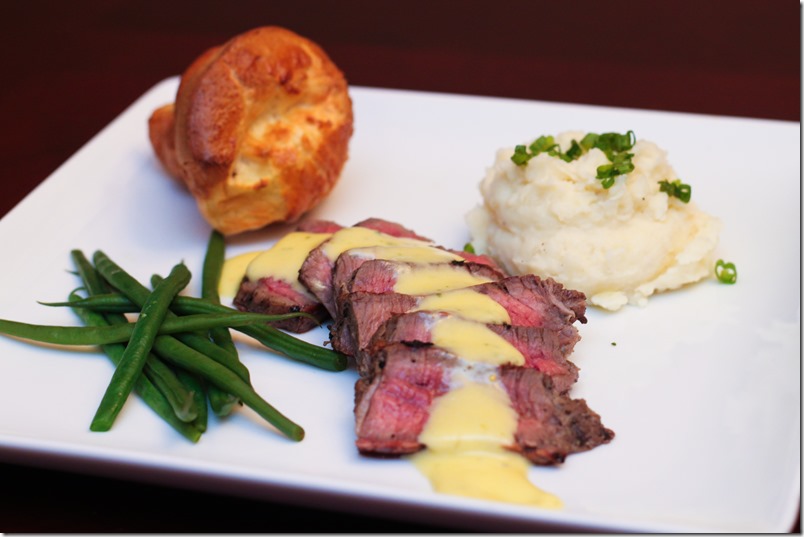 Steak Béarnaise
3 lbs. – Tri-tip steak strips
1/4 cup – White-wine vinegar
1/4 cup – White wine
4 Tbsp. – Fresh tarragon, minced
1 – Shallot, minced
1 tsp. – White peppercorns
4 – Large egg yolks
1 cup – Unsalted butter, melted
Salt and Pepper
Olive oil
1 lb. – Haricot verts (green beans)
1 batch – Garlic mashed potatoes (see below)
1 batch – Popovers (see below)
Rub the steaks generously with kosher salt and pepper. Let sit uncovered in the refrigerator for several hours.
To make the béarnaise sauce, add the vinegar, wine, 2 Tbsp. tarragon, shallot, and peppercorns in a small pot. Bring to a simmer on medium heat until the liquid is reduced by half. Let cool and strain, reserving liquid. Add the liquid, remaining tarragon, and egg yolks to a small metal bowl in a double boiler on a low simmer. Whisk continually. Once begins to warm (after 2-3 minutes) and get very frothy, add the melted butter in a steady stream while whisking. Continue to heat slowly and whisk until the sauce emulsifies (thickens) and is smooth. Add salt (up to 1 Tbsp.) to taste. The sauce should be slightly tart and salty. It can remain on a warmer for up to one hour.
Heat your BBQ or oven to 400 degrees. Heat a cast iron pan (mine has grill lines) on high heat until smoking. Add a splash of olive oil and the steaks, pressing them down onto the pan tightly so that a crust will form. Turn after 3-5 minutes by 45 degrees (to make a nice grill line) and let fry for 3 more minutes. Flip and do the same on the other side.
Place the skillet with the steaks into the oven (or BBQ) and bake for 5-10 minutes or until the center registers at 135-140 degrees. Remove from heat and let rest for 5-10 minutes.
Steam the haricot verts until just softened but still a little firm. Toss in a bit of olive oil, salt, and pepper to taste.
To serve, slice the steaks on the diagonal into thin 1/4 inch strips. Drizzle with Béarnaise sauce and serve with mashers, verts, and popovers.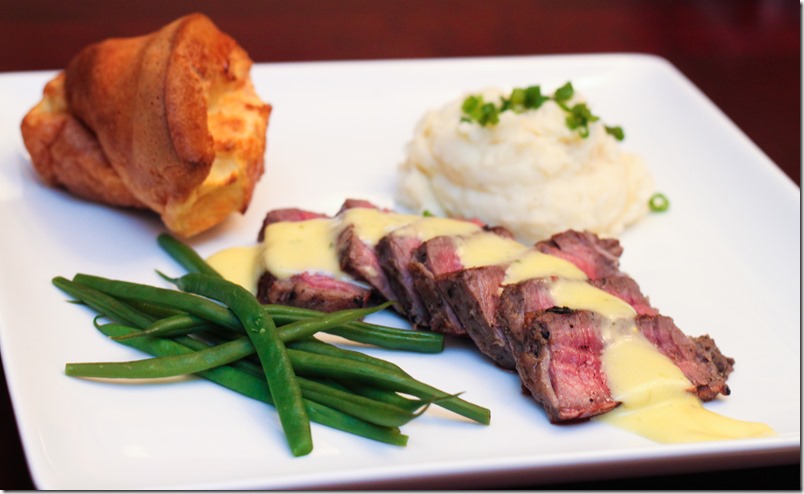 Garlic Mashed Potatoes
3 lbs – Russet potatoes
1/4 cup – Heavy whipping cream
1/4 cup – Butter
2 cloves – Fresh garlic, minced
Bunch – Chives, minced
Salt and Pepper
Peel and dice the potatoes. Place them in ice water for 30 minutes. Pour off the water, replace with cold water in a large pot and simmer until soft. Strain and place in a large bowl. Add cream, butter, and garlic. Mash with a potato masher until smooth but not whipped. Add salt and pepper to taste. Top with minced chives.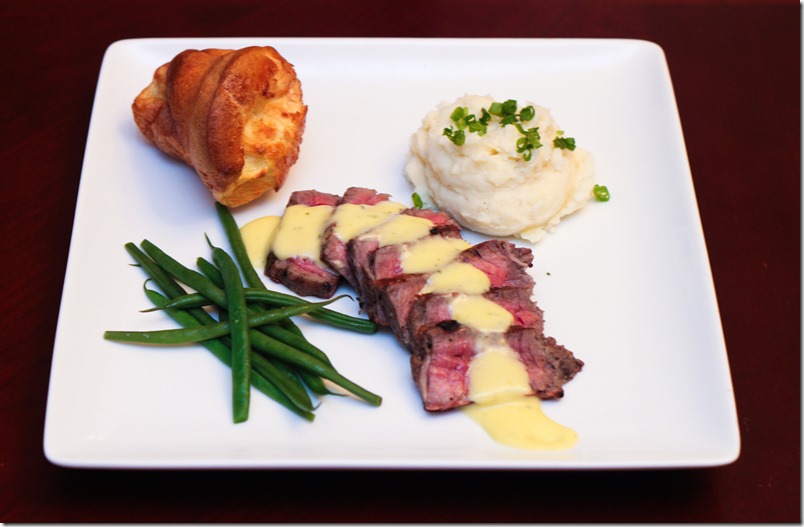 Popovers (makes 6)
1 cup – Whole milk, room temperature
2 Tbsp. – Butter, melted
3 – Eggs, room temperature
1 cup – All-purpose flour
1/2 tsp. – Kosher salt
Preheat oven to 400 degrees. Add a six cup popover pan to the oven during the preheat cycle. Place all of the ingredients into a blender and blend on low speed until well incorporated. Remove the pre-heated popover pan from the oven and generously coat in additional melted butter or cooking spray. Pour batter into each cup, dividing equally. It should come up to about the middle of each cup. Bake for 20 minutes or until golden brown. Let cool slightly.