For the past 12 years, I've had a ton of fun with my annual Mother's day dinner. Every year I start my menu prep as early as January and have a blast prepping course after course. Every year I've improved my plating and streamlined the prep and kitchen to makes things run smoother. Here are a few of my favorite years (2011, 2012, 2014).
This year I have been prepping for my dinner but I ran into a few issues. First and foremost, I am so busy! I built a new Moonlit Kitchen, you could say, and every free second is going into it. If you follow me on the Moonlit Kitchen Facebook page, you've seen my new pizza oven coming along, piece by piece.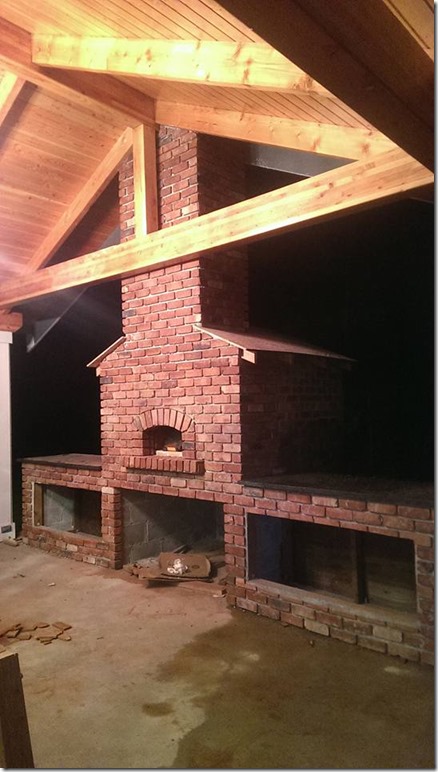 Second, I have been looking forward to doing the dinner in my new kitchen! It was all supposed to be finished before Mother's day but has taken longer than expected (doesn't everything?).
Last, I have been looking for some new inspiration. I want to shake things up a bit after 12 years! So this year, I skipped the Mother's day dinner. I'm now finally settled in my new house and all of the crazy of the past year and ready to post again!
Instead, I had an exquisite dinner at The Willows Inn on Lummi Island. The Willows Inn is considered one of the hottest places to eat in fine cuisine here in the States and happens to be on a little island just 90 minutes from where I live! The dinner was amazing, filled with locally raised, scavenged, and caught ingredients. Here's a great write up by Saveur magazine.
I took pictures of my meal (though without a flash, they aren't all great).
The meal started off outside, on the front porch, over looking the Puget Sound. It was a beautiful evening with perfect weather.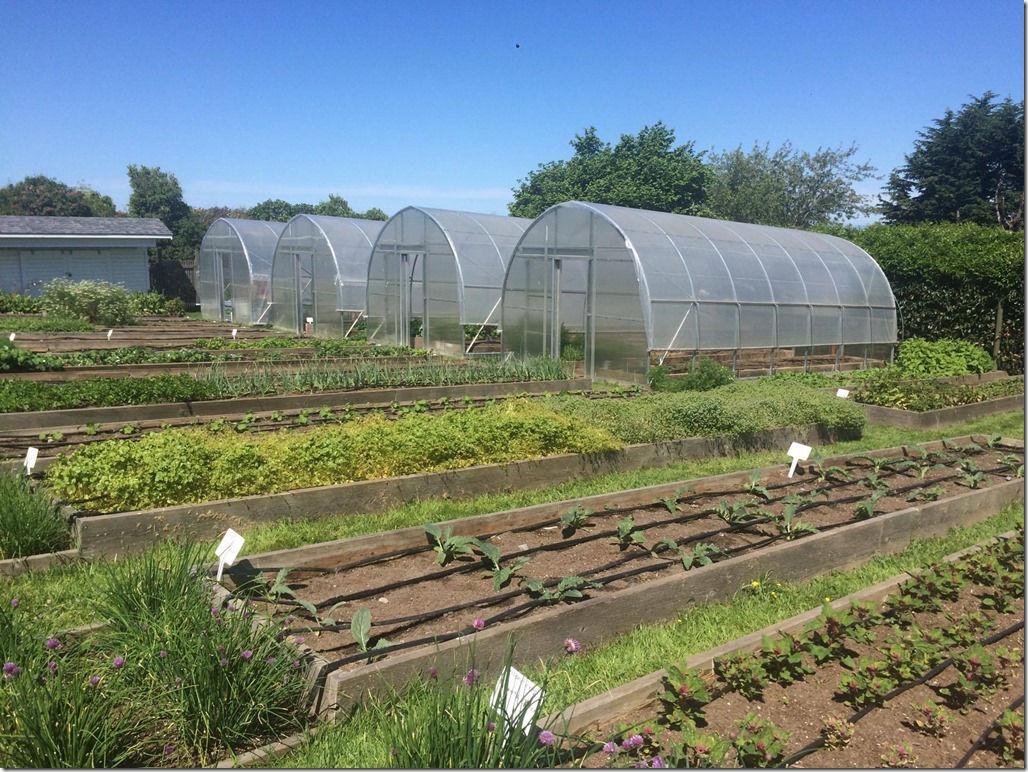 A walk in the garden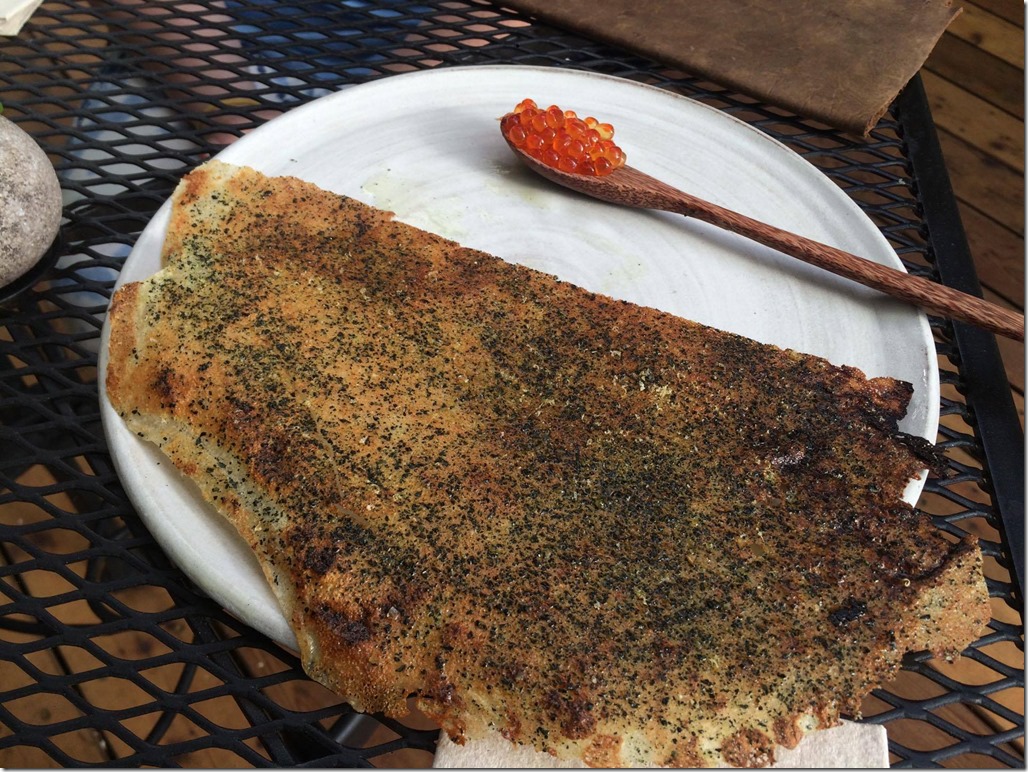 Crispy Crepe and golden char roe
The crepe was like a smoky lavash, dusted with bonito and other local kelp. It was slightly warm and contrasted nicely with the ice cold roe that was meant to be spread on the crepe.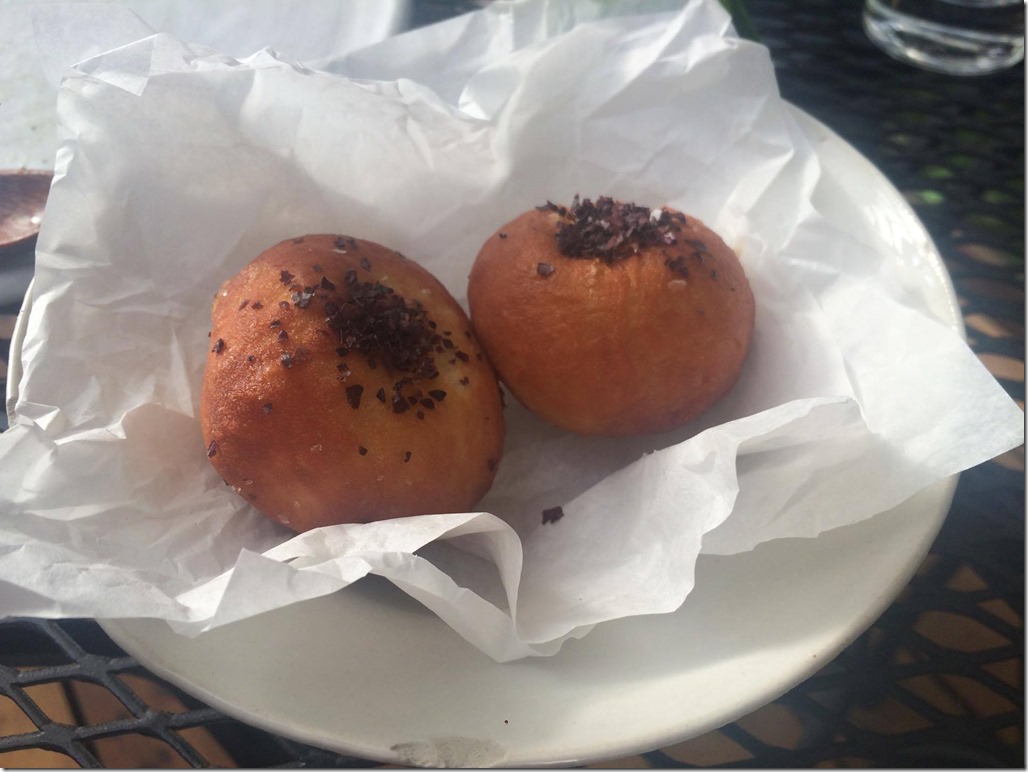 Smoked Cod 'Donuts'
These 'donuts' were savory with very smoky cod chunks inside. This was a pleasant surprise and one of the best things of the night. I don't know what they were dusted with, but it was also salty and smoky.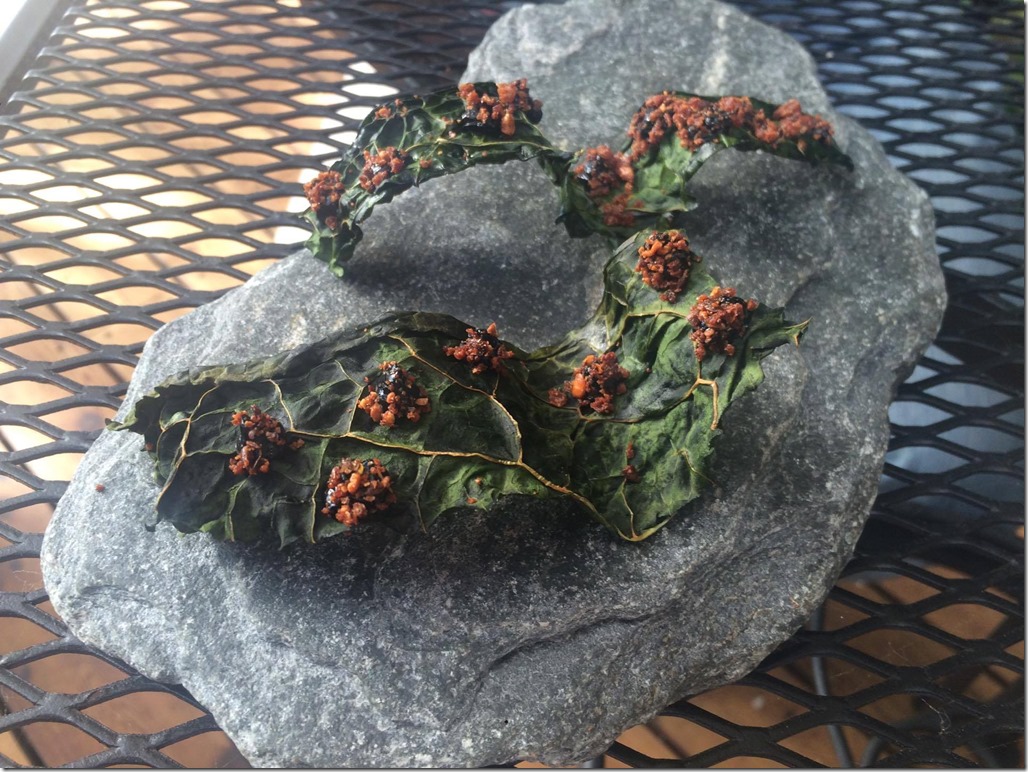 Kale Leaves with black truffles
The kale leaves were crispy and simply prepared (I did something similar last year here) but there were little black dollops of black truffle sauce that were AMAZING!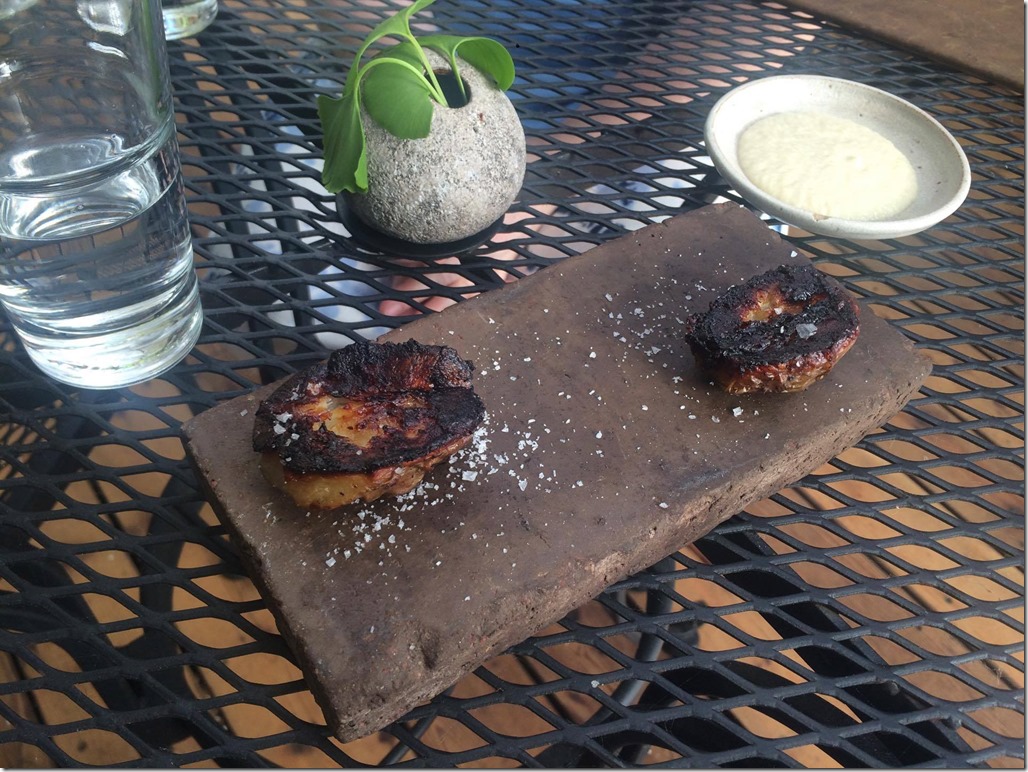 Sunchoke with onion sauce
The sunchoke was grown there in their garden and then smoked and grilled until blackened and crispy. The onion sauce was not caramelized, yet was smooth and sweet, without any of the funk of onion. The bits of salt on the warm brick added to the course nicely.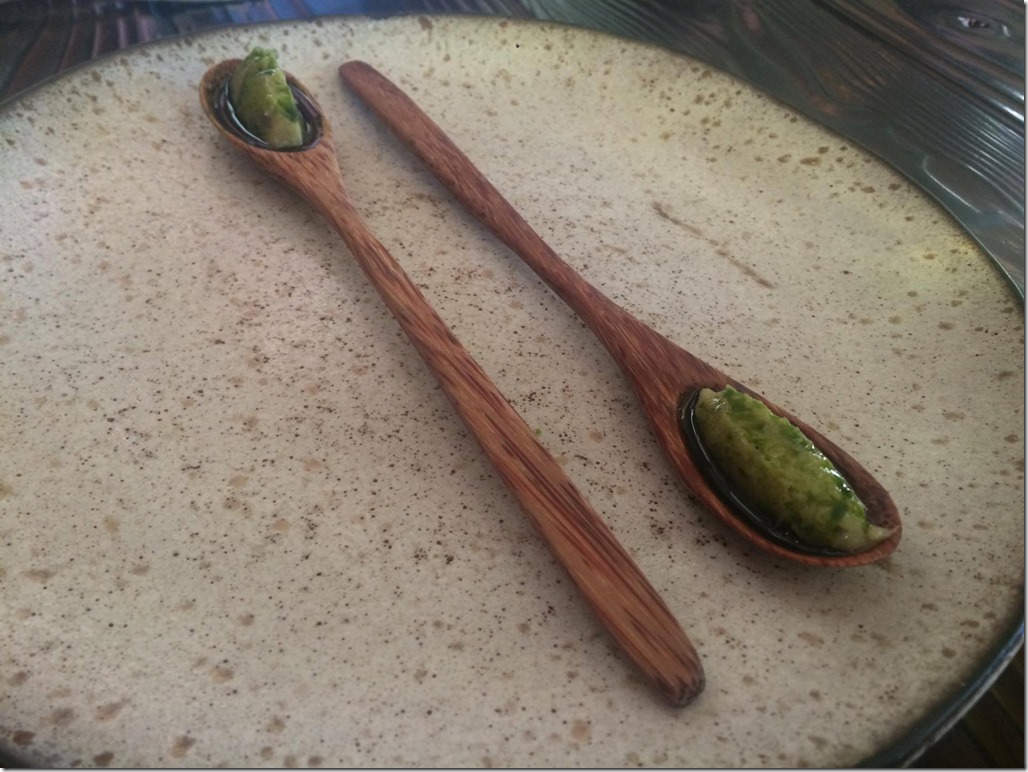 Green Rhubarb
This was cool and refreshing and tart, as a palate cleanser. At this point the dinner guests were moved into the dining room for the main meal.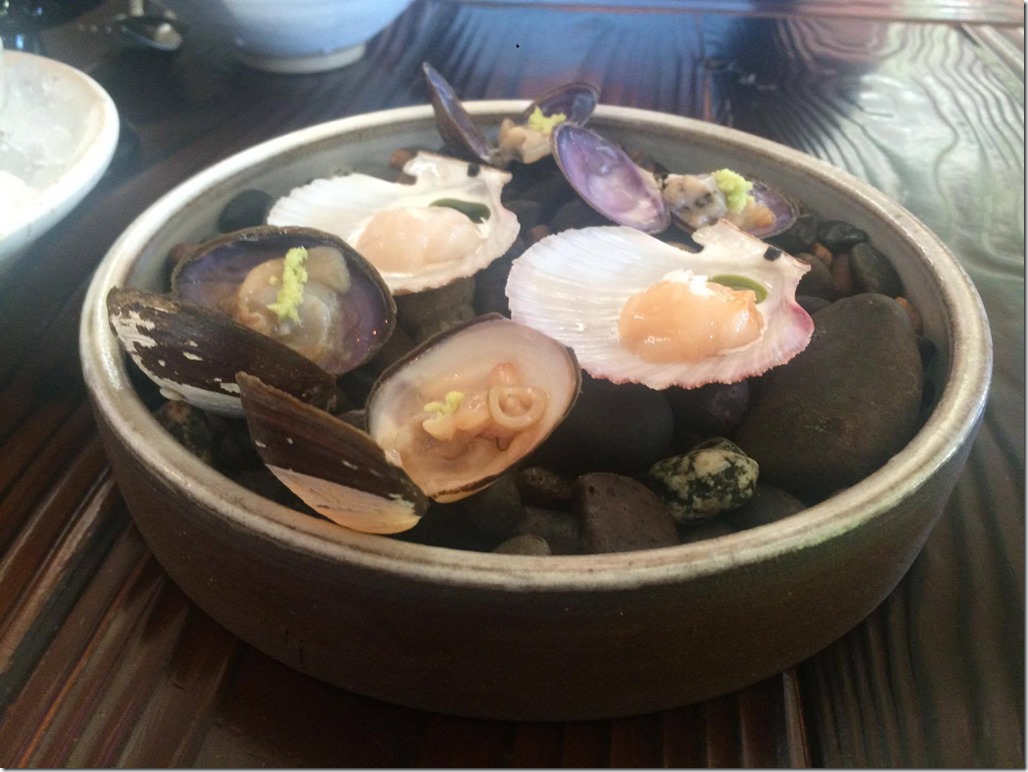 Local Shellfish
Clam, scallop, and oyster, crudo, with wasabi, and other herbs. This was a fresh as it gets.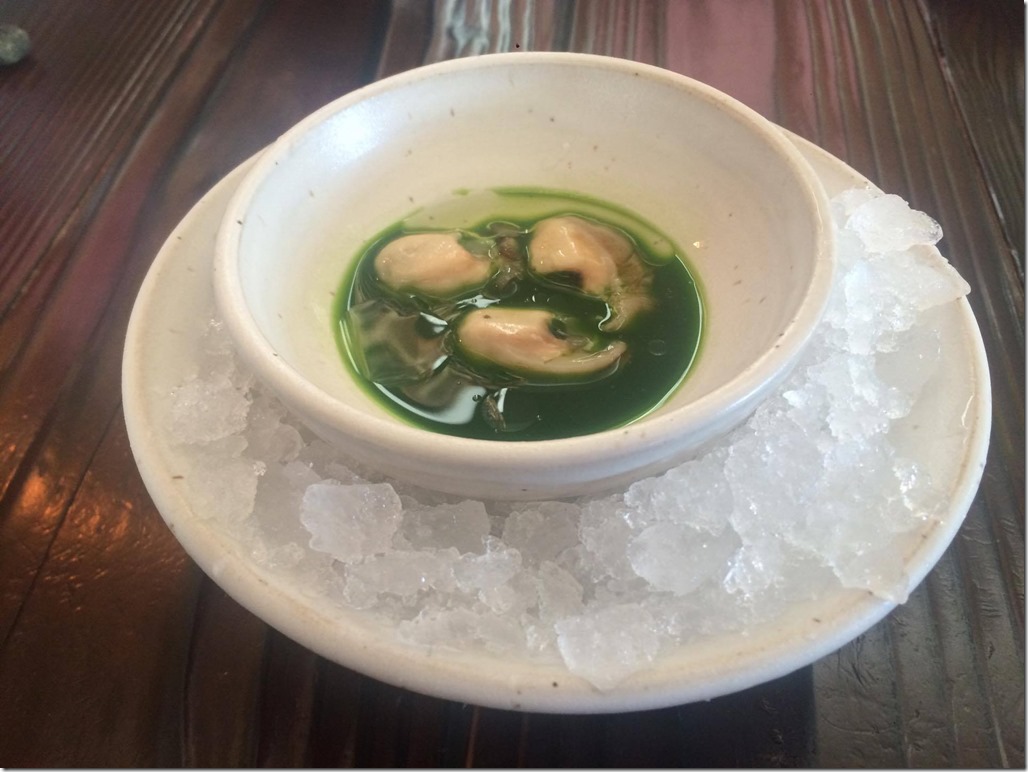 Native Oysters in a juice of watercress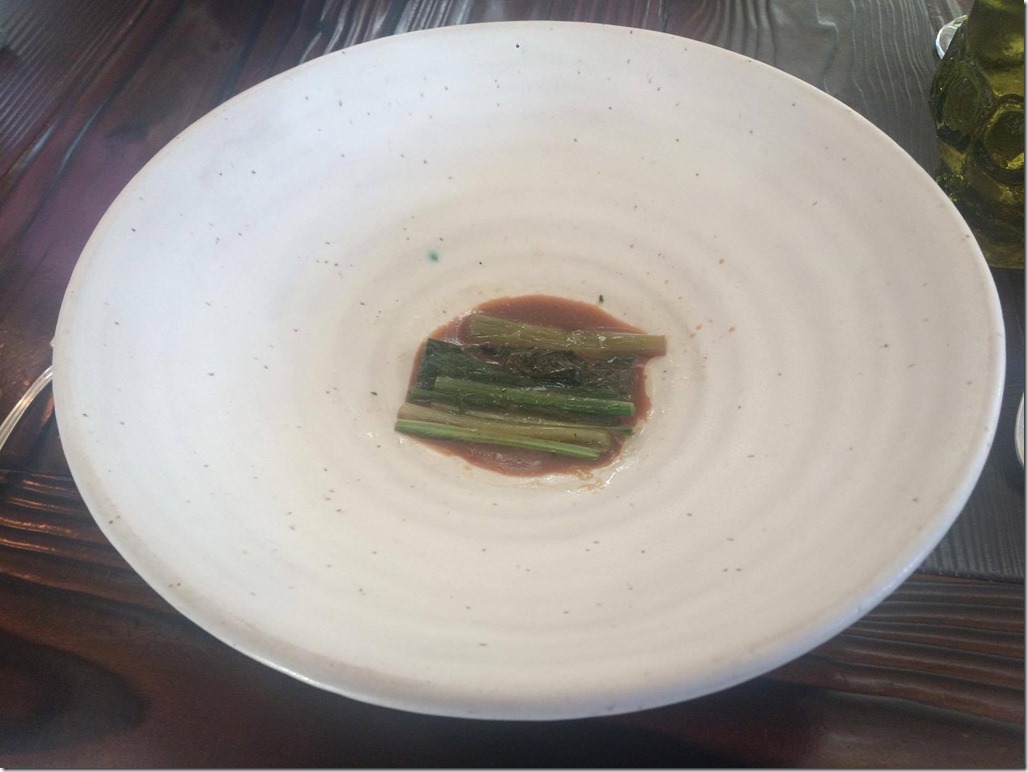 Springtime Stems and caramelized squid
The stems were braised and the squid was just a savory liquid in the bottom, which was amazing. It was probably the best sauce of the night. I remember picking my bowl up and sipping the last drops.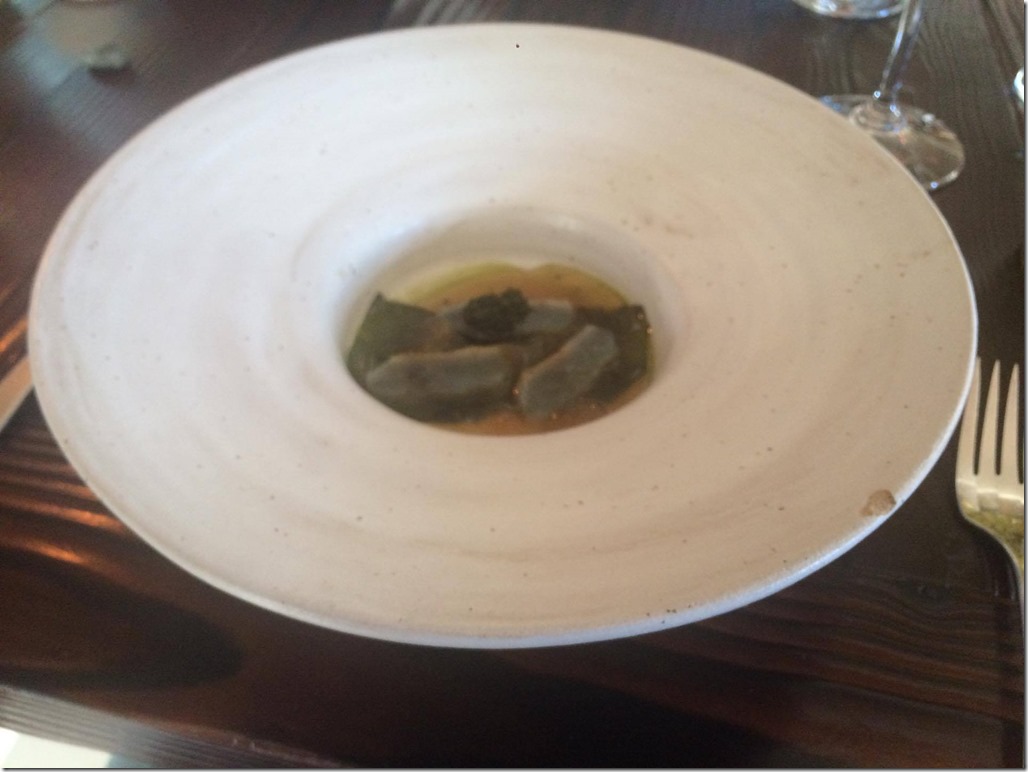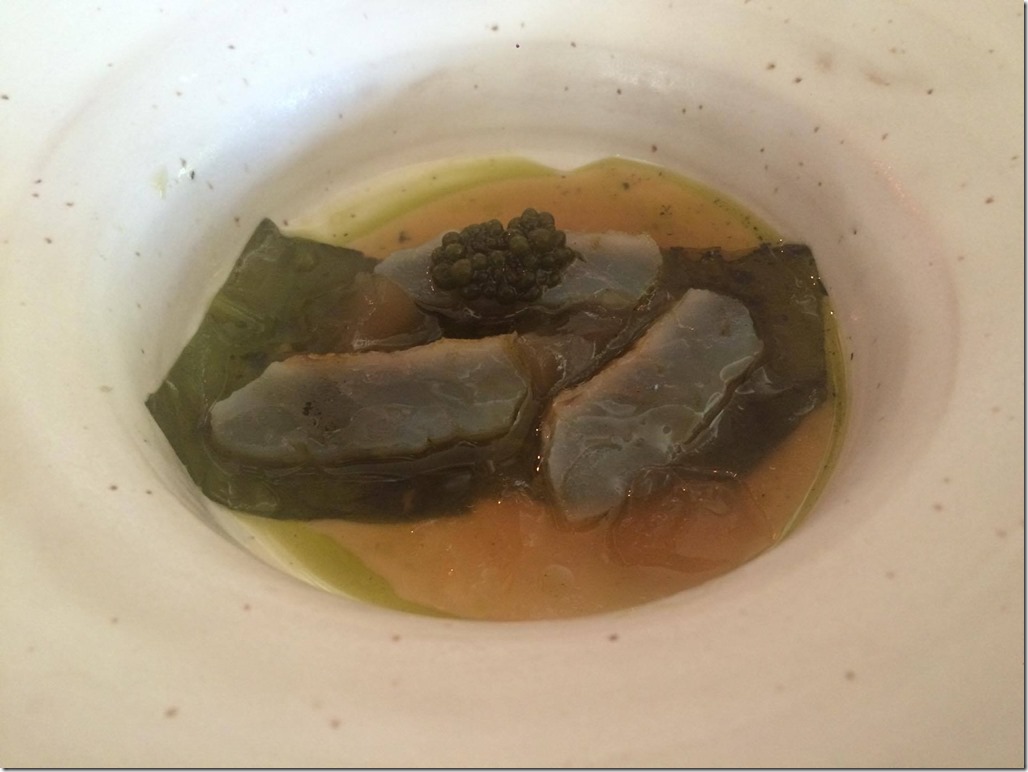 Lightly Cured Rockfish in a broth of grilled bones
As with many of the dishes of the night, this was smoky and sweet. The 'caviar' were kelp seeds, which were soft yet briny and paired great with the rockfish.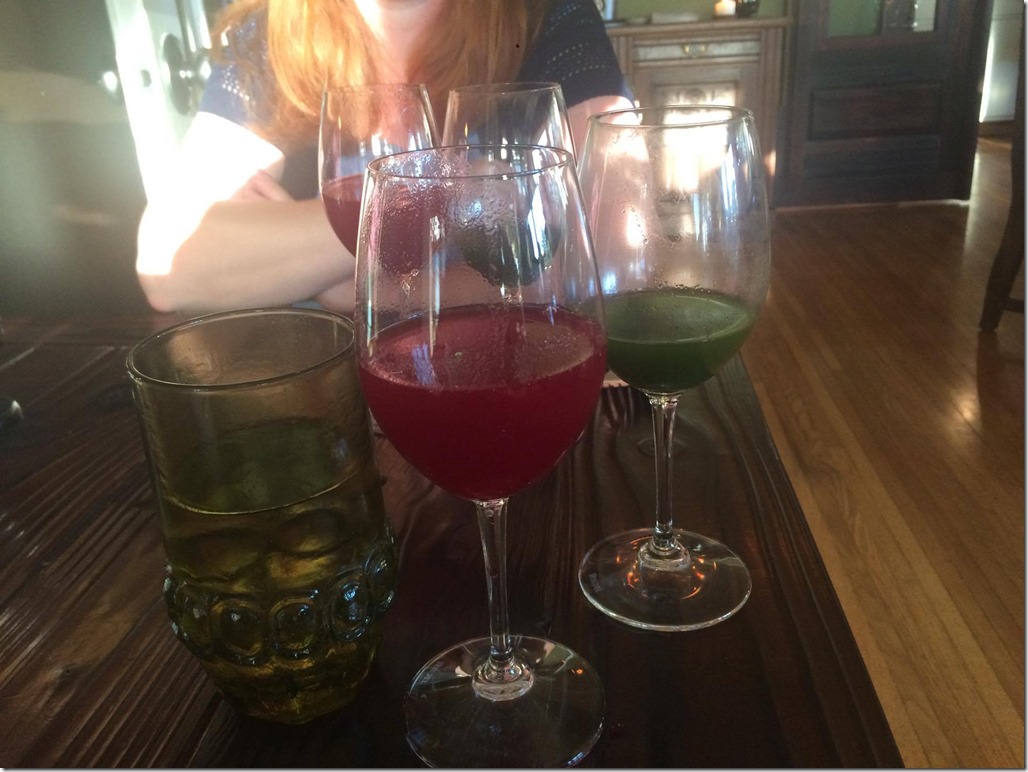 Non-alcoholic Pairings
I don't drink alcohol, so I ordered the non-alcoholic pairings that were offered. Sadly, as with most optional pairings, they were limited (I think they served 3 types). I didn't take good notes on them so I don't remember them well. One was sweet, one was more alkaline, and there was a house-made kombucha that tasted too fermented.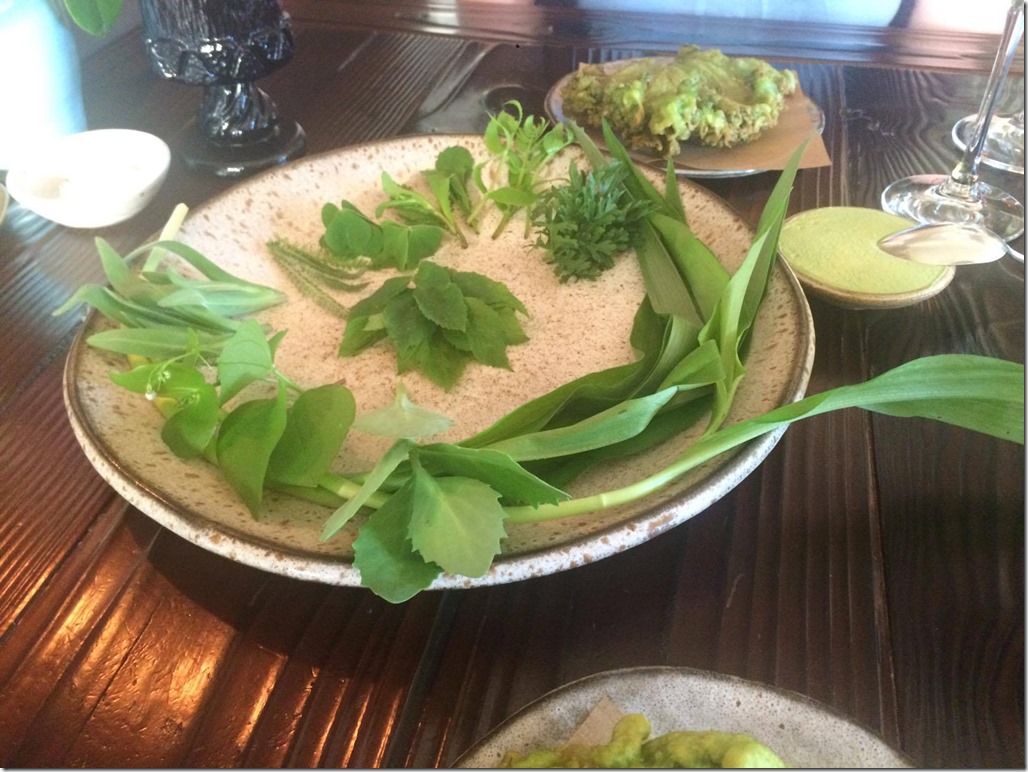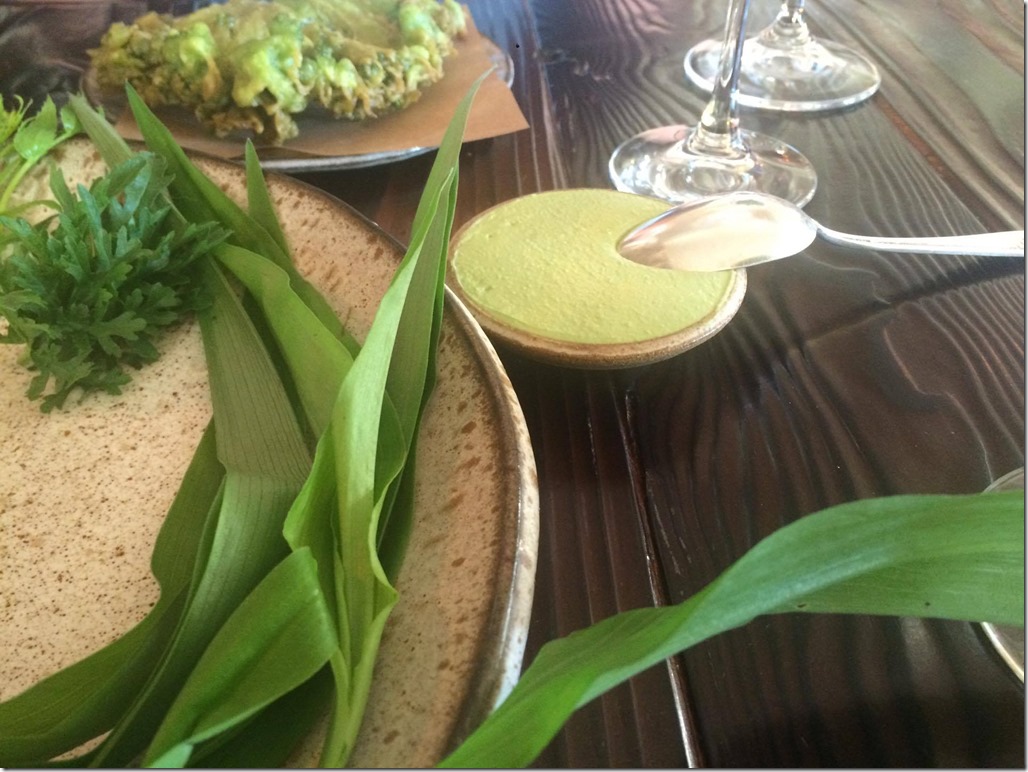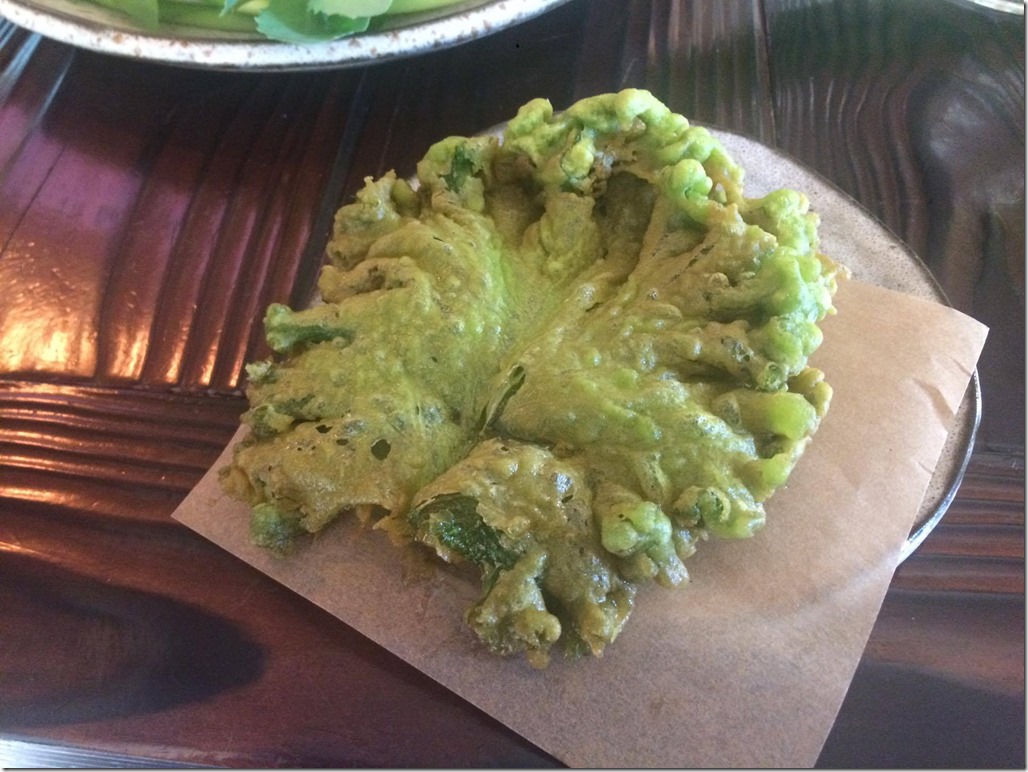 Wild Herbs and crispy collard leaves
When this course arrived, I joked with my server that they had found a way to make collard fattening. The course involved a large battered collard green, an watercress emulsion (a sort of rich alioli), and a selection of local scavenged herbs and native plants that you would eat with each bite.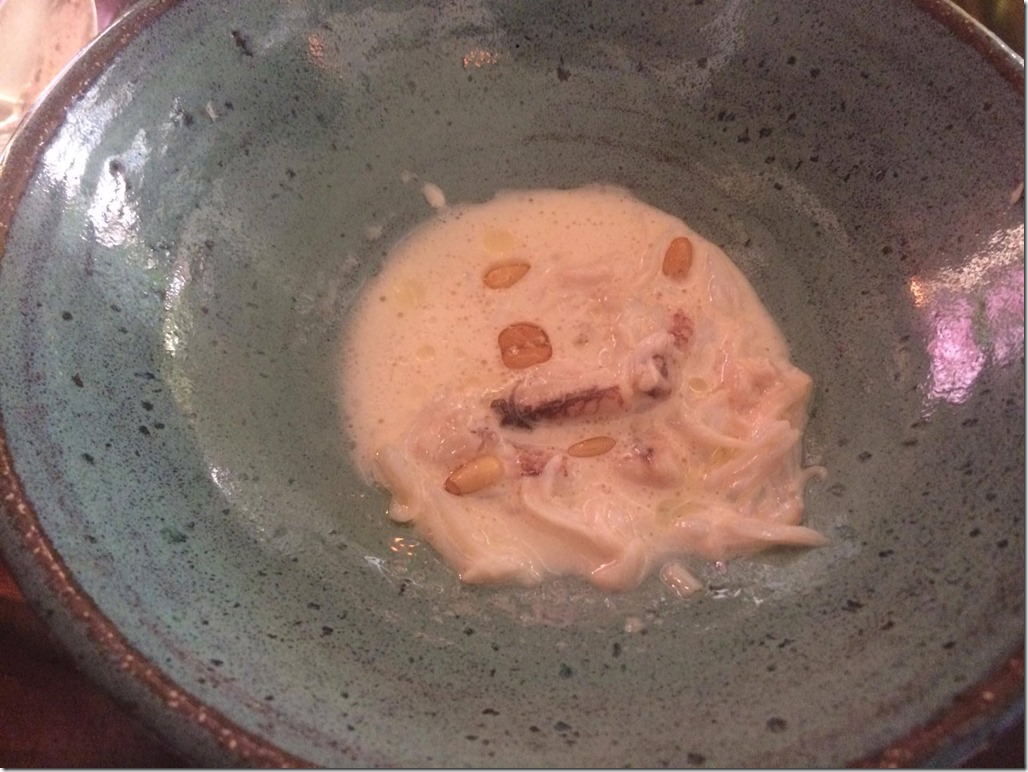 Dungeness Crab in a puree of pine nuts
This course was very simple, yet the crab was tender and moist, and the pine nut milk was sweet and very fresh. This was another course where you would be tempted to lick the bowl. The crab made the dish quite sweet and I remember adding a bit of the course salt they had at the table to balance it out and enhance the overall flavor.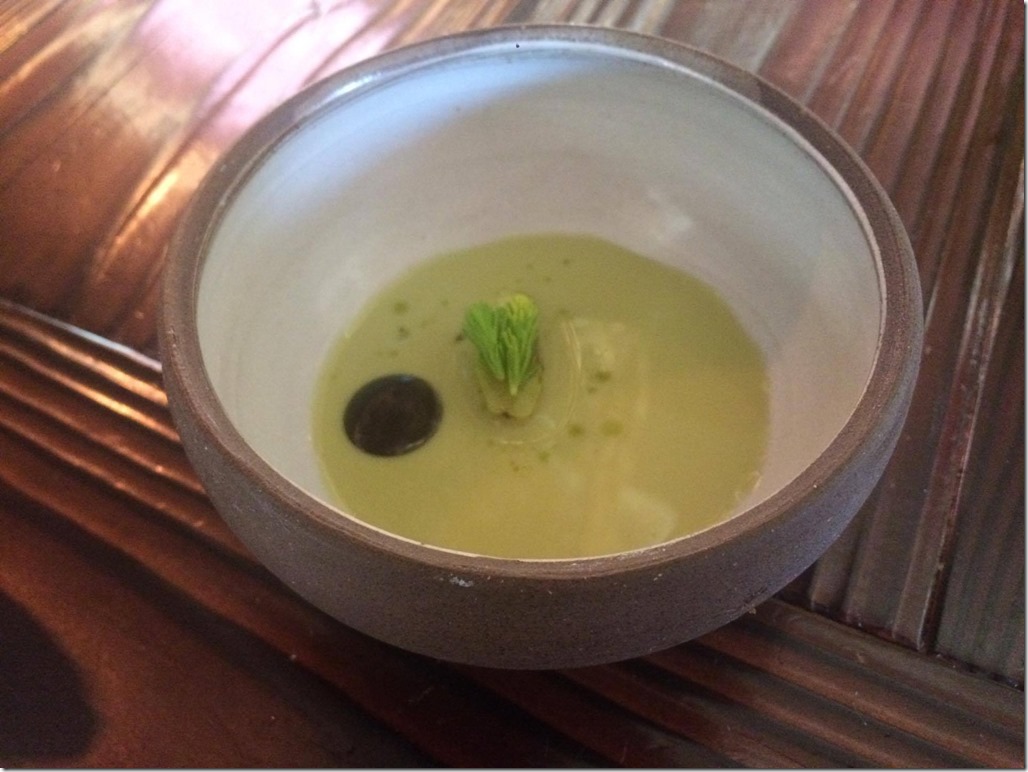 Asparagus and Pine Tips
These bits of young white asparagus were soft and tender but the pine tips were softer. Everything was in a pine broth with an herb infused oil (tarragon?).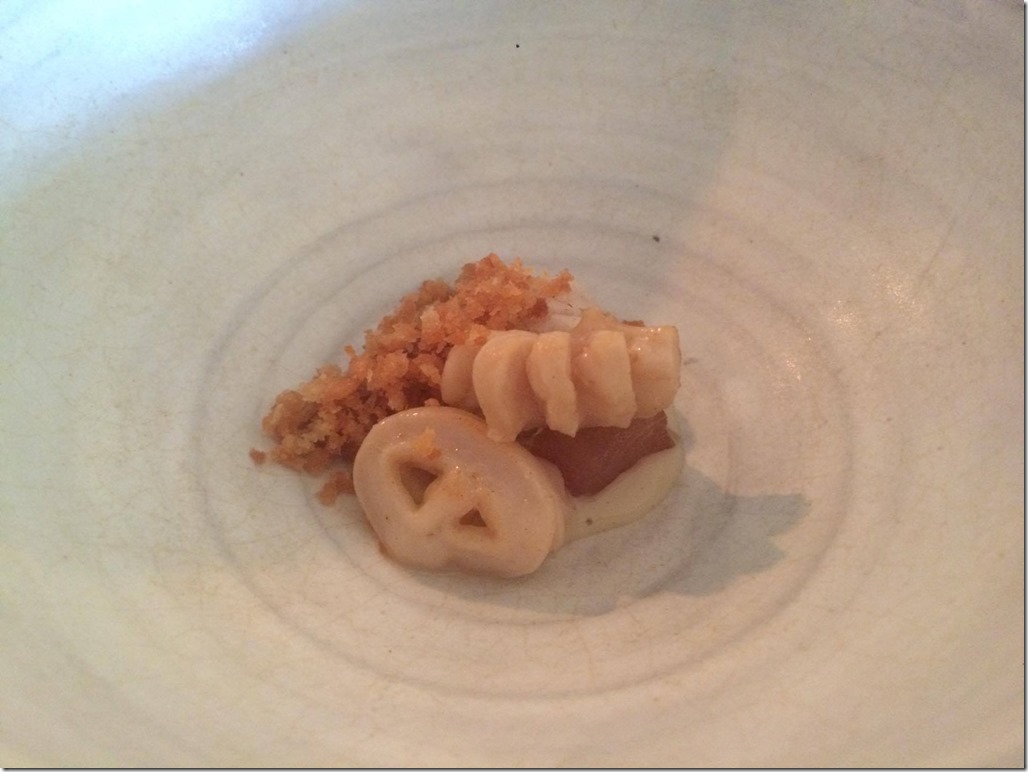 Geoduck Clam
The geoduck was fried crispy and served with some delicious lardon (pork) bits. Sadly, the clam was a bit chewy and dry. It was one of the only misses of the night.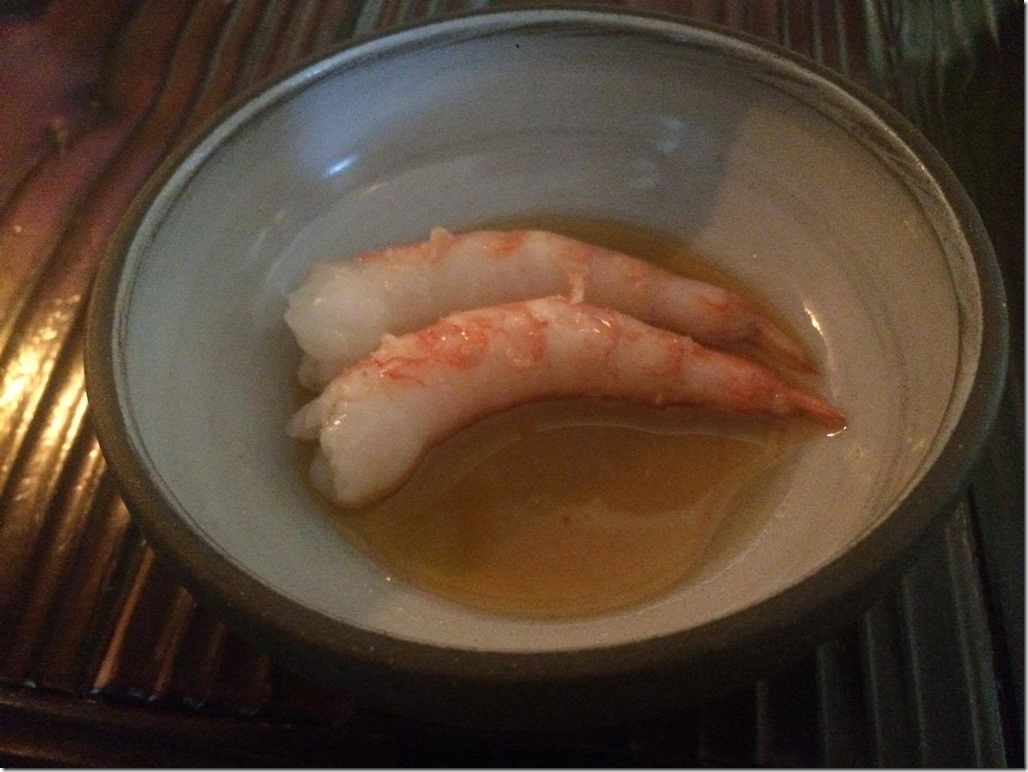 Spot Prawns
The locally caught spot prawns were as sweet as candy and lightly poached in a broth of their own shells. It was as pure a prawn flavor as you could ask for.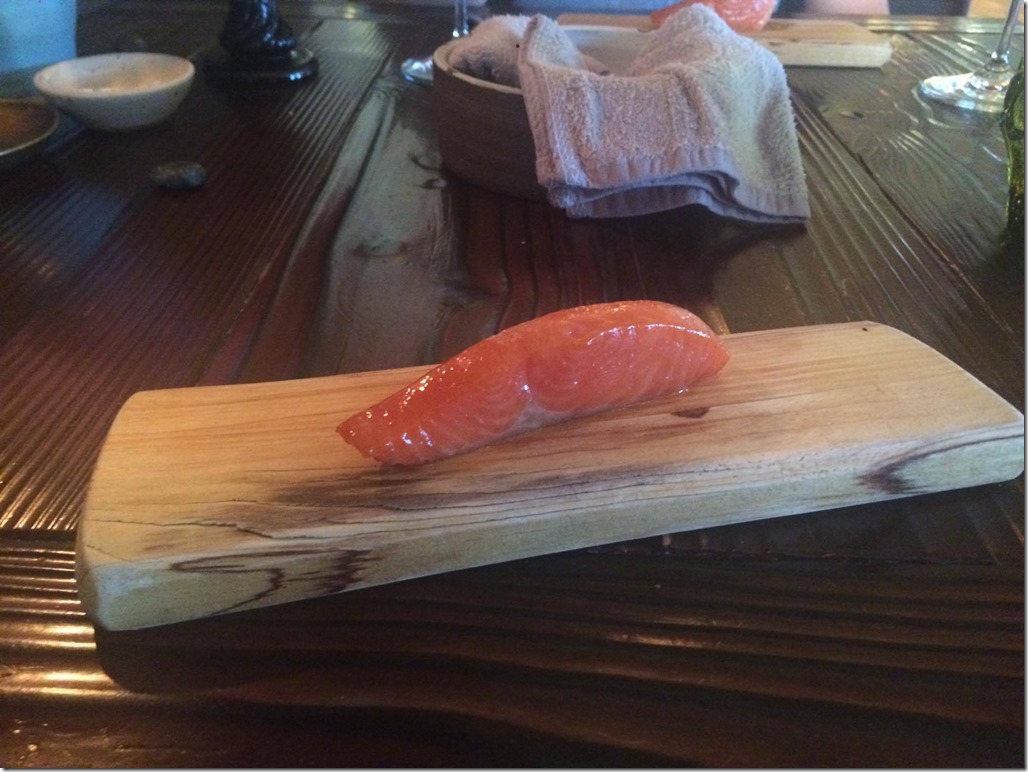 Smoked Marbled King Salmon
This course was so good I had the gall to ask for seconds.

It was smoked, incredibly tender, and had been basted in a sweet vinegar. It arrived with hot towel service as this and the next course could be eaten by hand. This course was the one I wanted to try at home. Spectacular and the best of the night.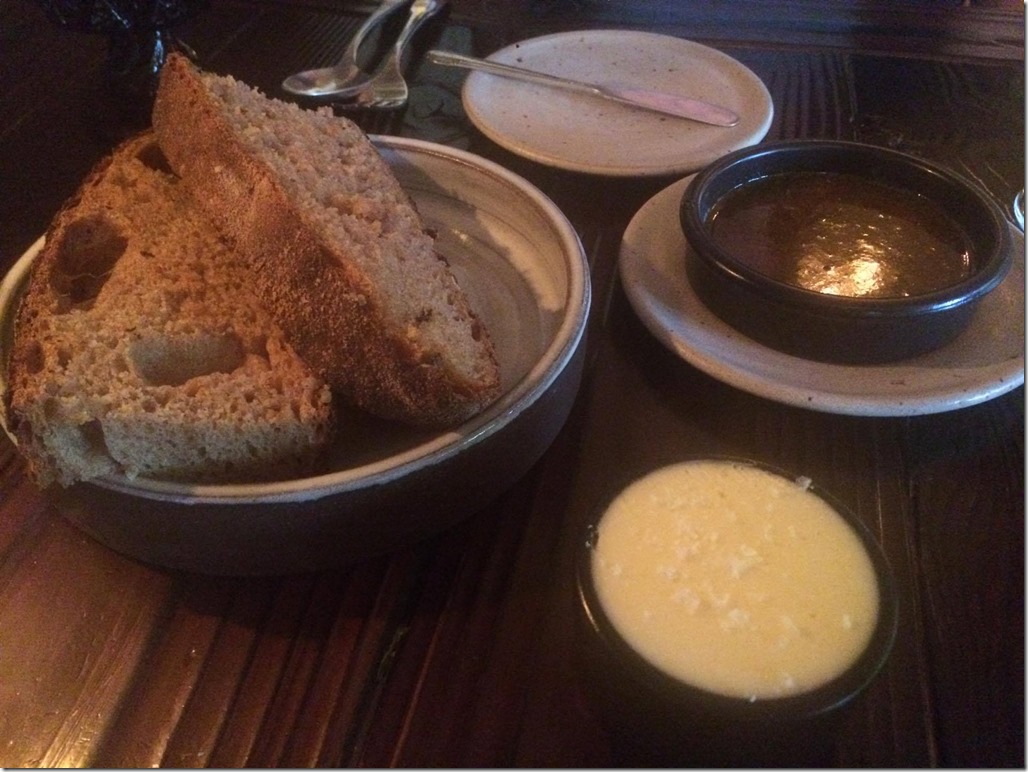 Wheat Bread
with pan drippings
The wheat bread was a sour dough miche made from an heirloom wheat variety. It appeared to have been baked in a stone hearth with a dark crust in European style. The bread came with a bowl of chicken pan drippings, which were fatty, dark, and the very essence of chicken. The dish also came with cultured butter, but it was the drippings that were the star. In the end, this was probably the most filling and substantive dish of the night.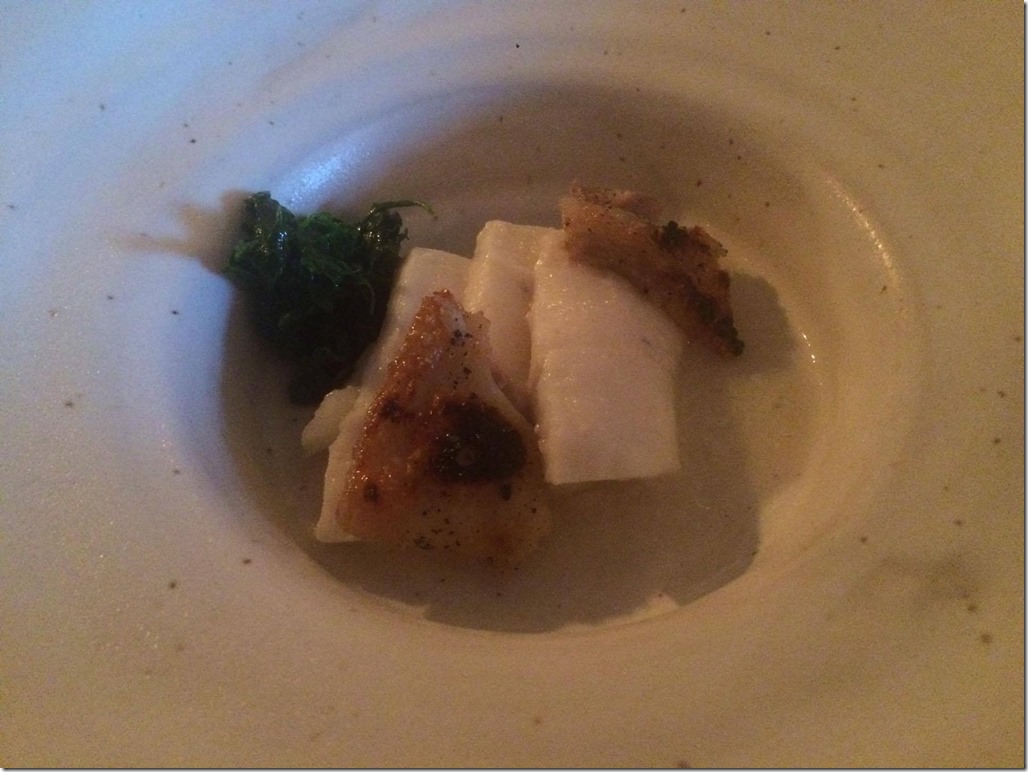 Halibut
with lovage
To round out the 'main' courses was some delicate, silky halibut. I am guessing it was poached in a vegetable broth. There were bits of crispy halibut skin and a taste of simply prepared lovage (steamed?) to add alkaline to the dish. This was the final savory course of the night. Again, I could have eaten another 2 plates of this. It was a deceptively delicious bite.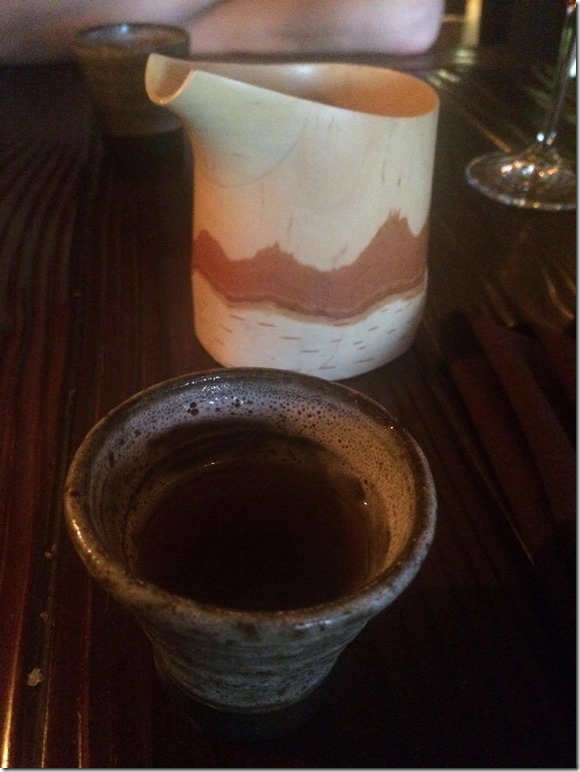 Toasted Birch Branches
To transition to desert, we received a toasted birch tea. It was smoky, smoky, and tasted like a campfire (in a good way?). It came in a little birch pitcher. At first it seemed too weak and too smoky, but it grew on me. I drank two cups.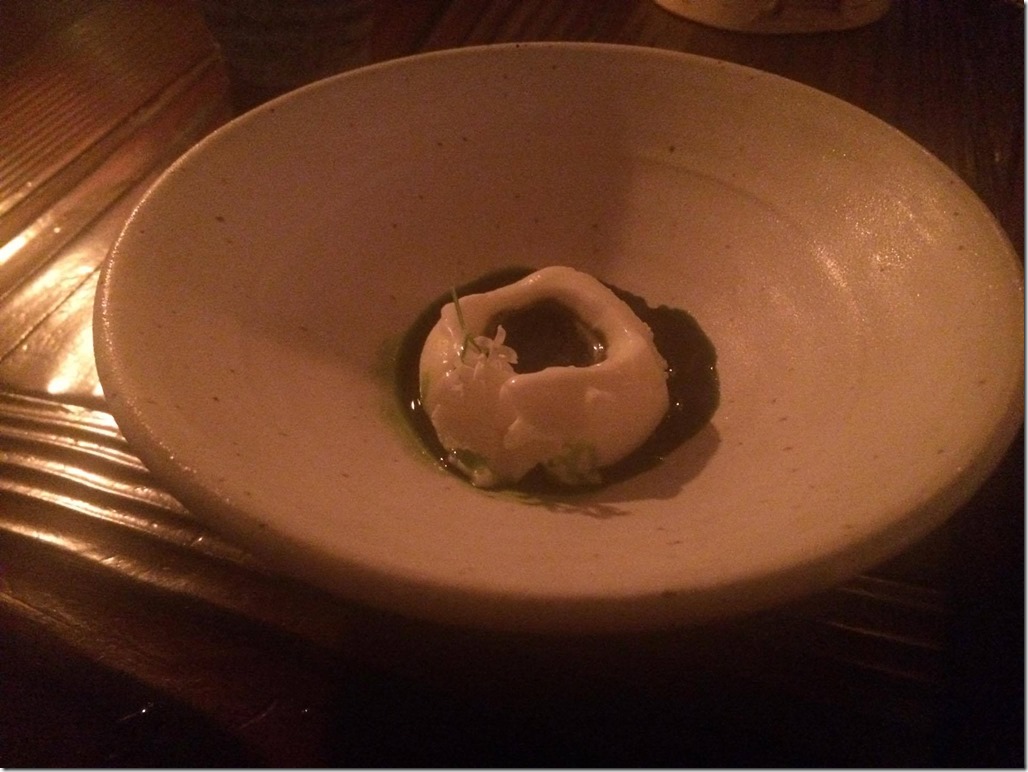 Stinging Nettles and Goat's Milk
The desserts were scant, light, and only lightly sweet. This dish had a goat's milk ice cream, similar to the milk ice cream that I've served before, slightly icy, and free of other influences. Drizzled all over the ice cream was a nettle extraction and blossoms.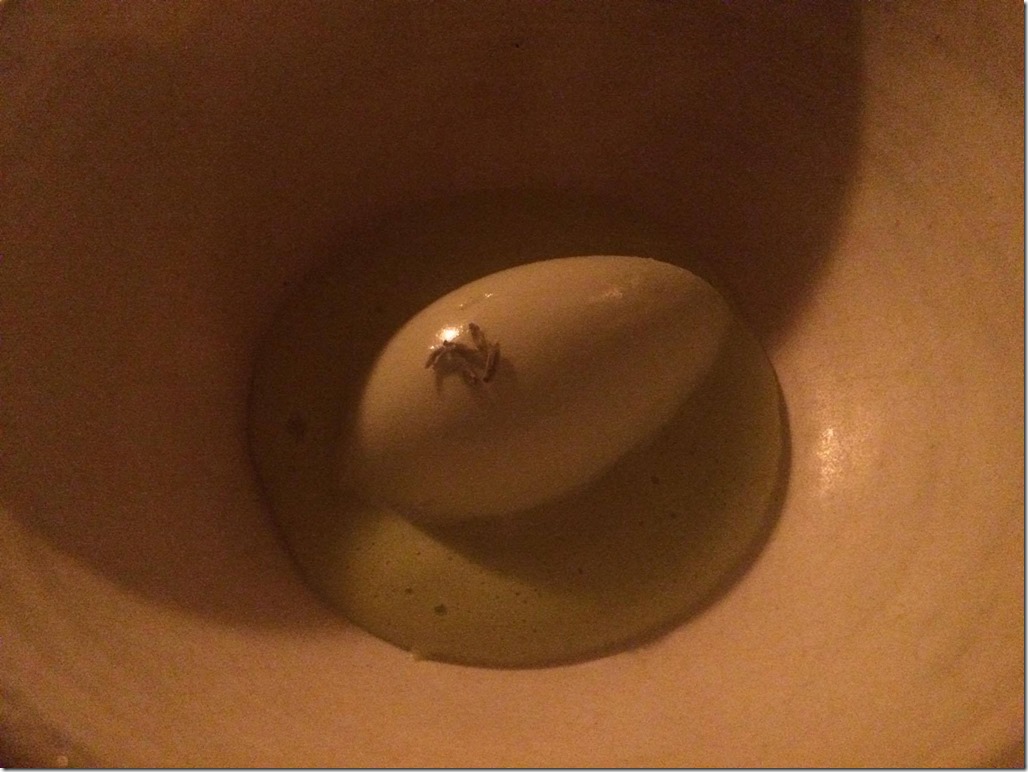 Anise-hyssop
Anise flavored ice cream with a hyssop emulsion and dried lavender blossoms. The anise and lavender played very well together. Again, this was a dish that was very lightly sweet, but nice. The one thing I missed in both of these dishes was a change in texture. Something crunchy…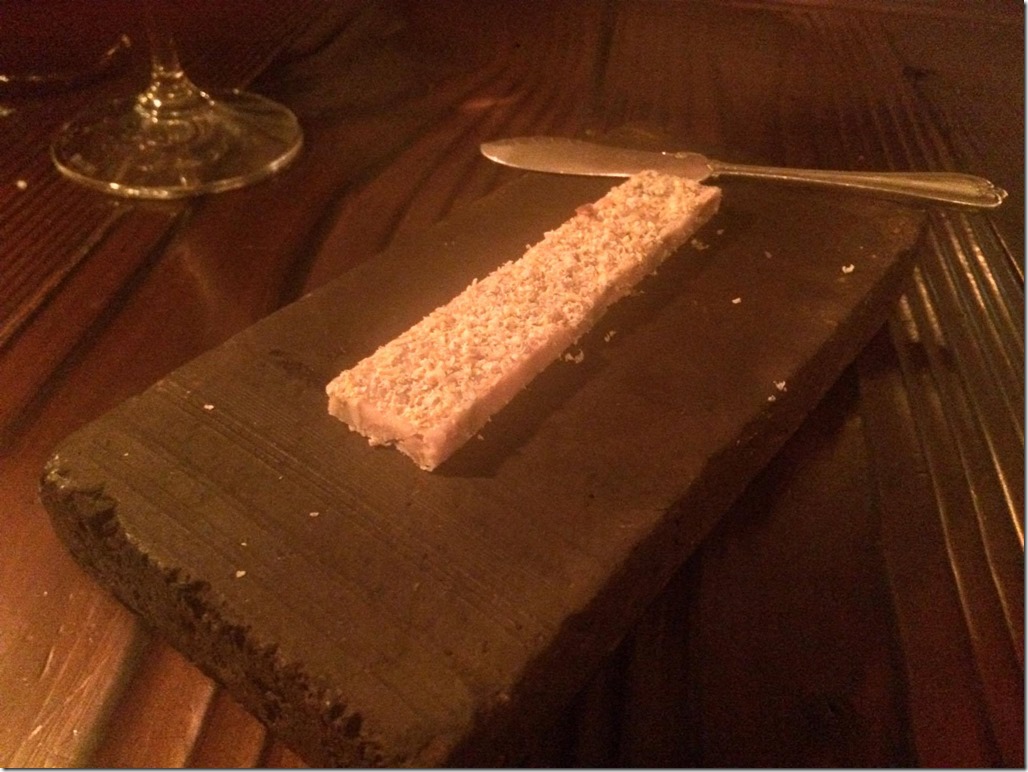 Pumpkin seeds and candied angelica
The final course was sweet, nutty, and had a bit of texture. It was a sort of nougat or cracker with the candied angelica shaved over the top.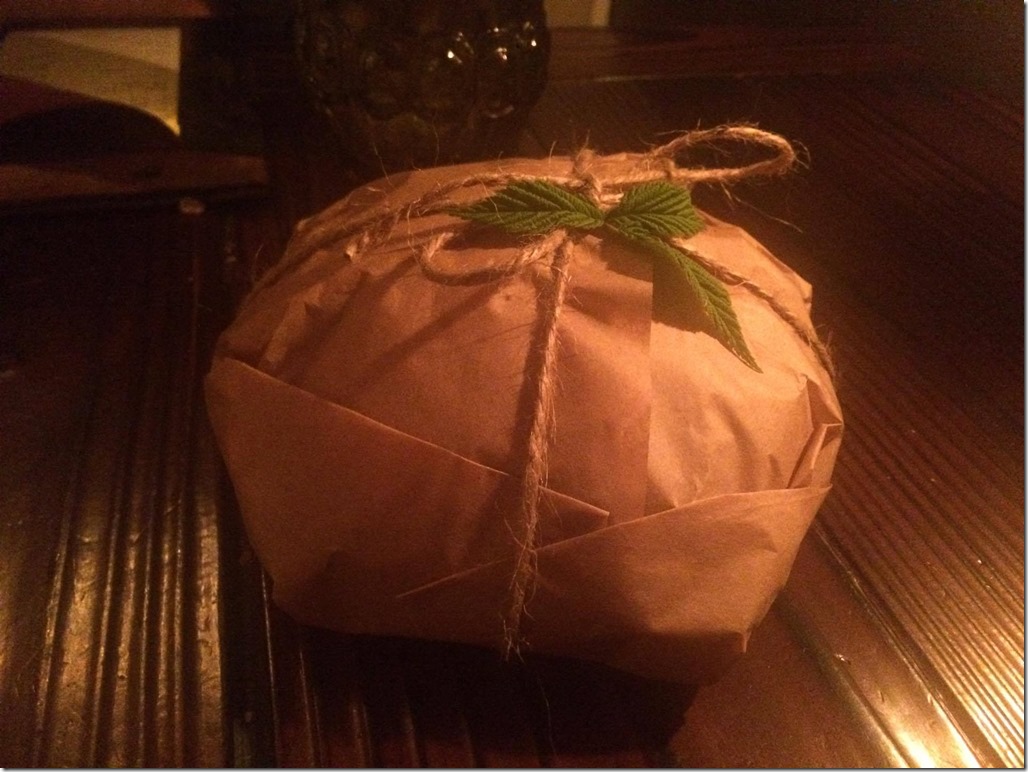 They sent us home with an extra loaf of sourdough miche from earlier in the evening. It was a great night that gave me a ton of new ideas and a great experience.