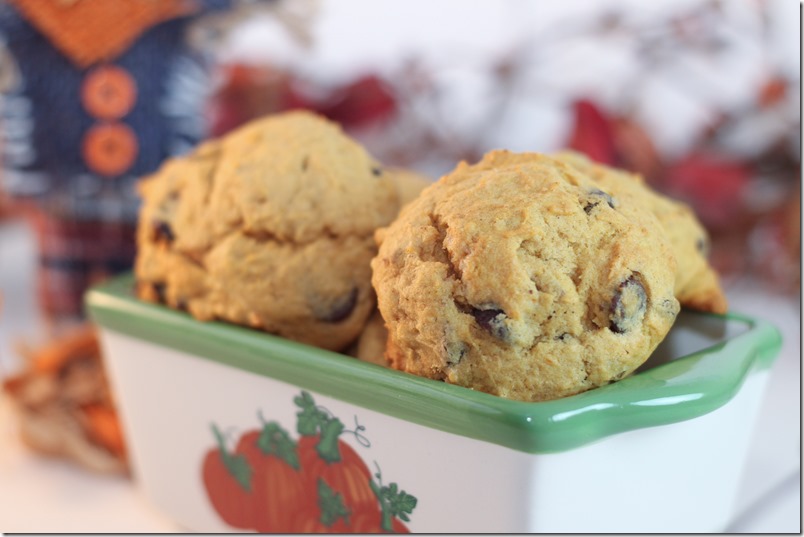 It's fall and I'm writing two pumpkin recipes in a row! This recipe is a must have for me in October. Even if I'm trying to lay off all things comfort, sweet, and carb-o-licious before the holidays, October would not be complete if I did not make pumpkin cookies at least once (or maybe twice). This recipe is handed down from my grandmother. It is one of those recipes that has become a scent and flavor of my childhood. Whenever we would go and visit my grandparents during the holidays, grandma always had pumpkin cookies for the grandkids to eat. Often times we would eat a bunch and then not want to eat dinner (queue a stern look from mom). A few years ago I tried to find a good pumpkin cookie recipe online. I tried out several but none tasted "just right". Finally I realized that it was because I was craving my grandma's recipe. I called her that night on the phone and asked if she could give me the recipe. She said that she'd find it and send it to me. A week or so later I received a neatly printed letter with this recipe card inside, handwritten by my grandma. I can't think of a better heirloom than a classic recipe…and now I pass it on to you.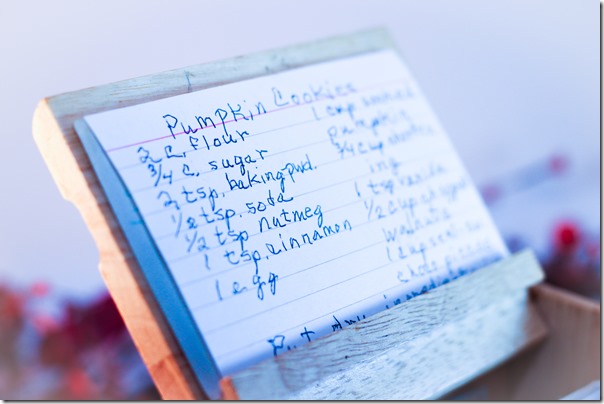 Grandma's Pumpkin Cookies
2 cups – All-purpose flour
3/4 cup – Sugar
2 tsp. – Baking powder
1/2 tsp. – Baking soda
1 tsp. – Kosher salt
1/2 tsp. – Fresh ground nutmeg
1 tsp. – Cinnamon
1 tsp. – Freshly minced ginger root
1 – Egg
1 cup – Cooked (or canned) pumpkin puree
3/4 cup – Shortening or lard
1 tsp. – Vanilla extract
1/2 cup – Chopped pecans (optional)
2 cups – Good quality semi-sweet chocolate chips
Preheat oven to 375 degrees.
Mix dry ingredients (flour, sugar, baking powder, baking soda, salt, nutmeg, and cinnamon) in a large mixing bowl. Add egg, vanilla, pumpkin, and shortening, mix well. Add nuts and chocolate. Stir to incorporate.
Drop by spoonfuls onto a greased baking sheet. Bake for 15 to 20 minutes or until lightly browned.