I love fall and all that it has to offer. The smell of the falling leaves, the tint of the long light in the late afternoon, all of the harvest vegetables and fruit, and the pumpkin and spice. I made these pumpkin cinnamon rolls on the first day of Fall this year. They filled the house with that distinct fall smell! They turned out soft and rich with a bite of fresh ginger.
I really like using pumpkin spice in recipes, but I never buy pumpkin spice directly. I always grind fresh. It has so much more flavor and fragrance that way. Most of the spices in the average spice cupboard are so horribly old and stale and people don't even realize. I like to buy small amounts of spices in bulk and use them quickly. I also buy the whole version of the spice, then I toast and grind it in a mortar and pestle right as I use it. This keeps it fresh and bright.
For the frosting, I would normally use a bit of maple syrup or even fake maple syrup or extract but I was lucky enough to be given some extra dark cooking style maple syrup from a friend in Canada. It was the perfect match!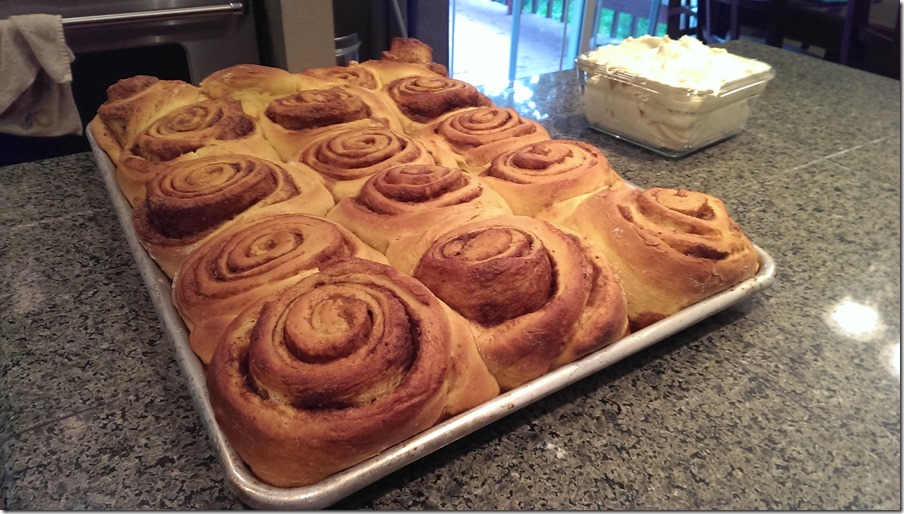 Pumpkin Cinnamon Rolls
1 1/2 cups – Whole milk, lukewarm
2 tsp. – Yeast
1/2 cup – Sugar
7 cups – Bread Flour
1 Tbsp. – Molasses
1 Tbsp. – Kosher salt
1 cup – Pumpkin
2 tsp. – Fresh ground ginger (I do this by freezing ginger root then using a microplane)
2 Tbsp. + 1 tsp. – Ground cinnamon, separated
1/2 tsp. – Ground allspice
1/2 tsp. – Ground cloves
1/2 cup – Butter
1/2 cup – Butter flavored shortening
4 – Eggs
1 cup – Brown sugar
1 Batch – Maple cream cheese frosting (recipe below)
Add the milk, yeast, and sugar to the bowl of a large stand mixer. Stir, then let sit until it starts to foam and bubble. Add 5 cups of flour, molasses, salt, pumpkin, ginger, 1 tsp. of cinnamon, allspice, and cloves. Mix with the paddle attachment until the dough comes together. Add the butter and shortening and mix well. While the mixer is mixing, add the eggs, one at a time. At this point the dough should be very sticky but starting to ball up on the paddle. If not then slowly add the remaining flour, 1/2 cup at a time, until it does. The amount of flour will vary based on the altitude, humidity, etc. so go by the "foot" method. Switch to the dough hook and mix on low speed for 10 minutes.
Remove from the mixing bowl onto a flour surface. Knead a few times and stretch the surface into a tight ball. Transfer to a large oiled bowl and cover. Place in a warm place (I use my oven at 105 degrees) and rise until doubled in size (between 1-2 hours). Roll onto a floured surface, stretching and rolling until the dough is about 1/3" x 24" x 16". Mix the remaining 2 Tbsp. cinnamon with the brown sugar and sprinkle evenly on the dough. Roll the dough tightly along the long edge so that you end up with a 24" long roll. Using a sharp knife or dental floss, cut the dough into 2" thick rolls. Place on a baking sheet.
Cover and let rise in a warm place for 1-2 hours or until doubled in size, puffy, and soft.
Heat oven to 375 degrees.
Bake for 20-30 minutes or until lightly browned. Let cool and serve still warm with a good helping of maple frosting.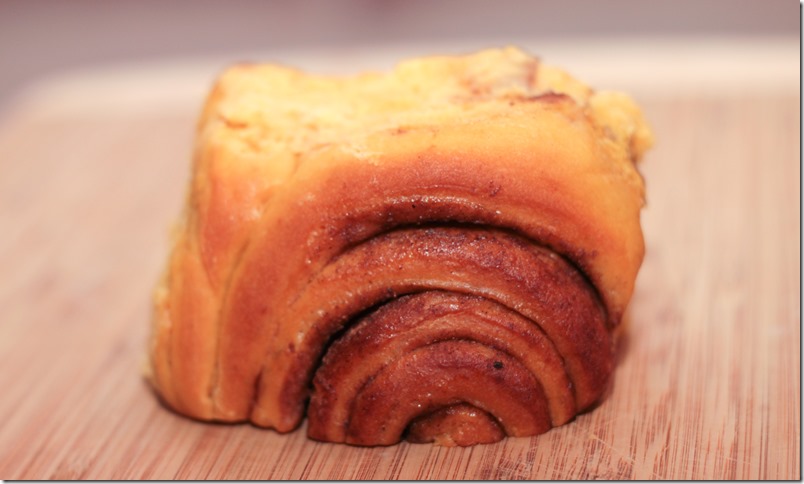 Maple Cream Cheese Frosting
1 8oz. package – Cream cheese, softened
3/4 cup – Heavy whipping cream
1/2 cup – Dark maple syrup
1 tsp. – Kosher salt
4-5 cups – Powdered sugar
Add the cream cheese and whipping cream to the bowl of a large stand mixer. Using the paddle attachment, beat the cream and cheese until smooth. Add the syrup, salt, and powdered sugar. Change to a whisk attachment and whisk until light and fluffy. You may need to scrape down the sides once or twice, then continue whisking.