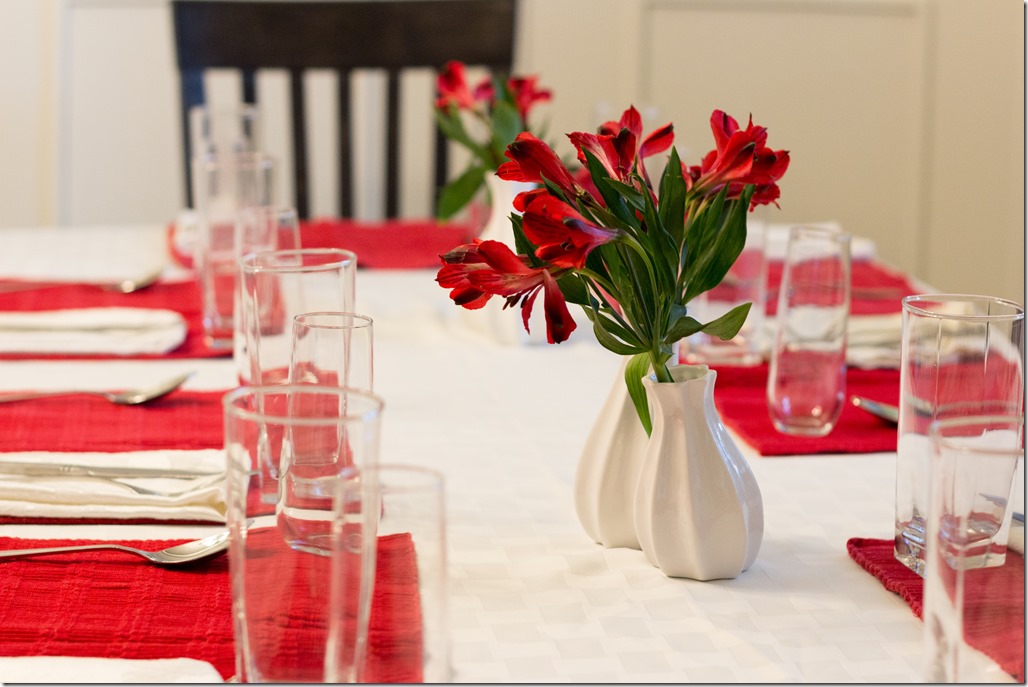 This year's colors were red and brown
It's that time of year again! Every year I do a tasting menu for Mother's Day. Each year I try to top the previous year. This year was no different with several new touches. For one, this was the first year in my new kitchen, which meant a lot more room and use of the pizza oven! I also added some interesting plateware using wood (which you'll see in some of the courses ahead).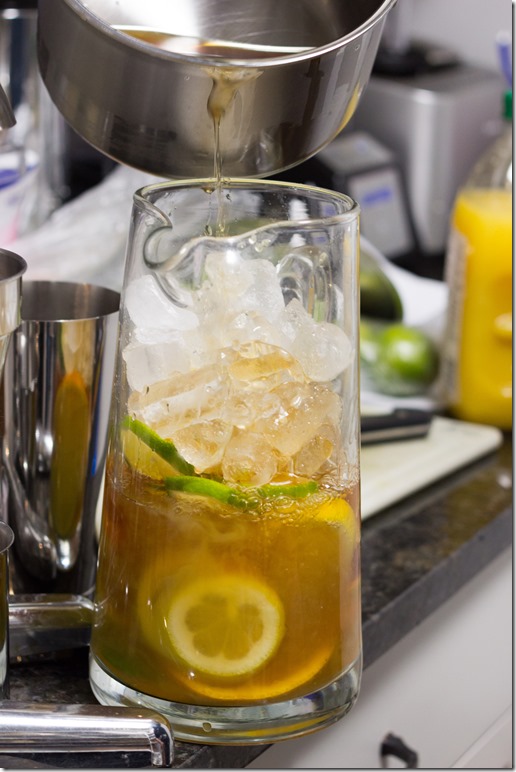 We had a great non-alcoholic drink menu, including this julep
Each year I have a group of friends who help me in the kitchen: plating, serving, cleaning, and photos. Thanks everyone! This year I formalized this a bit by assigning one friend as the "sommelier" (I don't serve alcohol at my dinner so these were all virgin). I also had a "guest course" done by one of my friends. Lastly, I hired two kids to wash the dishes all night, which was a huge help and kept everything moving quickly.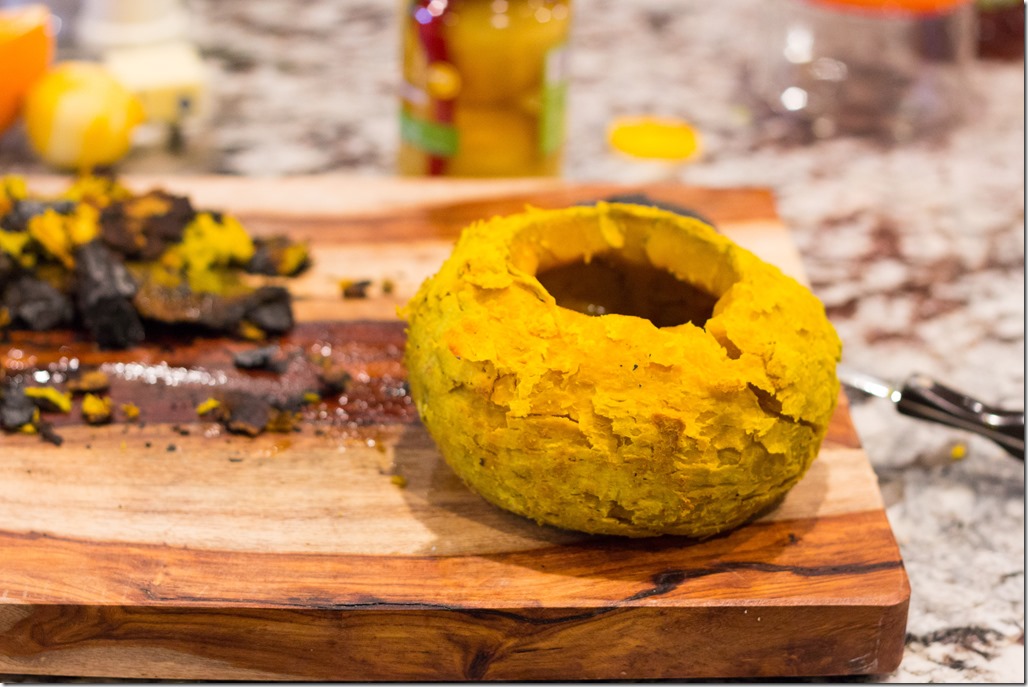 A ton of prep was done to make 26 course run smoothly! Here was the komacha squash, post coal roast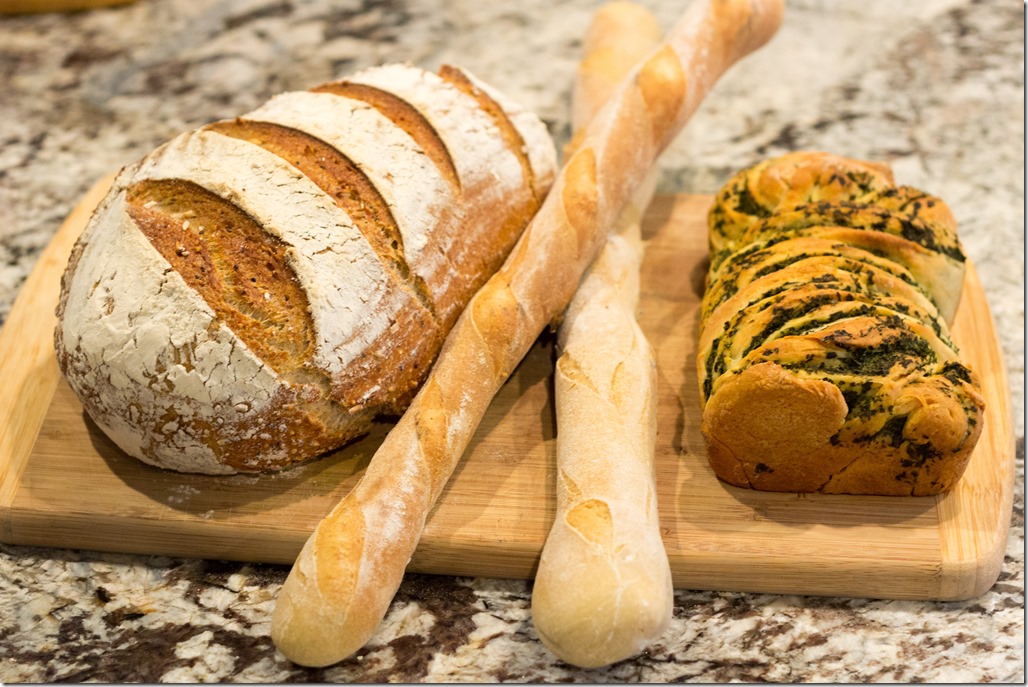 Homemade bread baked in the wood fired hearth
Now, on to the courses!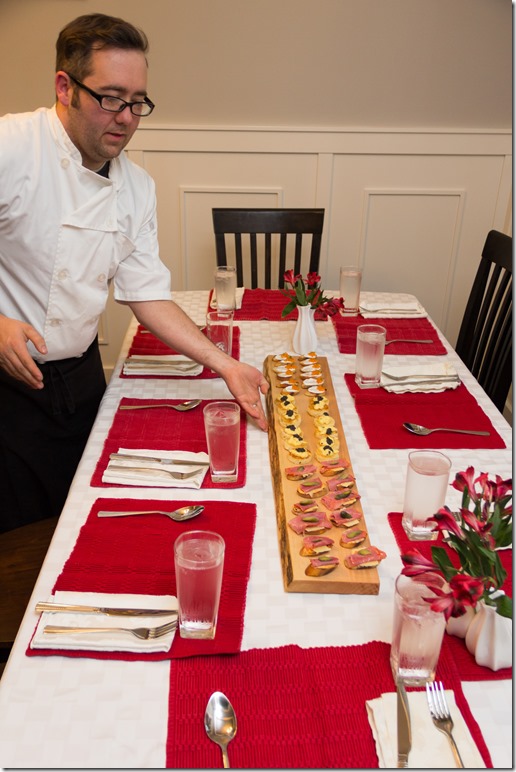 Courses 1-3 were canapés delivered together on a big slab of live edge western maple.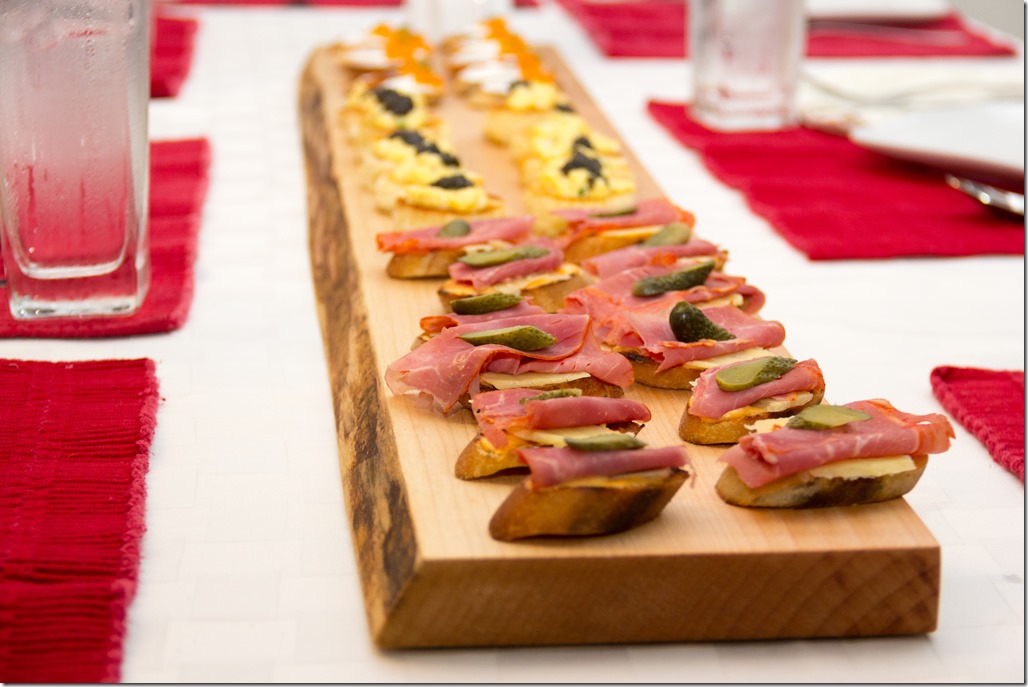 1st Course – Capicola with Aged Irish Cheddar
House cured capicola with a smoked paprika alioli, toasted homemade sourdough baguette, aged Irish cheddar, and cornichons.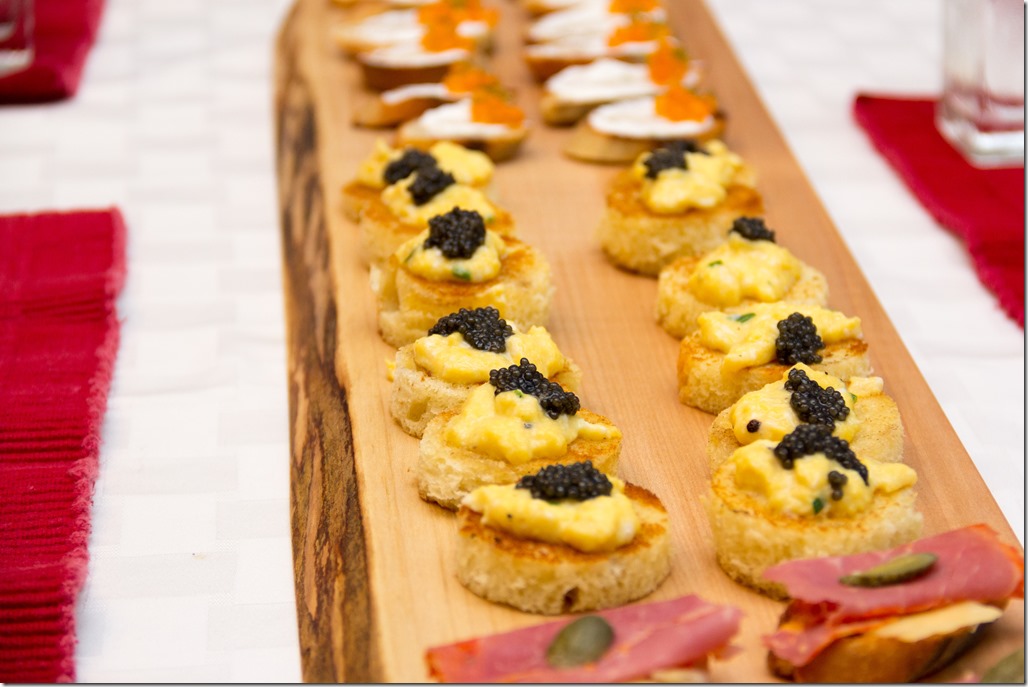 2nd Course – Eggs and Caviar
This was probably my favorite course of the night! Gently coddled eggs, homemade crème fraiche, toasted brioche, and sturgeon caviar.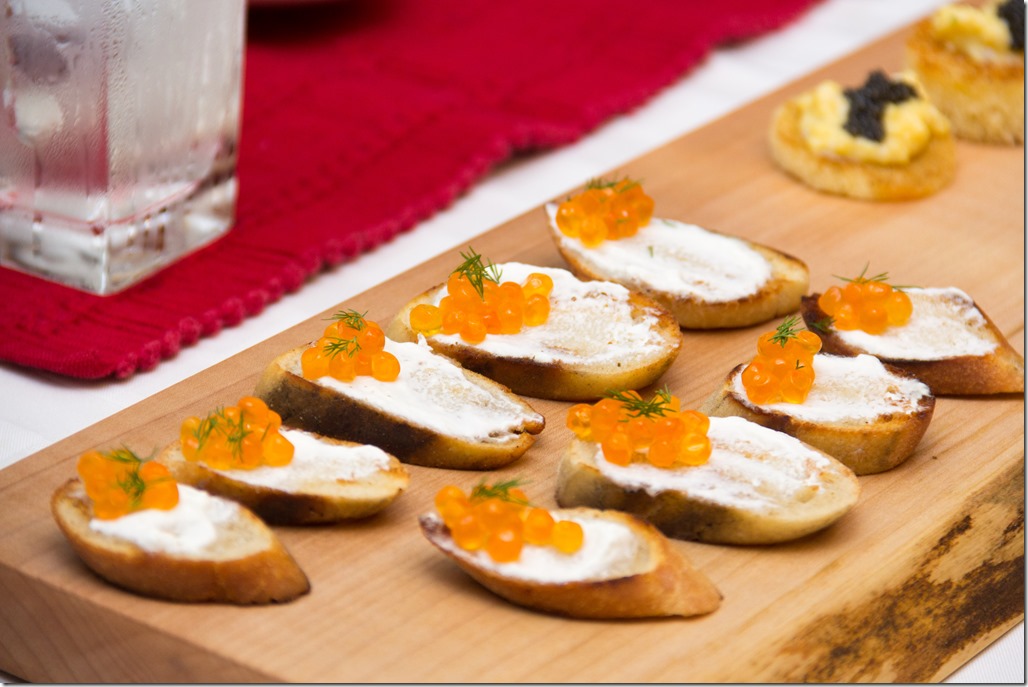 3rd Course – Salmon Caviar
Salmon caviar, dill, crème fraiche, and sourdough toast.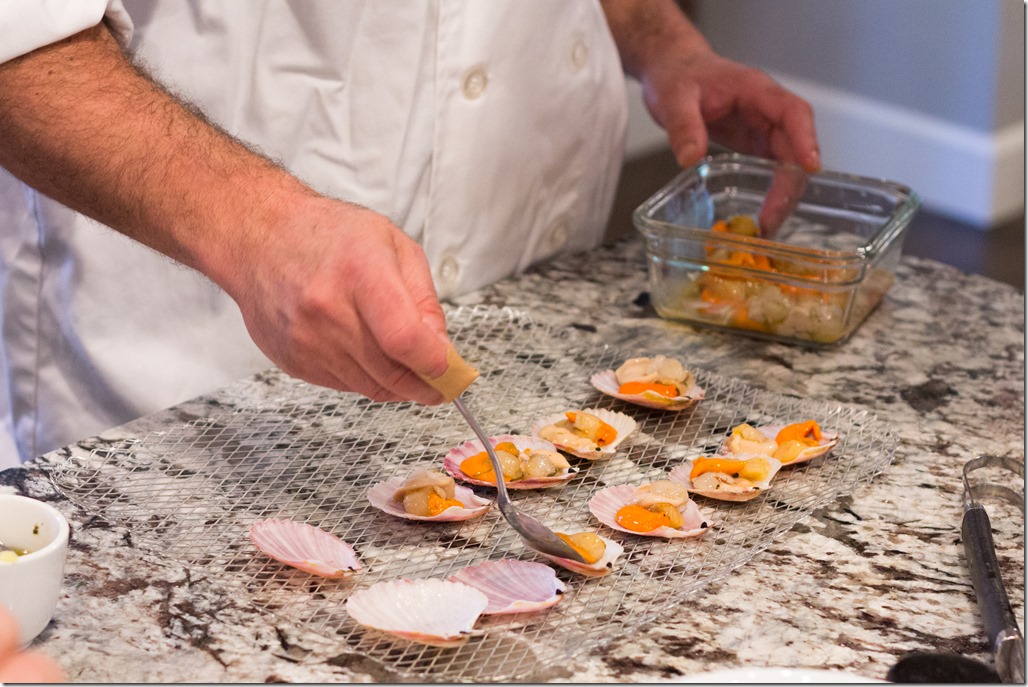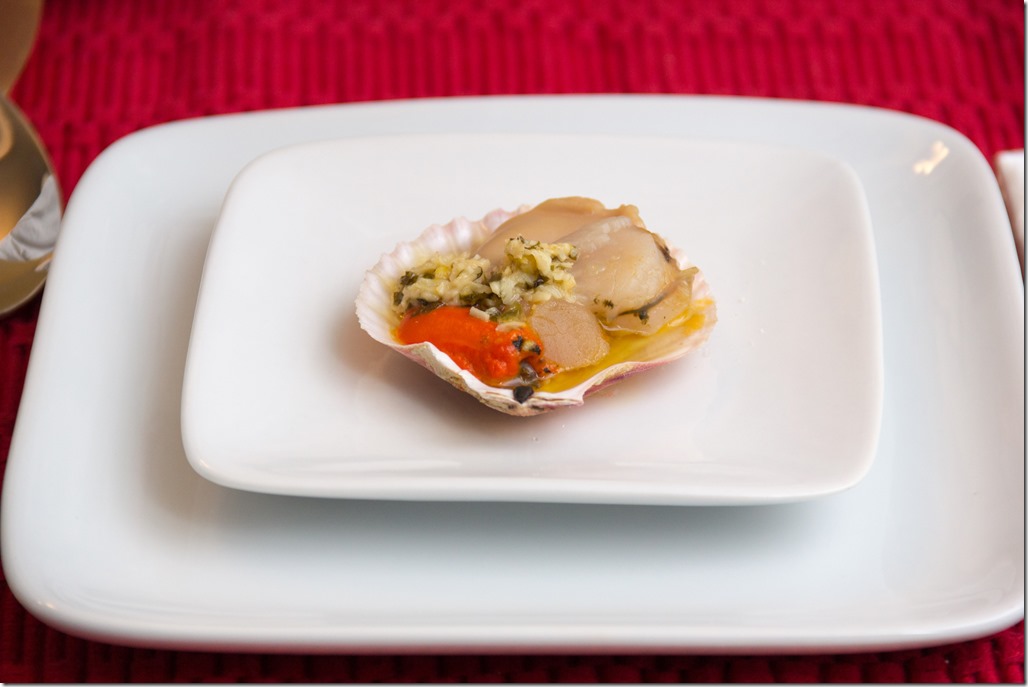 4th Course – Grilled Scallops
Fresh, locally sourced pink scallops, roasted in the pizza oven ever so lightly to be semi-crudo, with parmesan, capers, and fresh olive oil.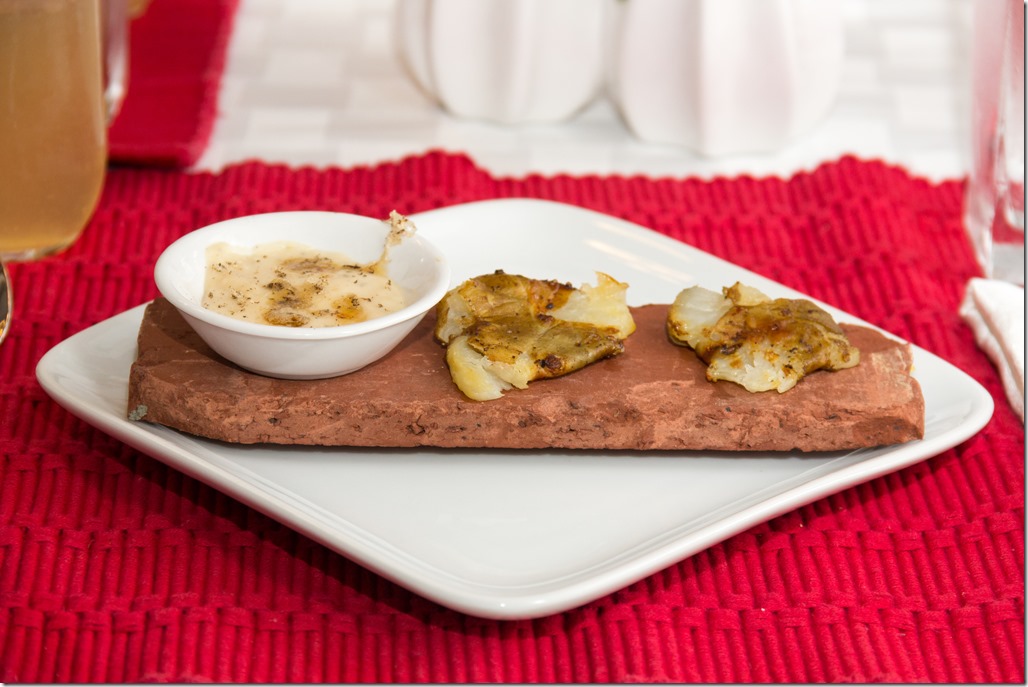 5th Course – Sunchoke
Smoky roasted sunchoke with a truffled white bean dip served on a warm brick.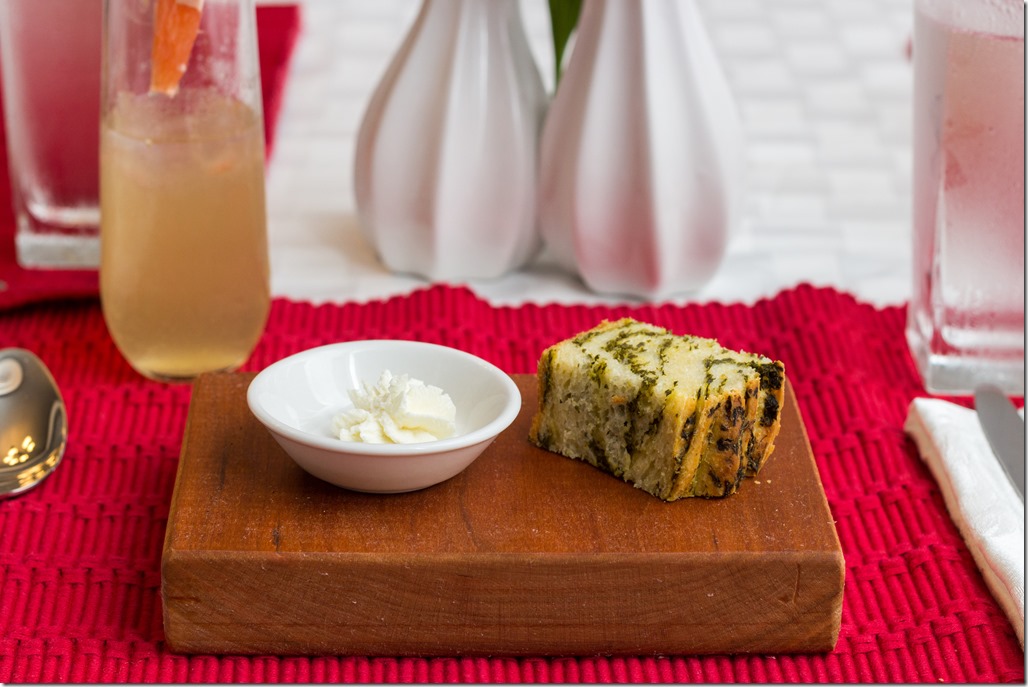 6th Course – Kale Babka
Babka bread filled with kale, fennel tops, and mustard, served with whipped chevre.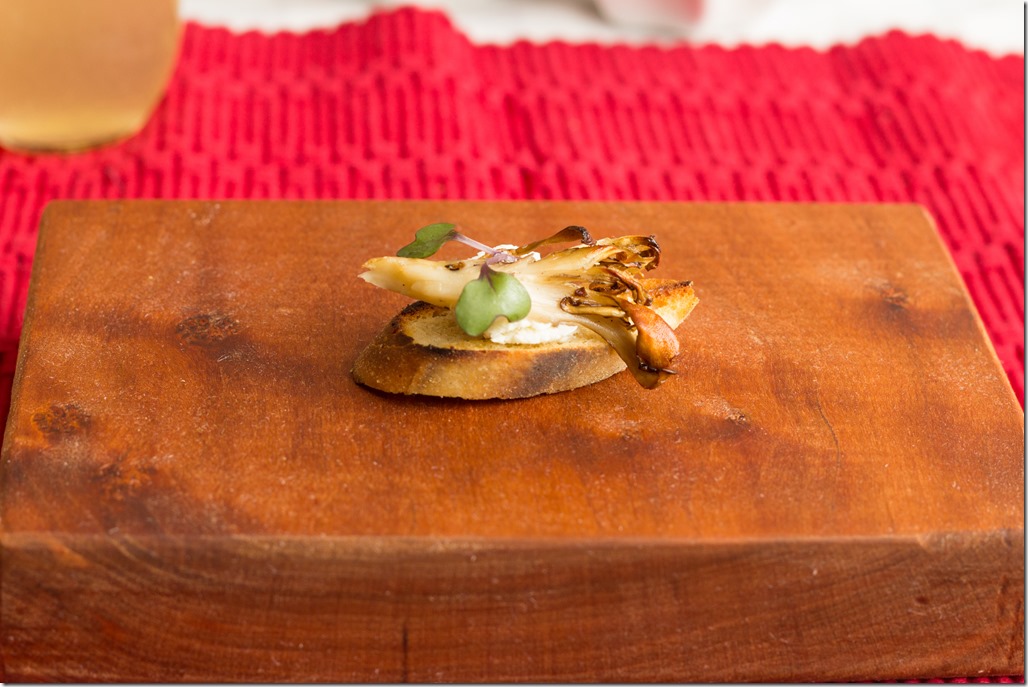 7th Course – Oyster Mushroom
Baby flambéed oyster mushroom with chevre on a sourdough toast.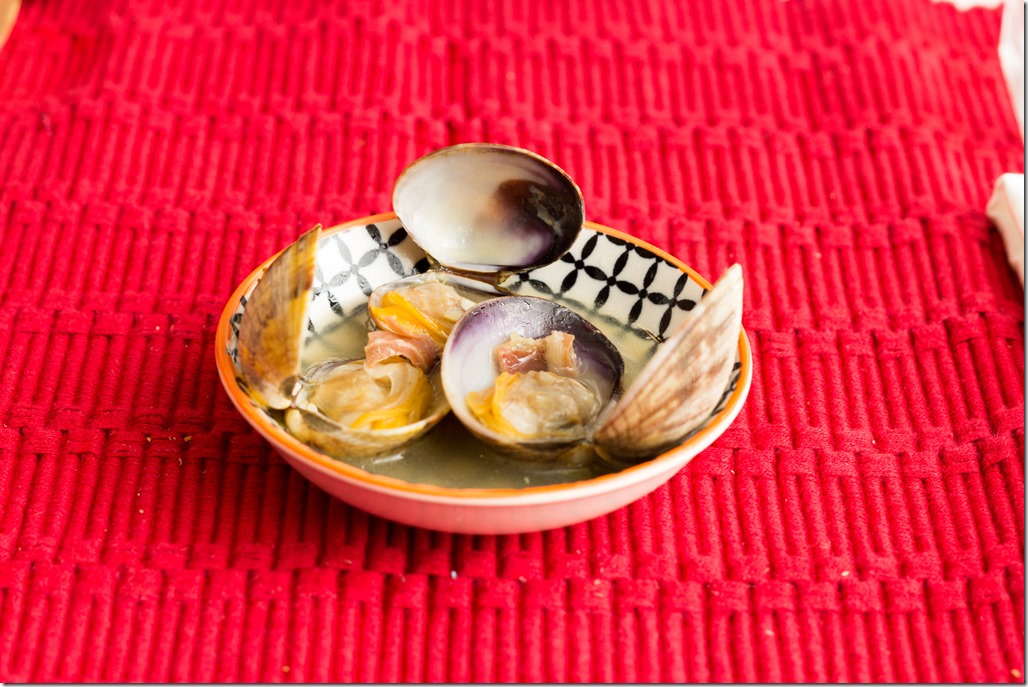 9th Course – Littleneck Clams
Littleneck clams in a chardonnay chicken broth with prosciutto.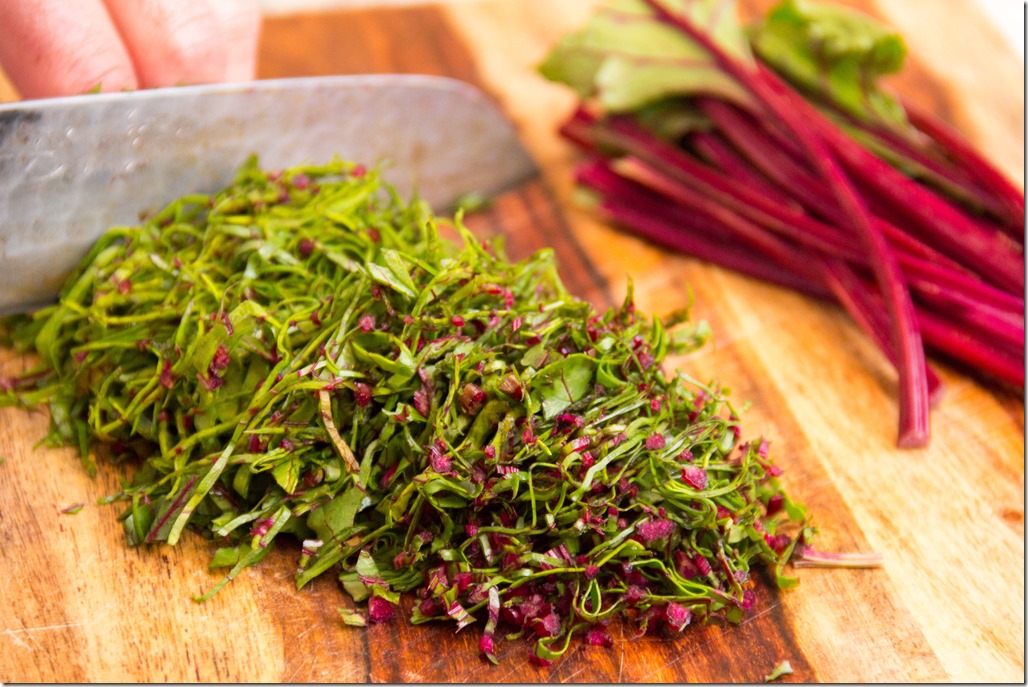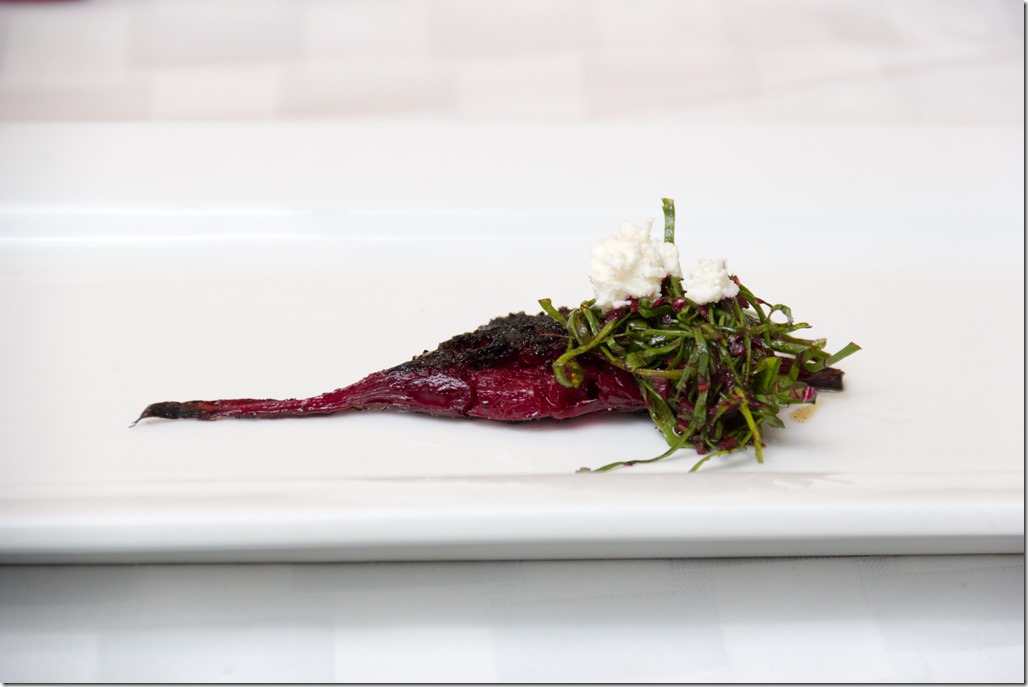 9th Course – Blackened Beet
Beets, blackened on a grill, beet greens, and chevre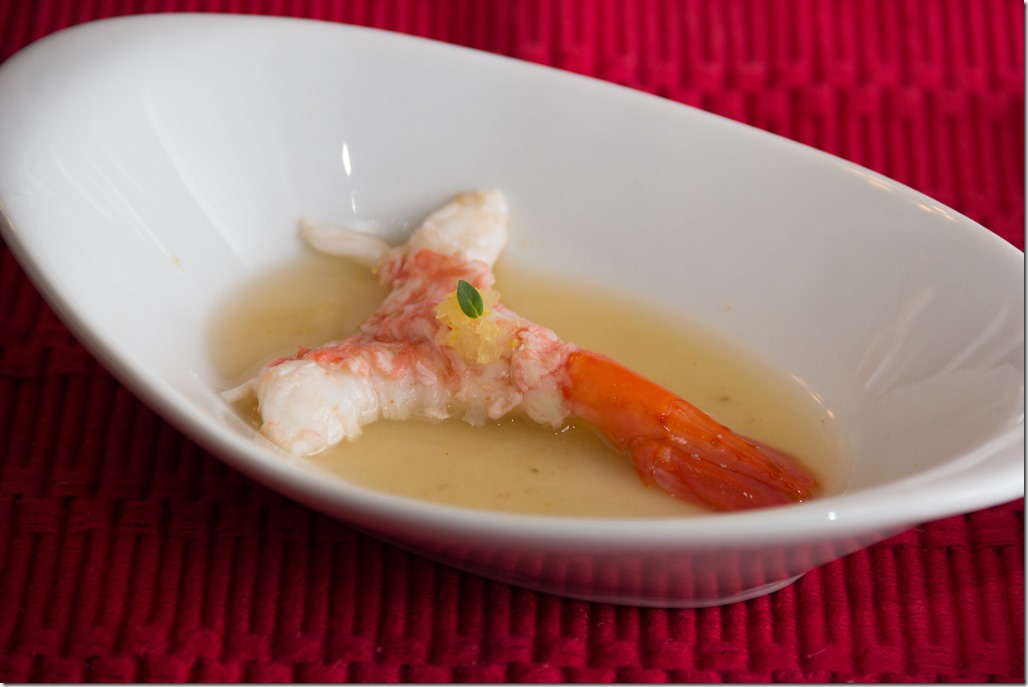 10th Course – Spot Prawn
Locally sourced Pacific-Northwest spot prawn with cured lemon, and thyme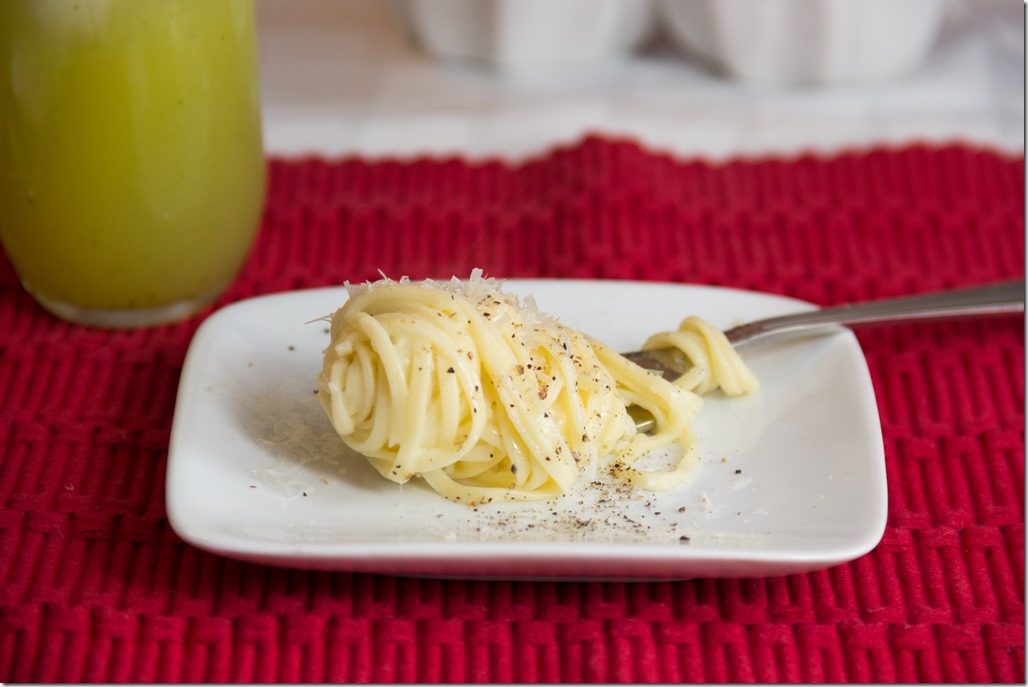 11th Course – Cacio e Pepe
Fresh duck egg angel hair pasta with pepper and parmesan. This simple course was amazing in its simplicity, richness, and bright flavors.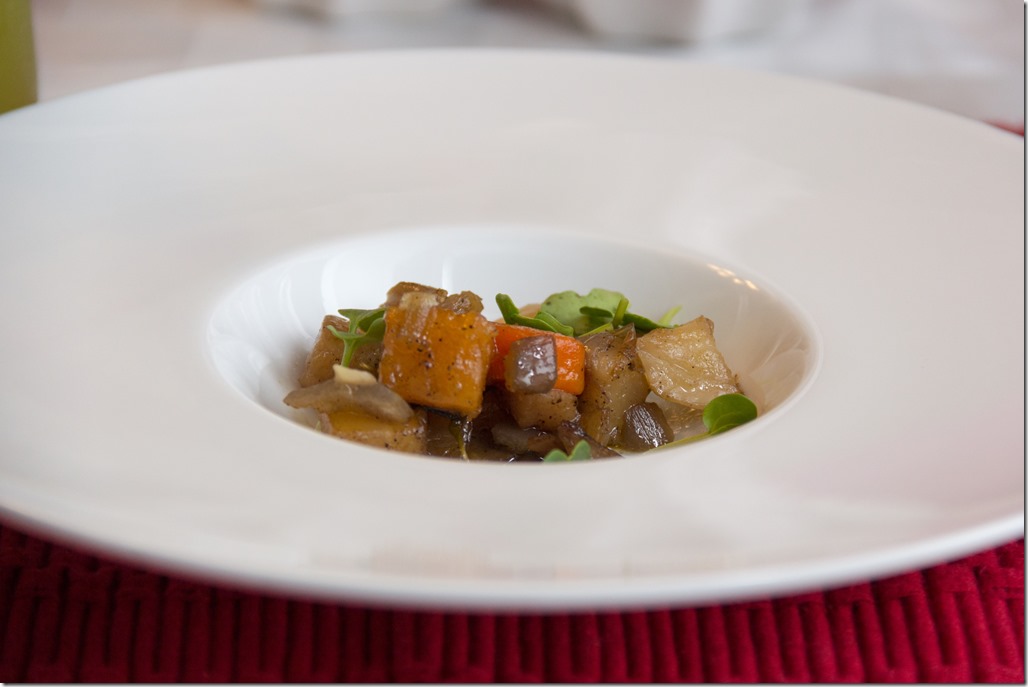 12th Course – Roasted Root Vegetables with Browned Butter
Roasted parsnips, carrots, turnips, and celeriac root roasted with browned butter.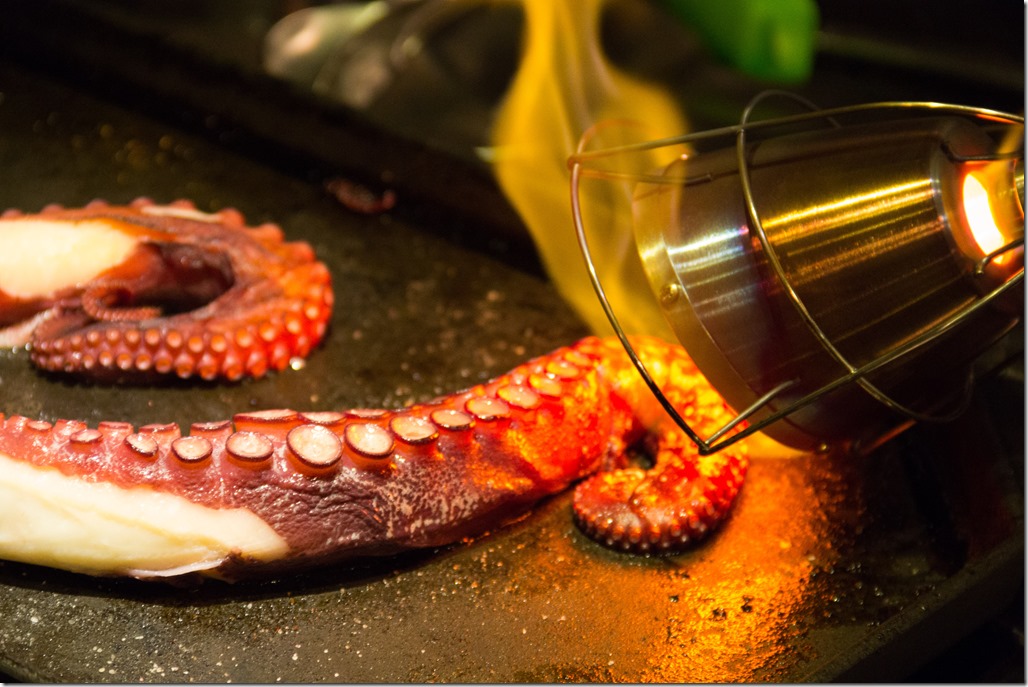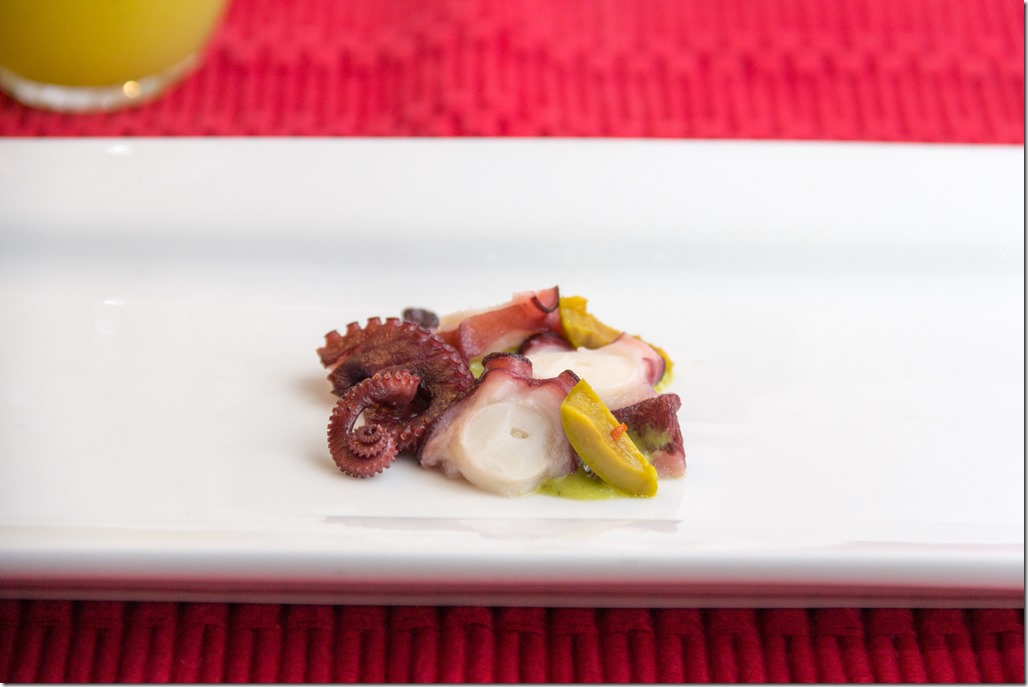 13th Course – Grilled Octopus
Grilled octopus with chimicurri. This octopus came out tender, smoky, and crispy.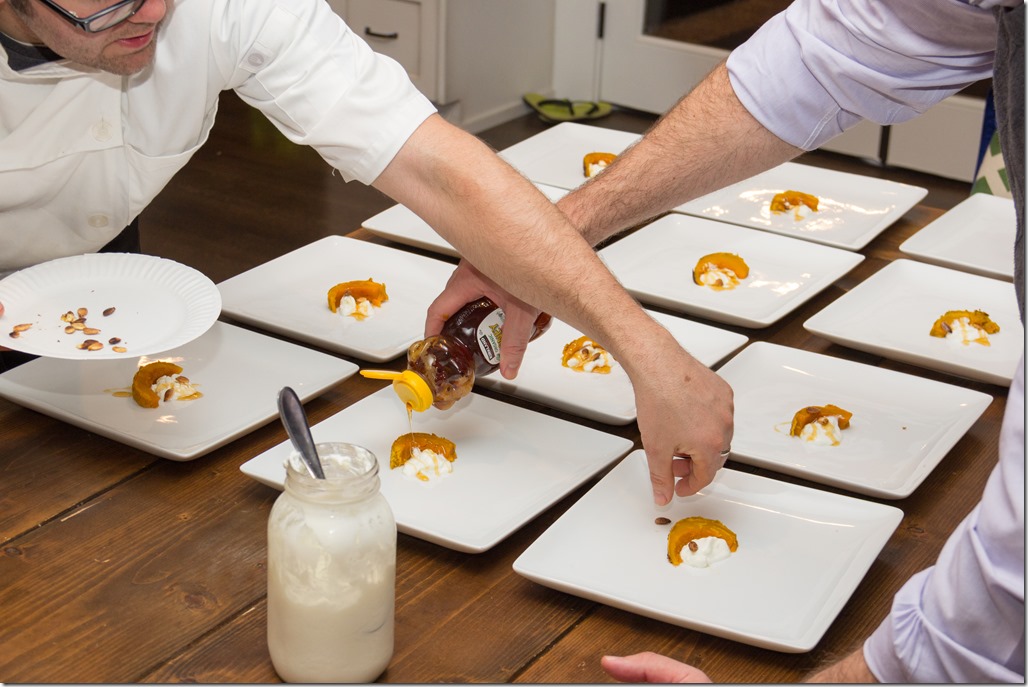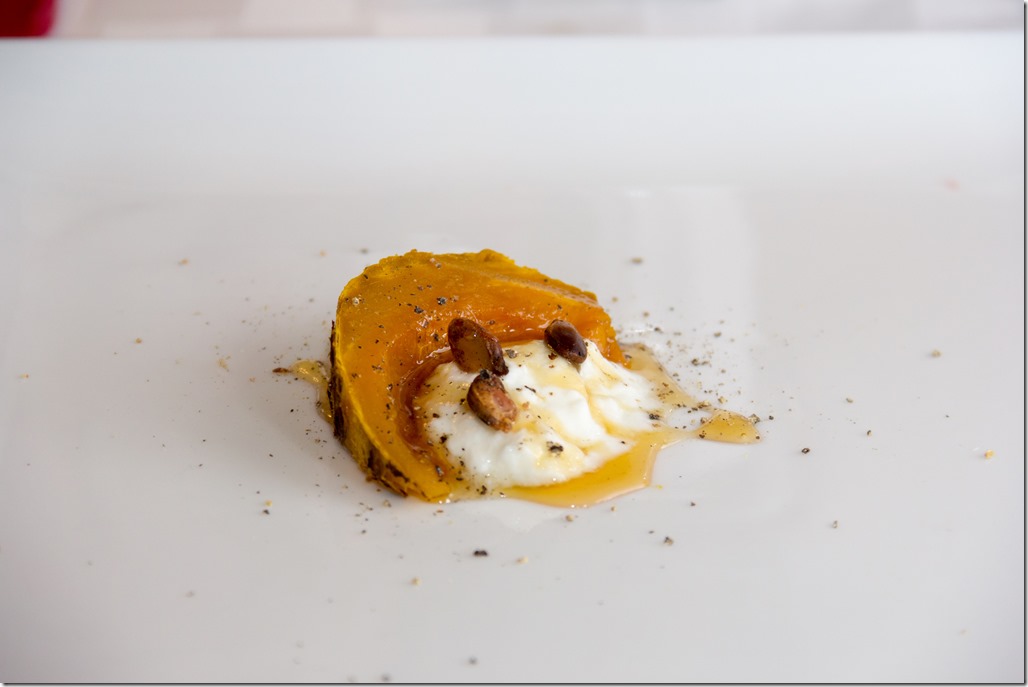 14th Course – Kombacha Squash
Coal roasted kombacha squash with homemade yogurt, honey, and toasted seeds from the squash itself.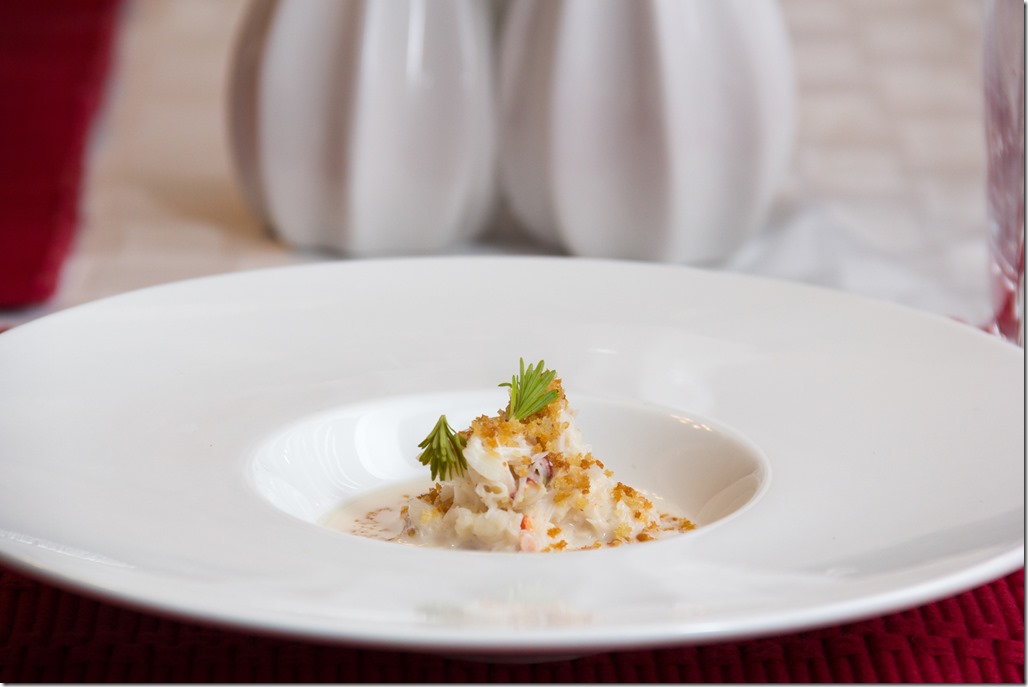 15th Course – Crab
Dungeness crab, pine nut milk, and pine tips.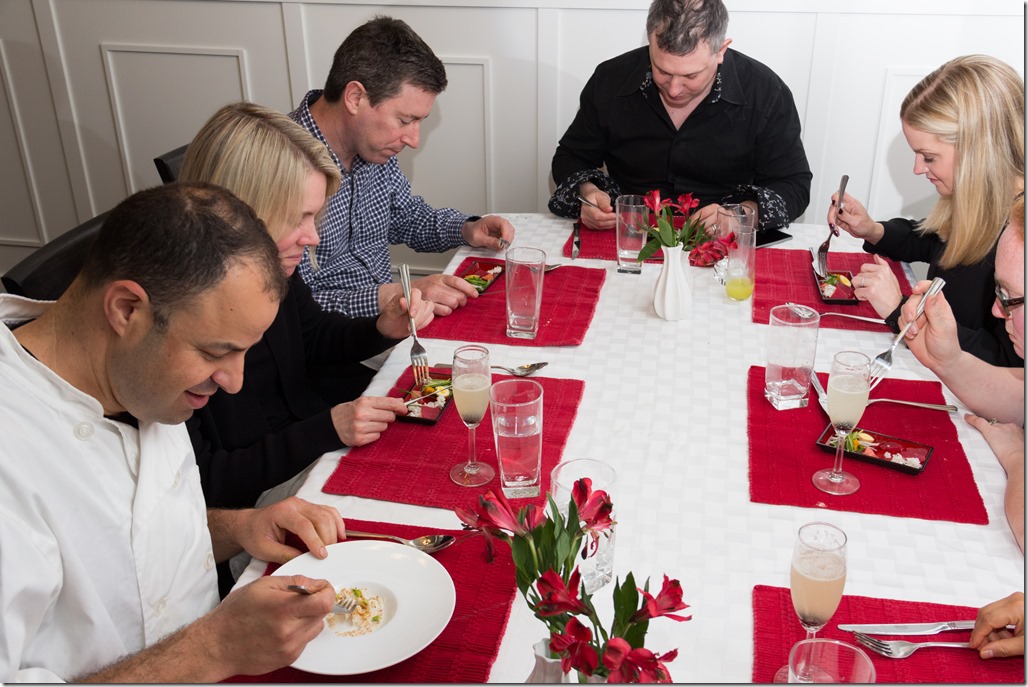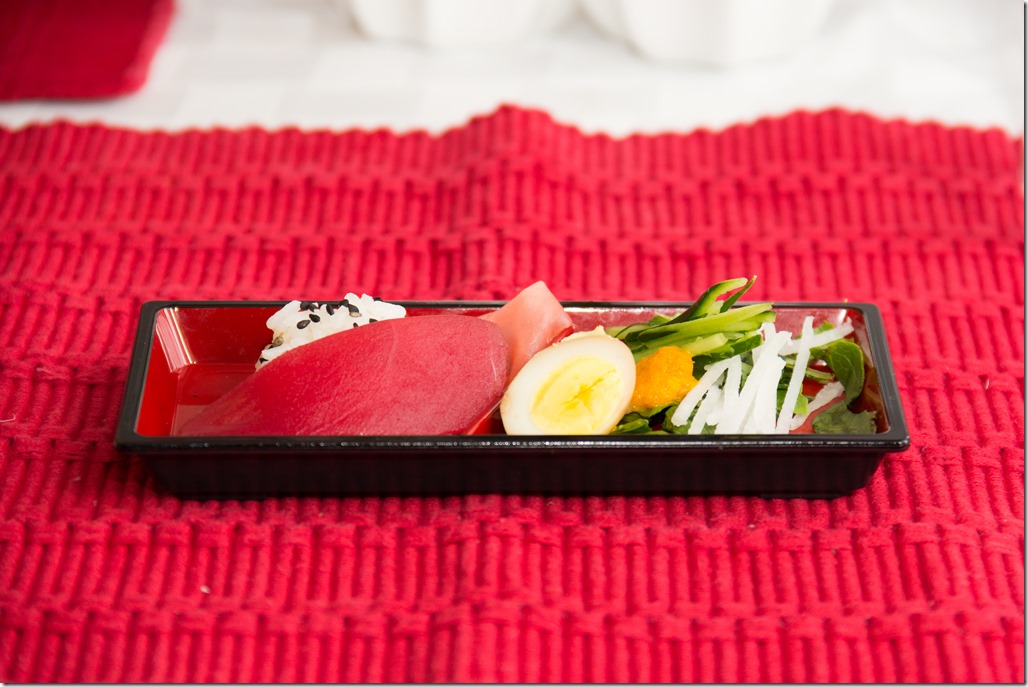 16th Course – Bento Box
This was a "guest course" prepared by my friend and annual dinner collaborator. This was a tiny bento box with tuna, and aged quail egg.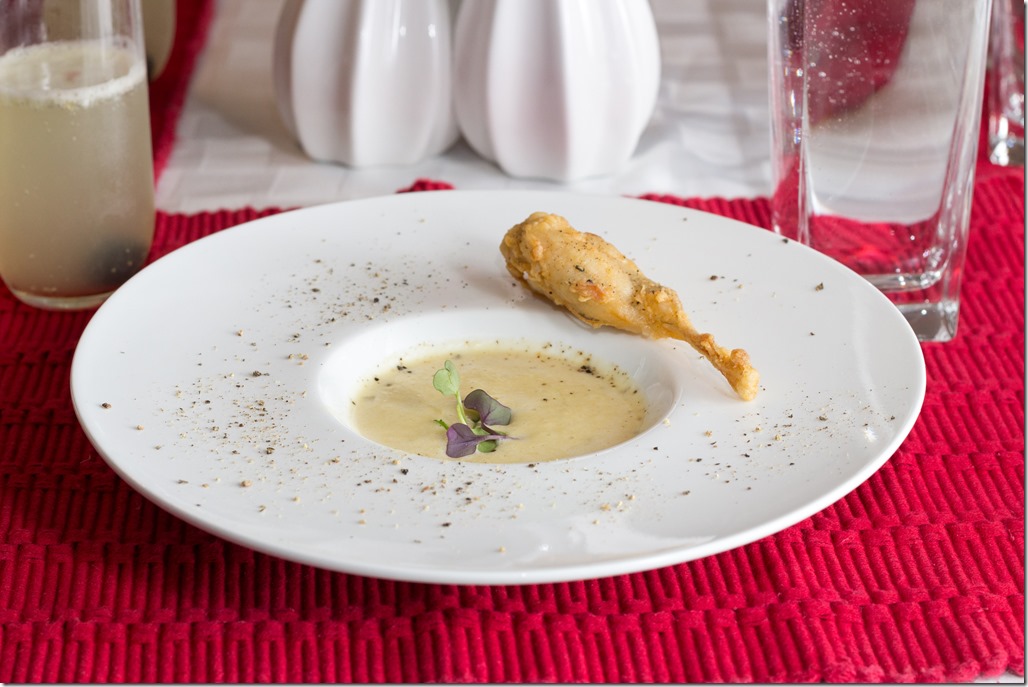 17th Course – Grenouille
Frogs legs with a garlic leek soup.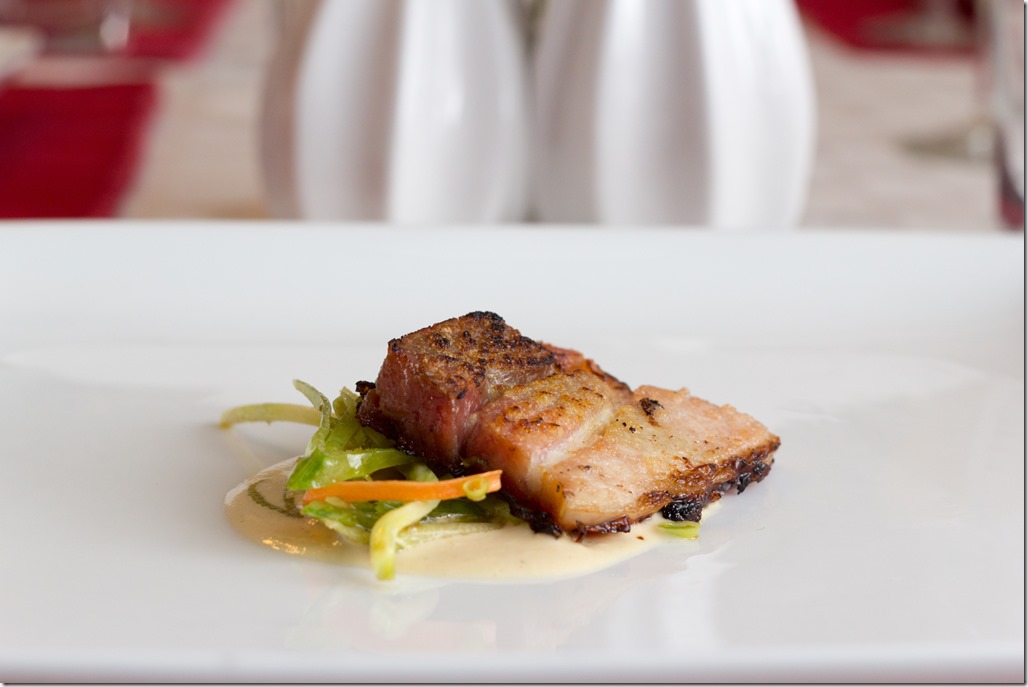 18th Course – Pork Belly
Roasted pork belly, cashew coconut sauce, snow peas, and broccoli.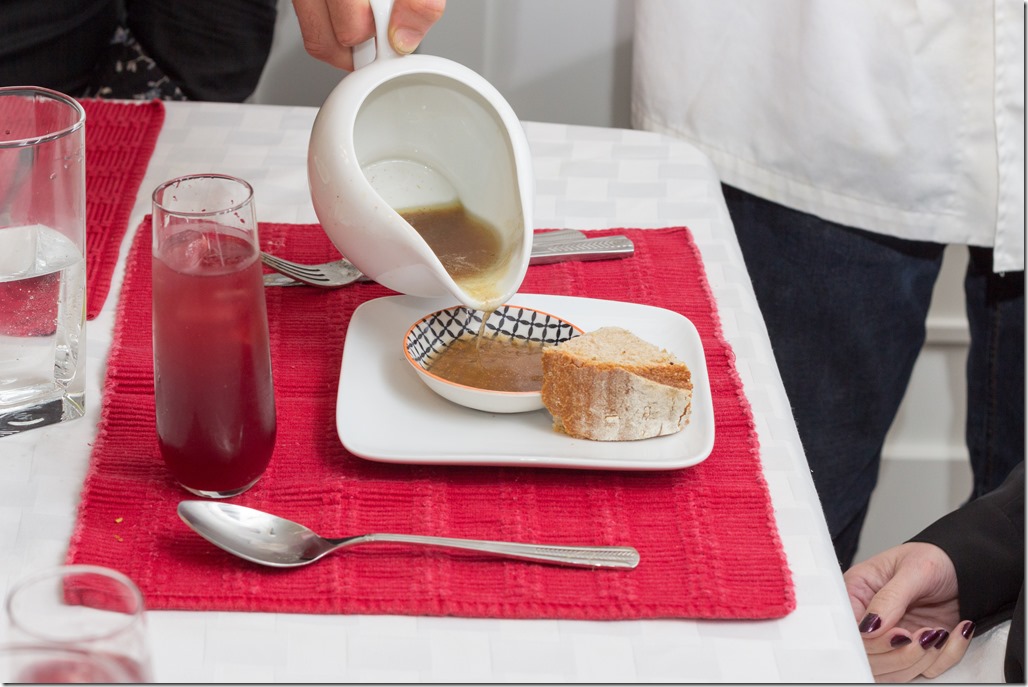 19th Course – Bread and Schmaltz
Rustic whole wheat sourdough bread with a smoky chicken schmaltz and drippings.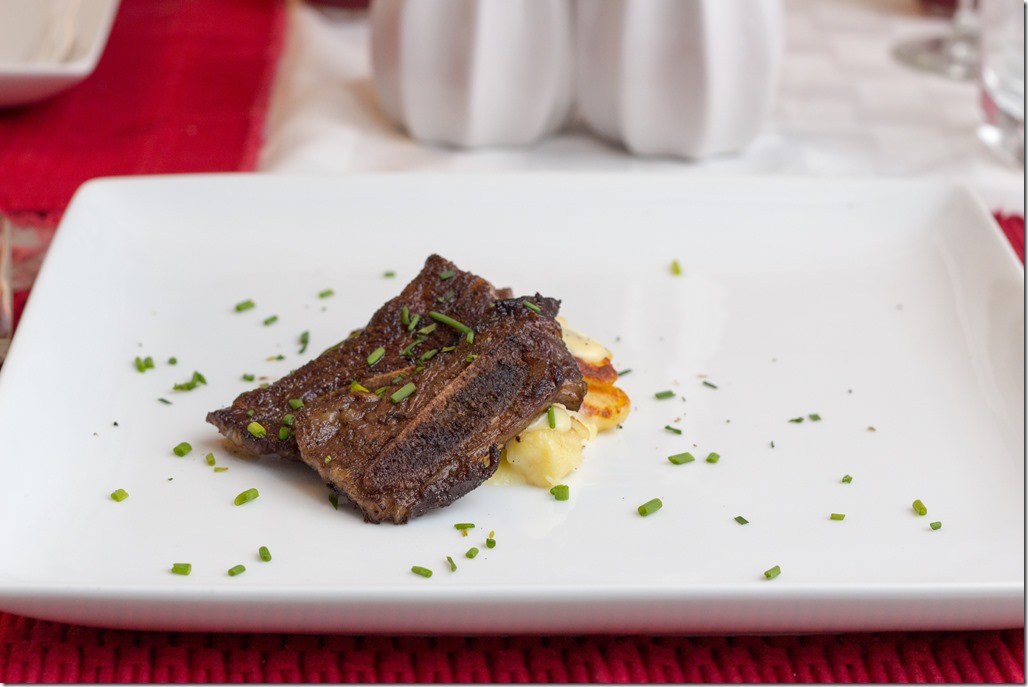 20th Course – Short Rib and Gnocchi
Gnocchi, Fontina fonduta, black truffle, and short ribs.
21st and 22nd Courses – Petit Fours "Pie"
"Pecan Pie" pate de fruit with pecans, dates, cinnamon, and nutmeg
"Peach Pie" Macaron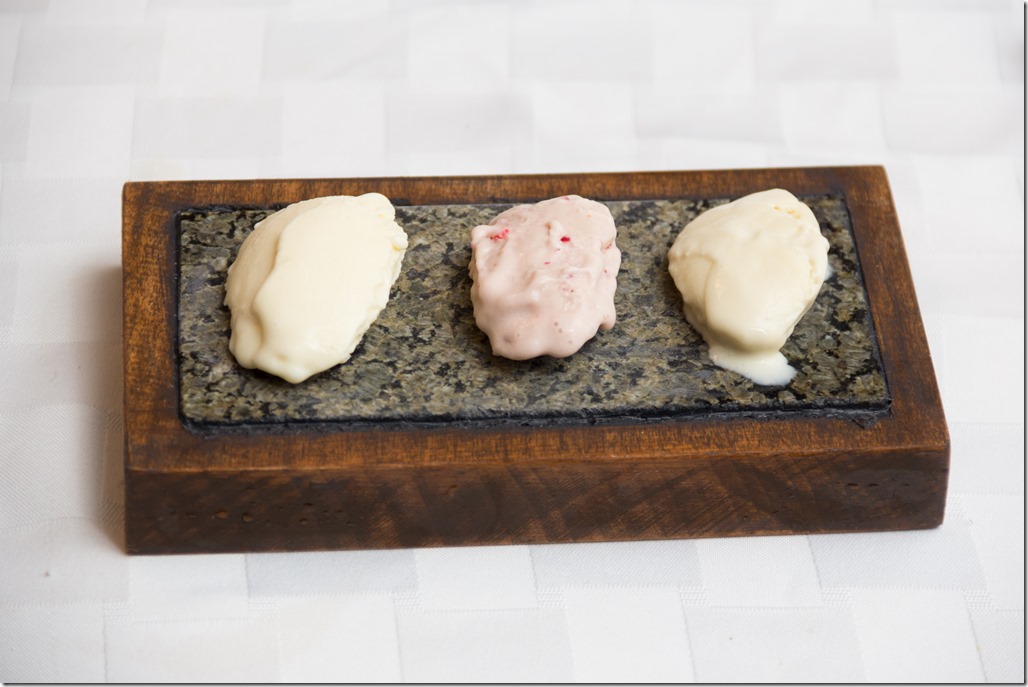 23rd Course – Trio of Gelato
3 Gelatos served on a chilled granite slab.
Lemon-Lavender
Strawberry-Tarragon
Chamomile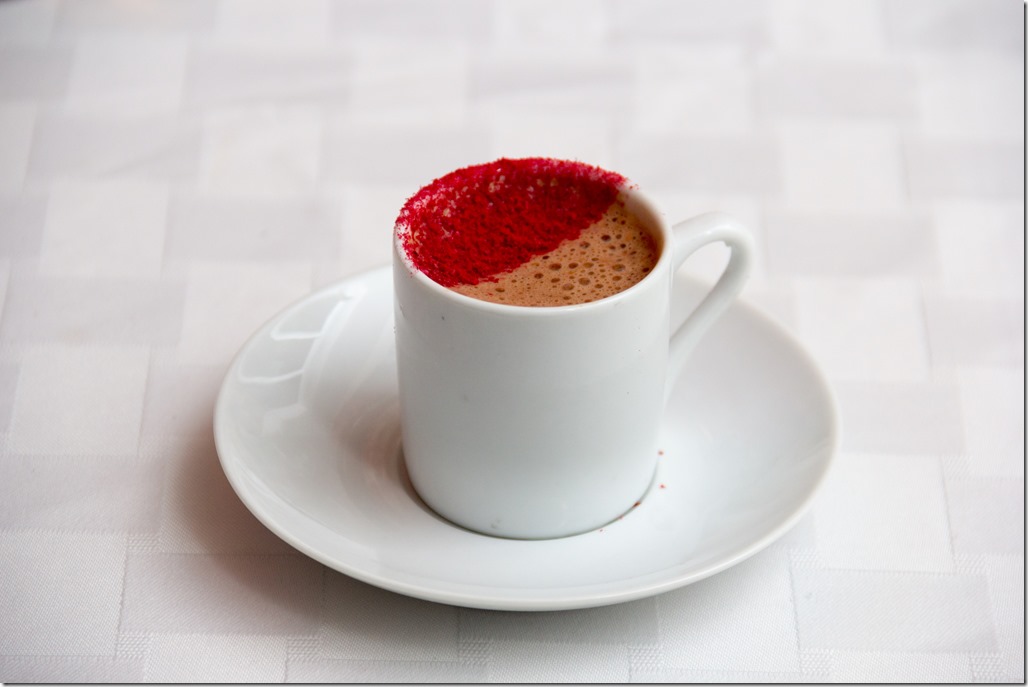 24th Course – "Hot Chocolate"
72% dark, single bean chocolate foam with freeze dried raspberry.
I figured the best part of a good hot chocolate is the foam, so why not just have foam.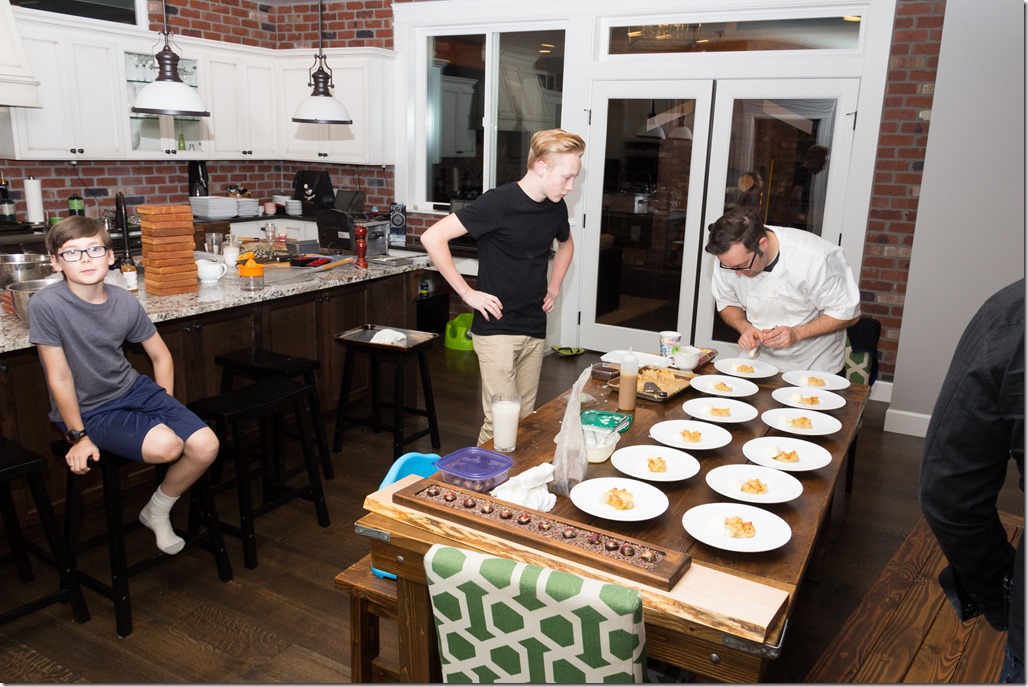 My tired dishwashers at the end of the night.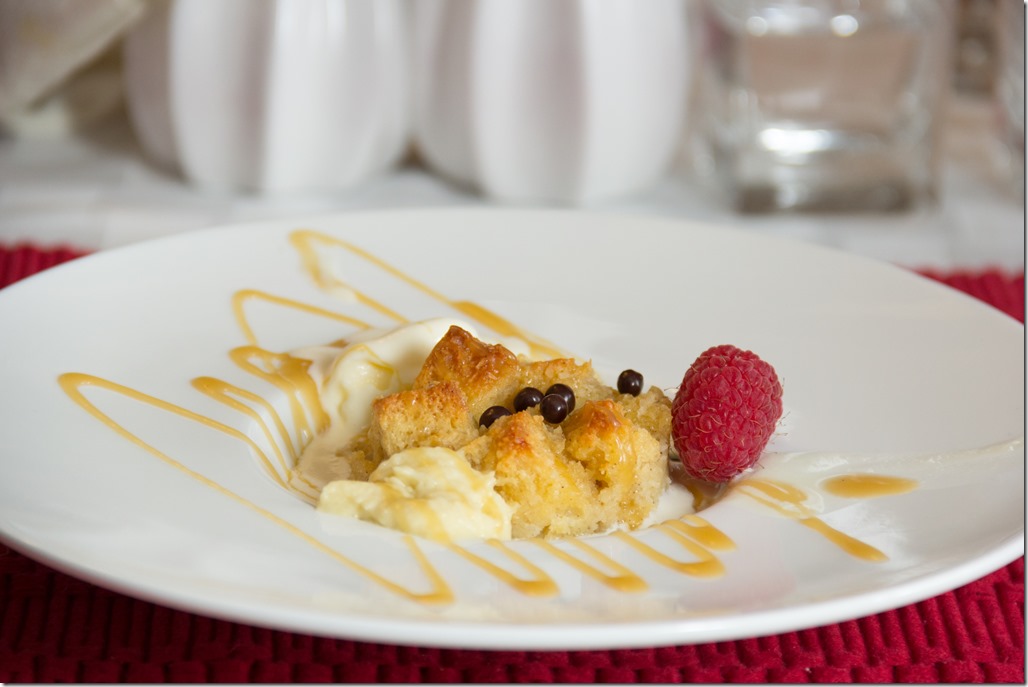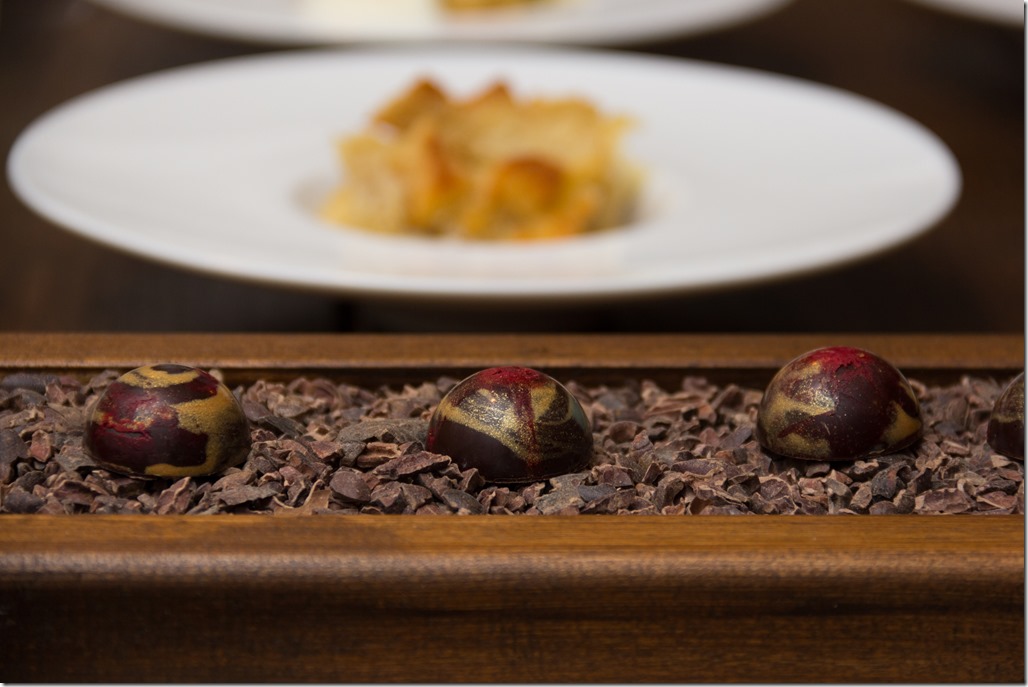 25th – Bread Pudding
Brioche coconut bread pudding with sweet cream gelato, guava curd, salted coconut caramel.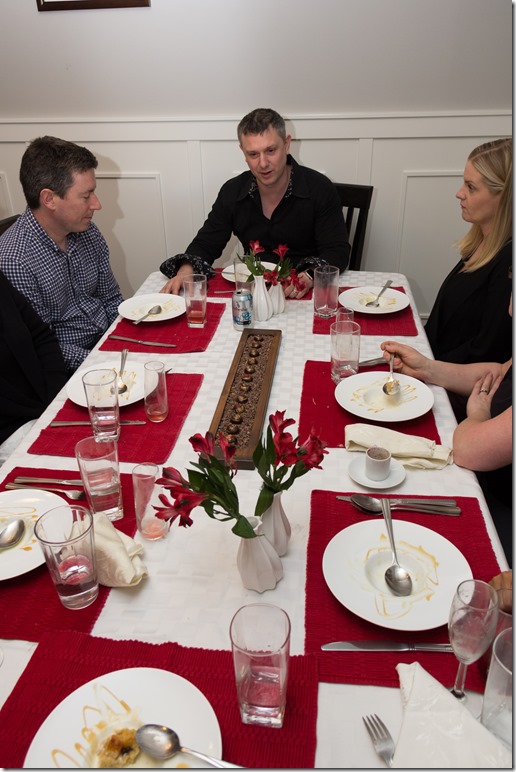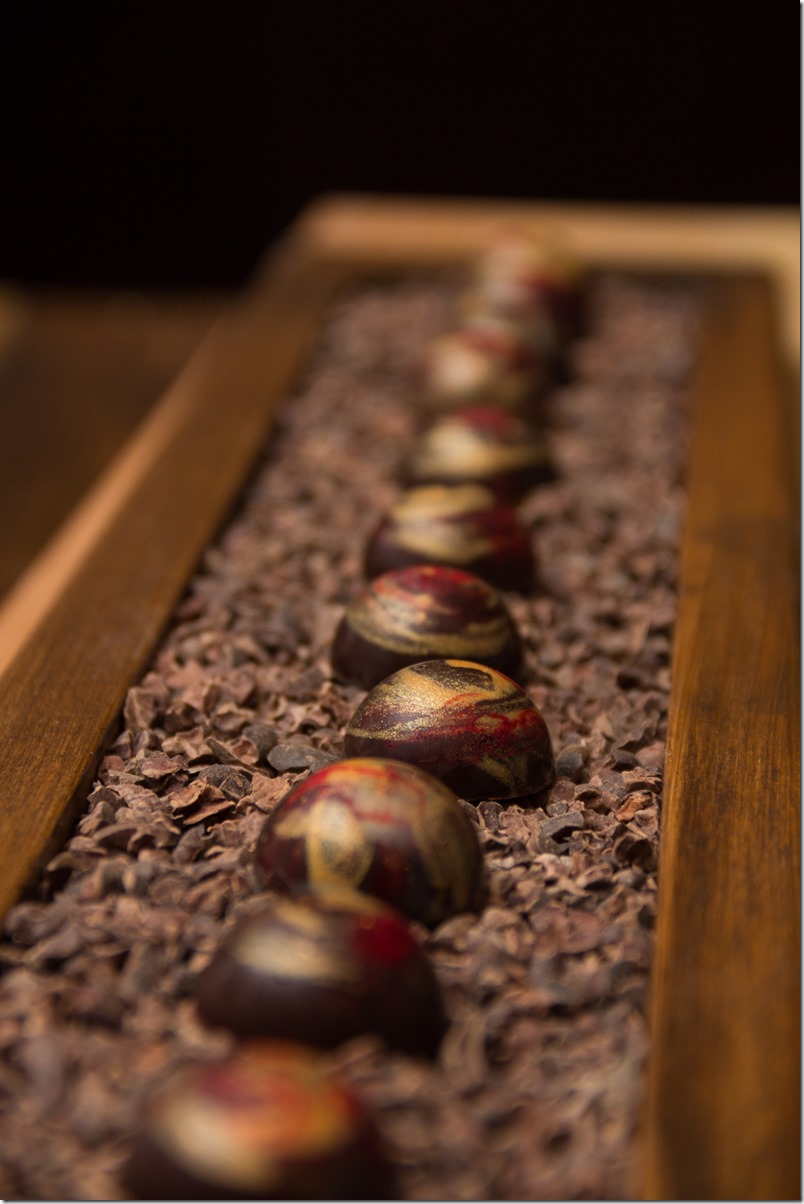 26th Course – Truffles
To finish off the night I served raspberry dark chocolate truffles on a bed of cocoa nibs.
It was a wonderful night with fun had by all. I was asked several times by different people why I go to all that work for one night. My answer is that it's a labor of love, where the expense, time, and effort are paid in time and enjoyment with good friends over good food. Until next year!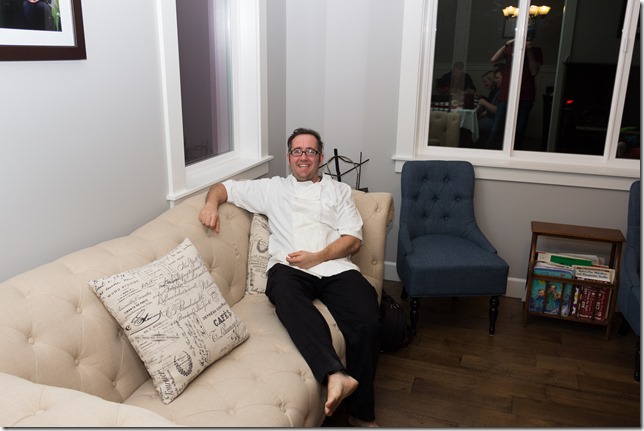 Finally sitting down after a very long night!