It's that time of year again! This year, for my 11th annual Mother's day multi-course dinner, I did 12 courses. This year I deviated from the French theme on several occasions and even had a guest course prepared the friend that acts as sous chef each year. It was a lot of fun with a mix of French, Korean, Lebanese, and American influences.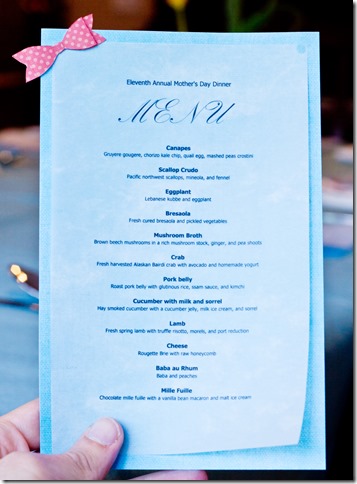 Every year I squeeze as many people into my house as possible. I've found that it is not much more work for a few people as for many as many guests as I have plates. I have a few seats reserved for annual guests, others are rotated, where I tell the guests that next year their seat will have to go to someone else.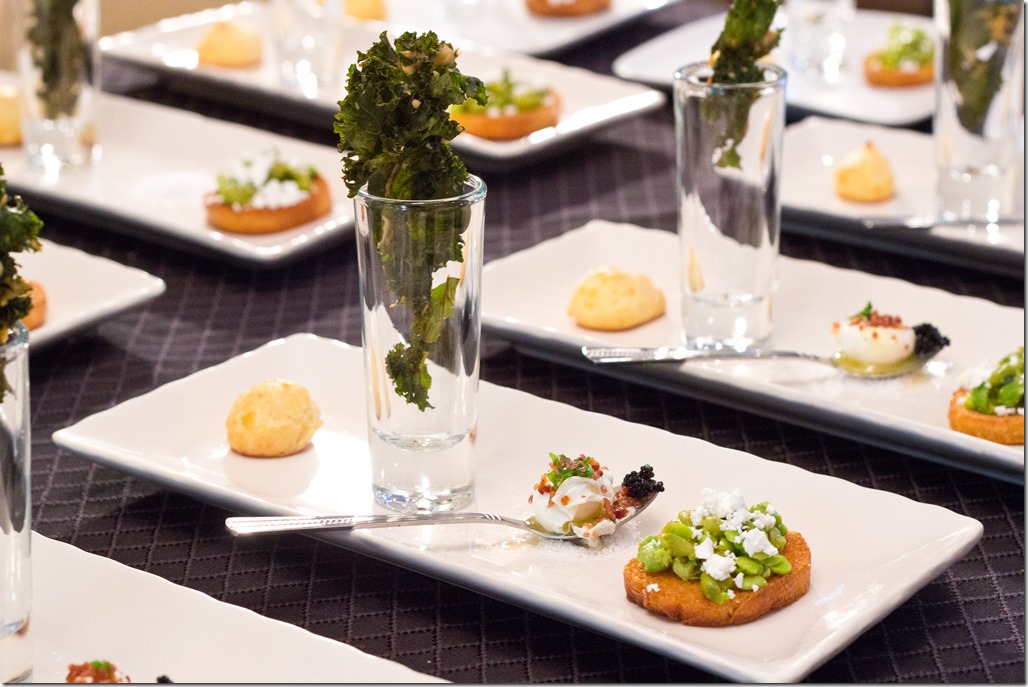 1st Course – Canapés
Gruyere gougere, chorizo kale chip, truffled quail egg with caviar, and mashed peas crostini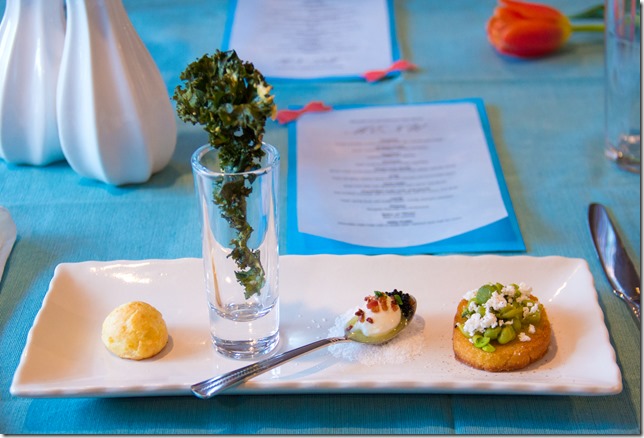 A course like this first course can appear simple, yet disguise the amount of work that goes into preparing four courses in one. The chorizo kale was the surprise for most of the guests. It exploded with flavor; I kept catching people sneaking the extras from the kitchen.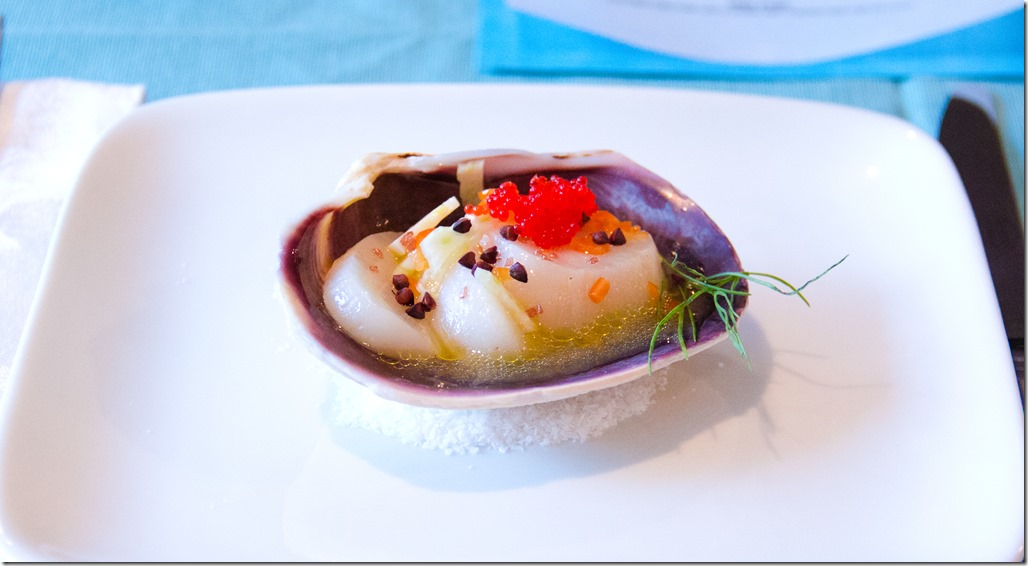 2nd Course – Scallop Crudo
Scallop crudo, mineola orange, fennel, flying fish roe, habanero, and toasted buckwheat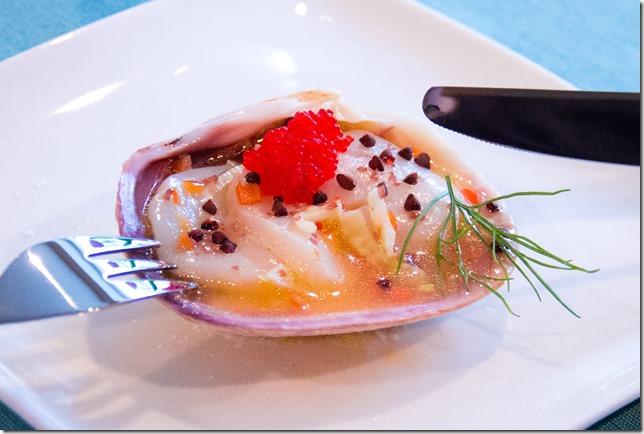 This was a crowd favorite. The raw scallop ( 'cooked' in the acid of the fresh citrus) had the perfect texture, mixed with the crunch of the fennel and buckwheat. The roe added a briny, saltiness and the habanero a little spicy bite.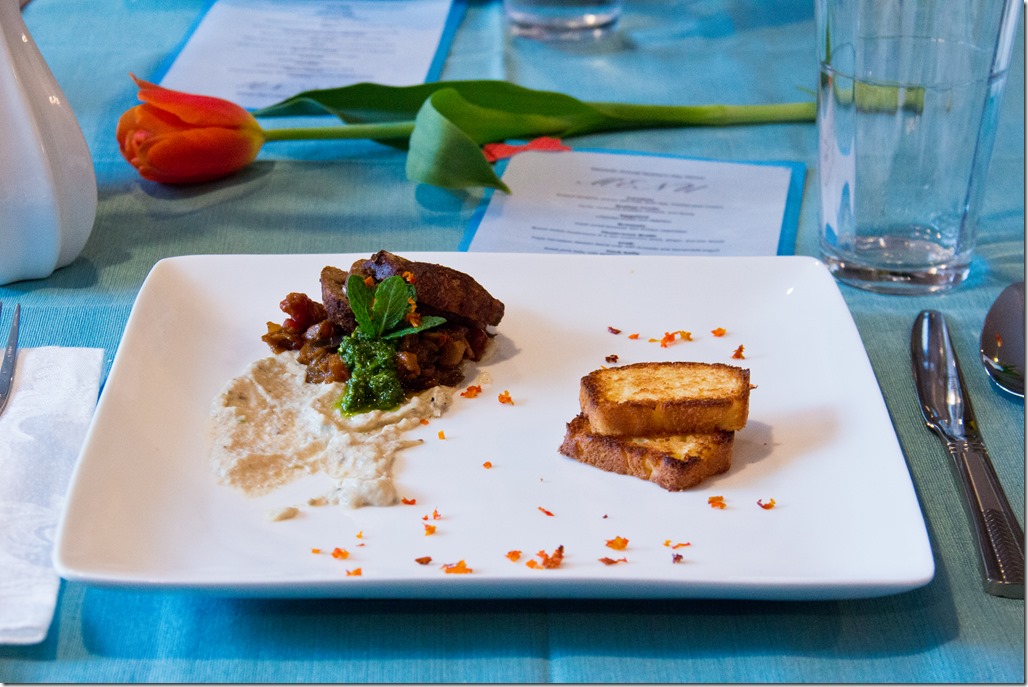 3rd Course – Eggplant
Lebanese kubbe, eggplant salad, baba ganoush, pesto, garlic cream, and toasted brioche
This was a first, in that it was a guest course, cooked by my sous chef, Yossi. It was a delicious course and helped immensely with the pacing of the meal, as I was able to get ahead with later courses as this was prepared and plated. I definitely want to revisit the guest course idea in future dinners.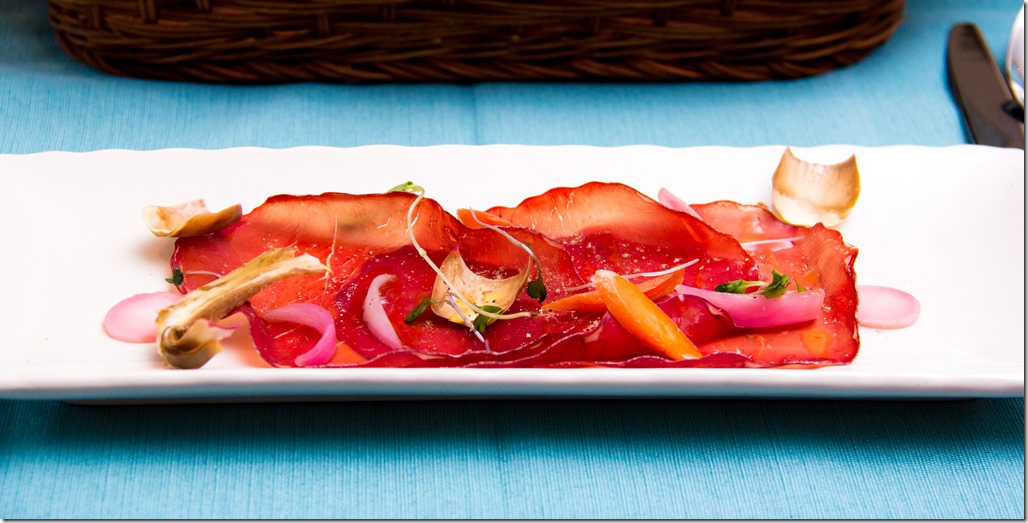 4th Course – Bresaola
Fresh cured beef bresaola and pickled artichoke, carrots, shallots, and radishes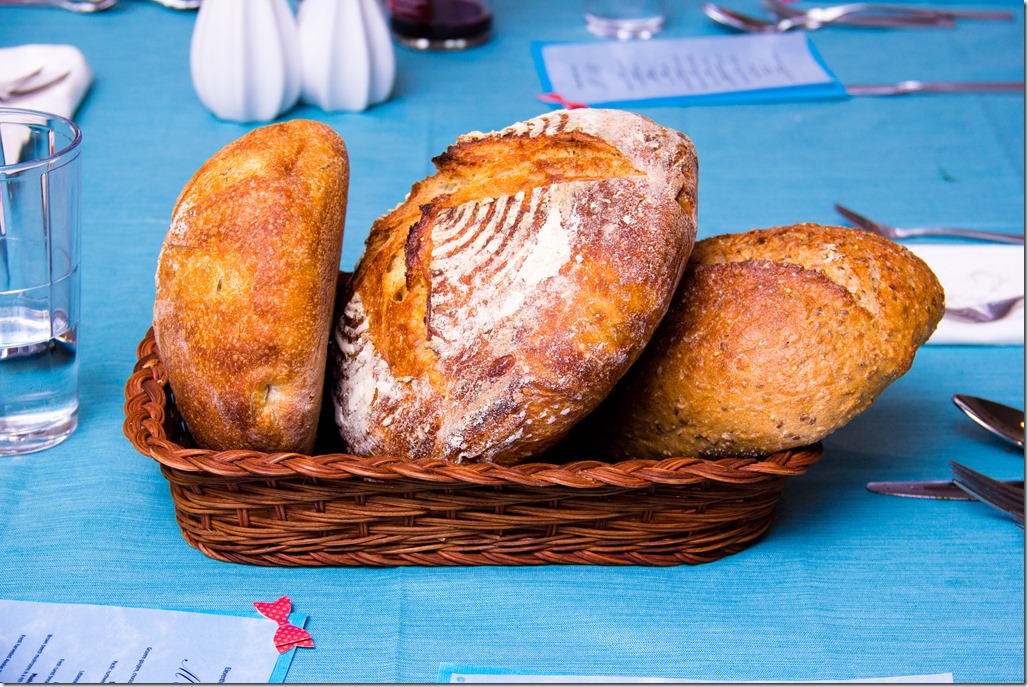 Homemade Sourdough Breads
I served several breads throughout the night to go with various courses, but this beautiful bread was meant for the mushroom broth.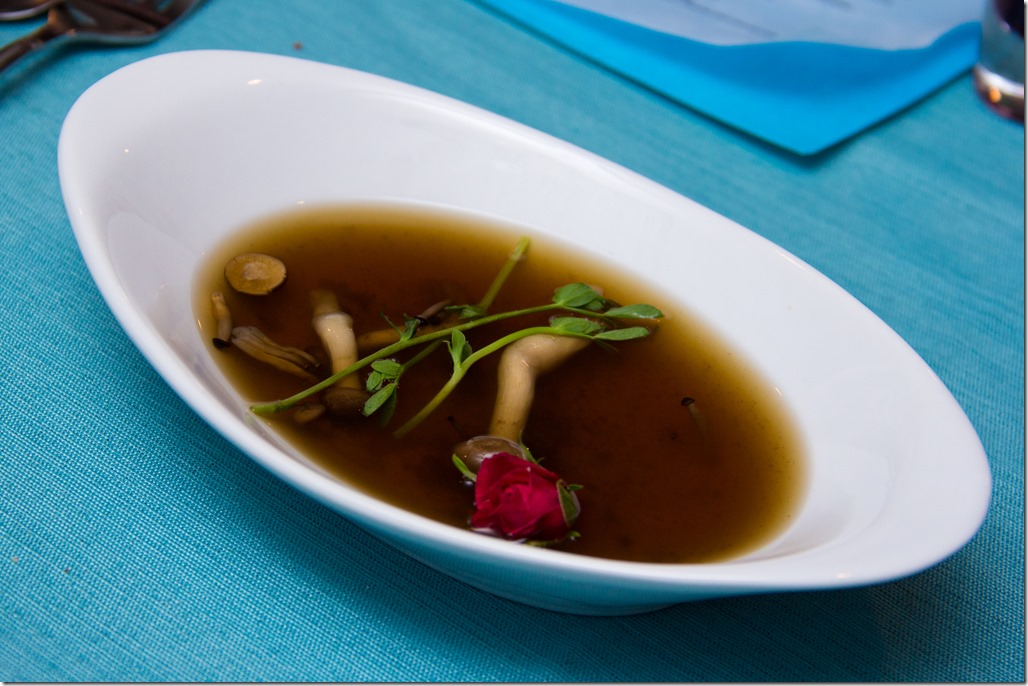 5th Course – Mushroom Broth
Brown beech mushrooms in a rich mushroom stock, ginger, and pea shoots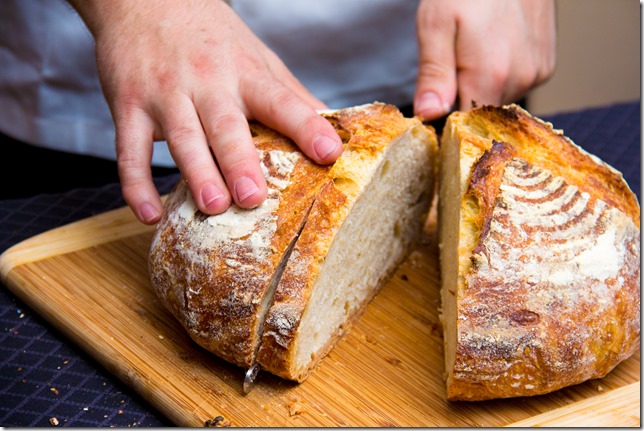 Thick slices of sourdough bread were served to sup up the rich fresh made mushroom stock. While not as beautiful as some soups from years past, it was a unique and rich comfort food.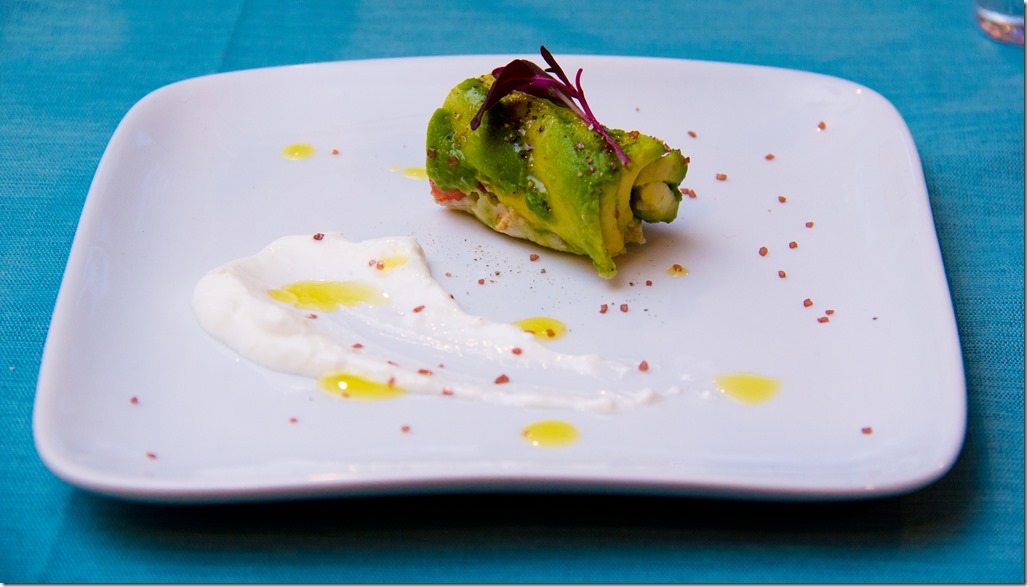 6th Course – Crab
Fresh harvested Alaskan Bairdi crab with avocado, homemade yogurt, and lime oil
A friend recently returned from Alaskan where he helped his father harvest Bairdi crab for his commercial fishing operation. I was lucky enough to score a bunch of fresh crab legs. It is amazing and I didn't want to add too much to take away from just enjoying the fresh crab meat. Here, I rolled it up in avocado and served it with a rich fresh cured Greek yogurt. The lime oil added tinges of citrus.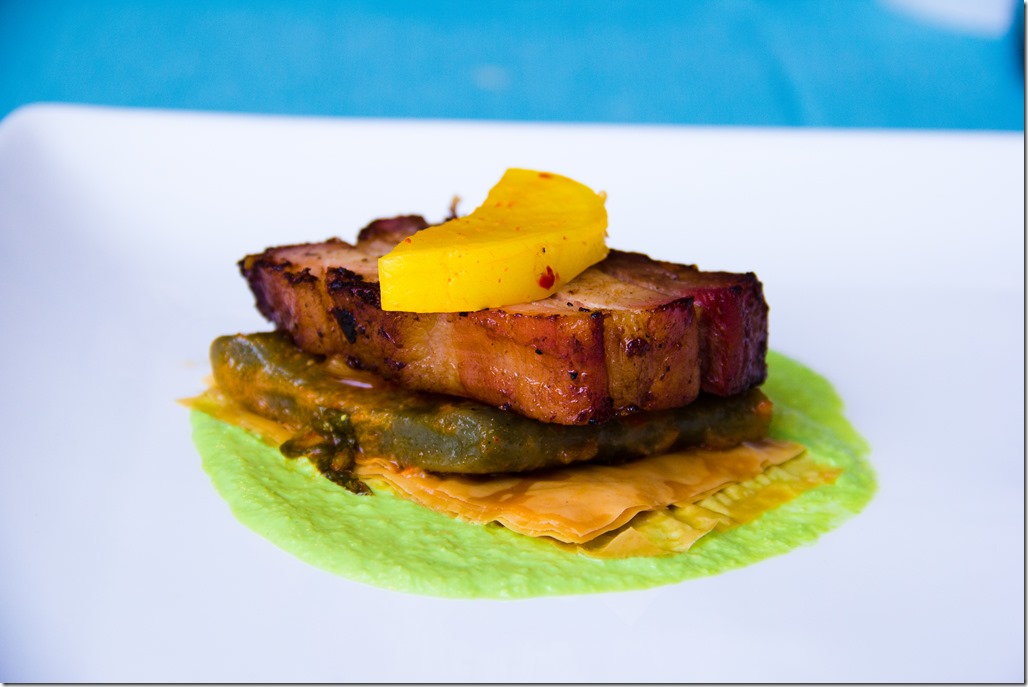 7th Course – Pork Belly
Roast pork belly with glutinous rice cakes, ssam sauce, and kimchi
This was a fun play on a Korean ssam lettuce wrap. Under a layer for filo dough was a smooth red ssam sauce and bright green scallion ginger sauce. The glutinous rice cake added a fun toothsome texture to pair with the crunch of the filo and crispy fatty tender pork. Topped with a pickled yellow cucumber.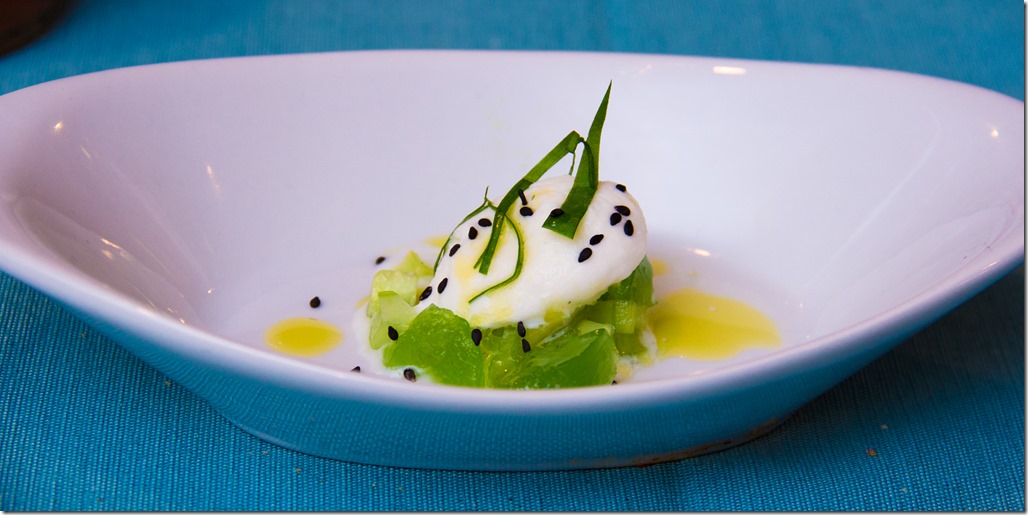 8th Course – Cucumber
Hay smoked cucumber with a cucumber jelly, milk ice cream, fresh sorrel, and mint oil
This was a fresh and bright palate cleanser served between two heavy dishes. There were also vanilla pickled cucumbers to finish off the course.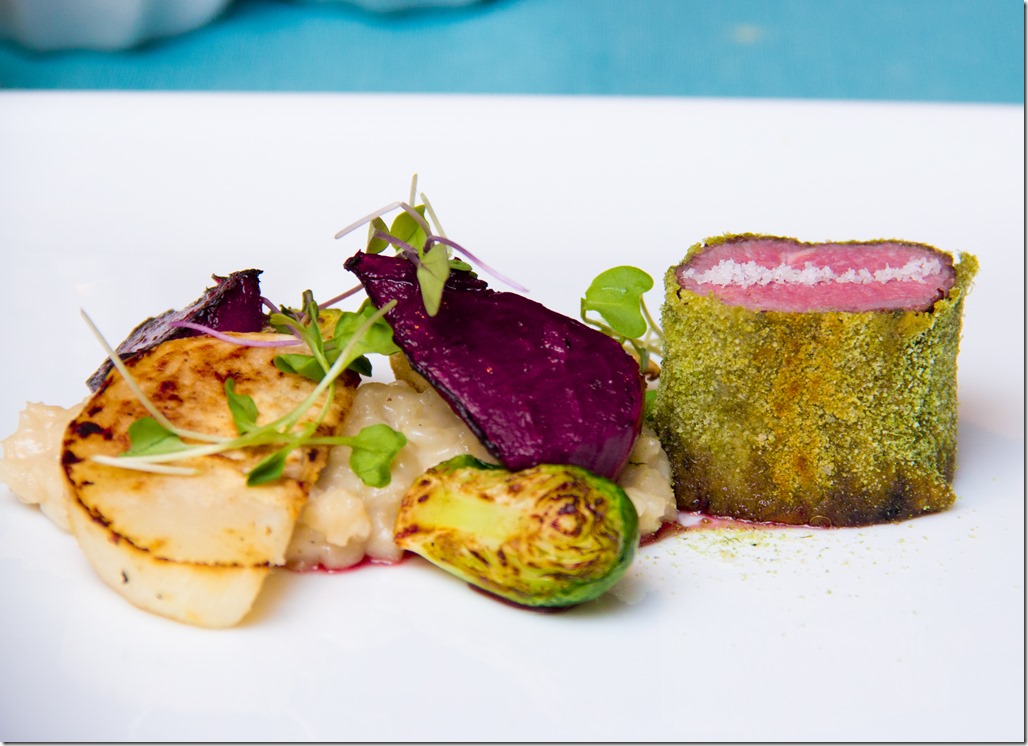 9th Course – Lamb
Fresh spring lamb with truffle risotto, morels, Brussels sprouts, root vegetables, and a port wine reduction
The lamb was prepared via sous vide and then seared and breaded with a mixture of panko and fresh chervil. The lamb was topped with Fleur de Sel and finished with the wine reduction. The risotto had fresh black truffle and was topped with beets, Brussels, and rutabagas.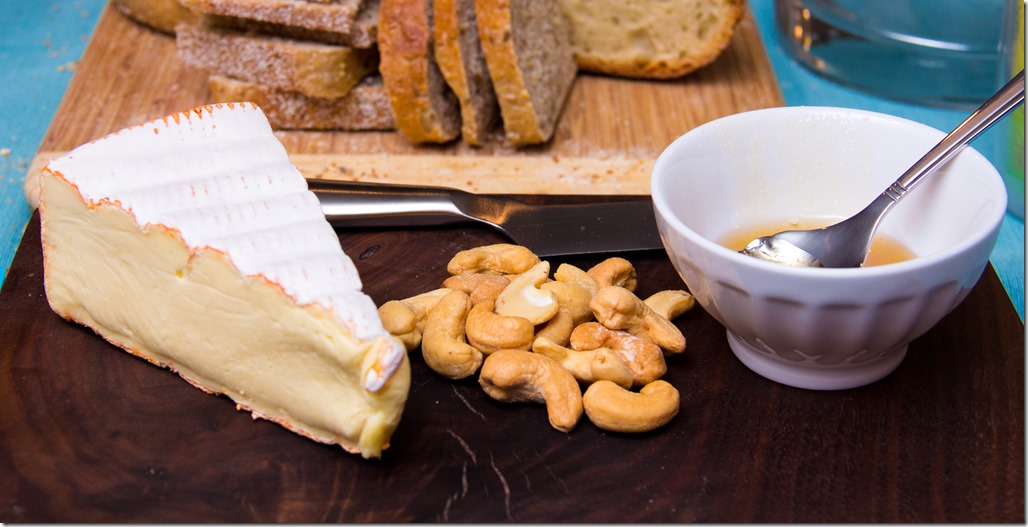 10th Course – Cheese
Rougette Brie with raw honeycomb
A simple cheese with cashews and locally sourced raw honey was a great way to begin the dessert extravaganza. Served with a selection of fresh rustic breads.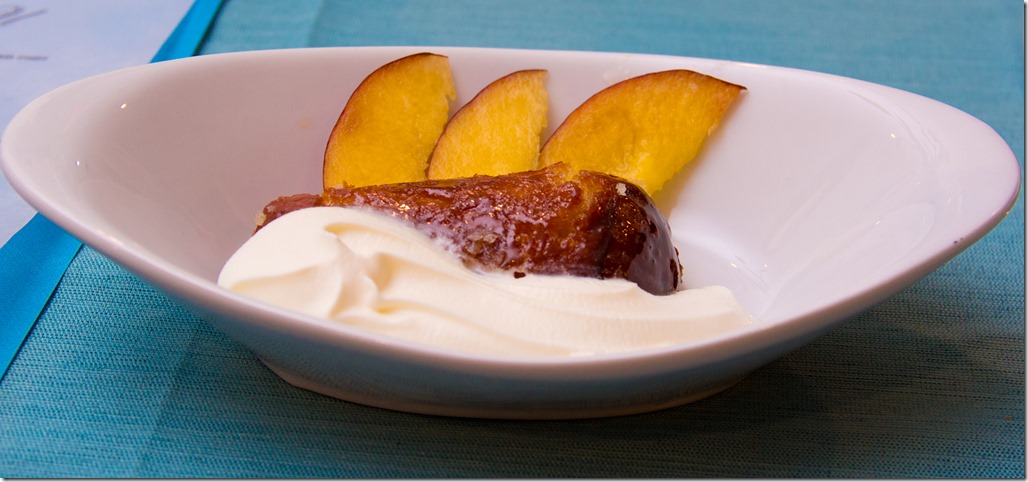 11th Course – Baba au Rhum
Baba au Rhum with Chantilly and fresh peaches
The babas (brioche rolls) soaked in a rich rum syrup. I cooked all of the alcohol out of the rum and spiced it with star anise, vanilla, and cloves. This was a rich and decadent dessert that is made lighter with fresh fruit and light cream.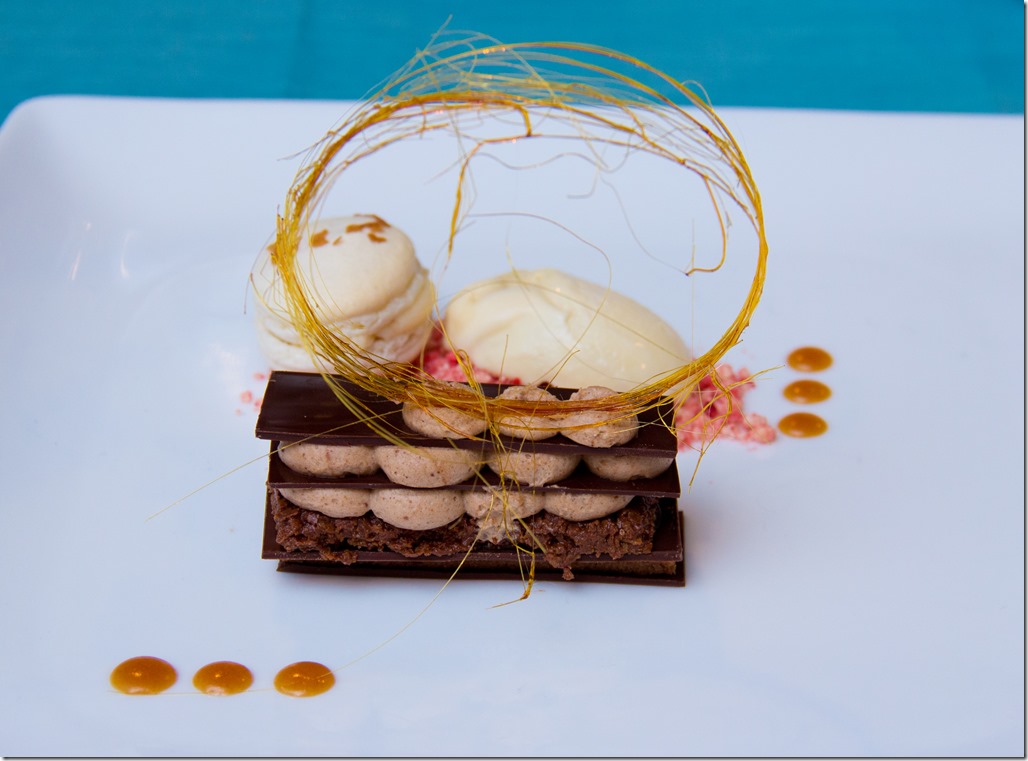 12th Course – Mille Fuille
Chocolate mille fuille with a vanilla bean macaron, malt ice cream, and strawberry milk crumb
The mille fuille had a layer of chocolate sponge cake, another of chocolate praline fuilletine, and layers of rye mousse. The rye mousse was almost not sweet at all, which helped to balance a very sweet dessert.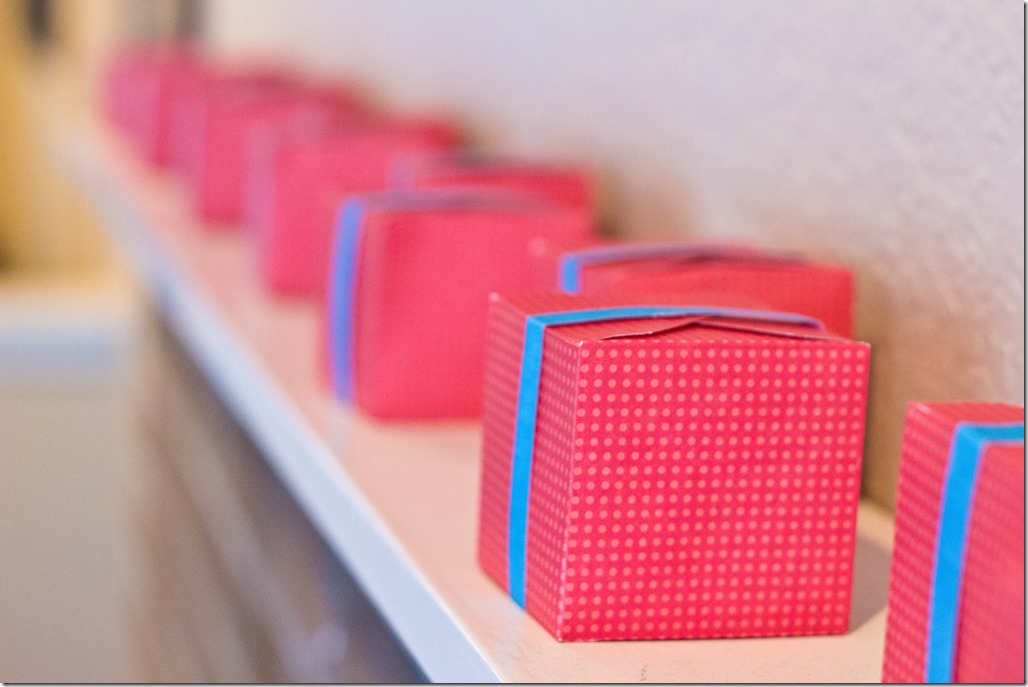 Extra Course – Petite Fours
Vanilla bean macarons
As my guests left for the night, I gave each one a box filled with a macaron topped with fuilletine and filled with a vanilla bean Italian buttercream. After 3 courses of dessert, I figured that most guests would want to take these home instead of eat them right then.
It was a fun night and probably the smoothest in terms of pacing between courses and cleanliness in the kitchen. Everyone helped out to keep things clean and organized.
Things learned this year:
Courses that are all prepared beforehand minus plating are a win

Plating an example plate then leaving the rest to others helps keep things moving

All of the plates that I plated once in practice came out much better

More space in the kitchen can be crucial

Stopping and fully cleaning between courses actually speeds things up