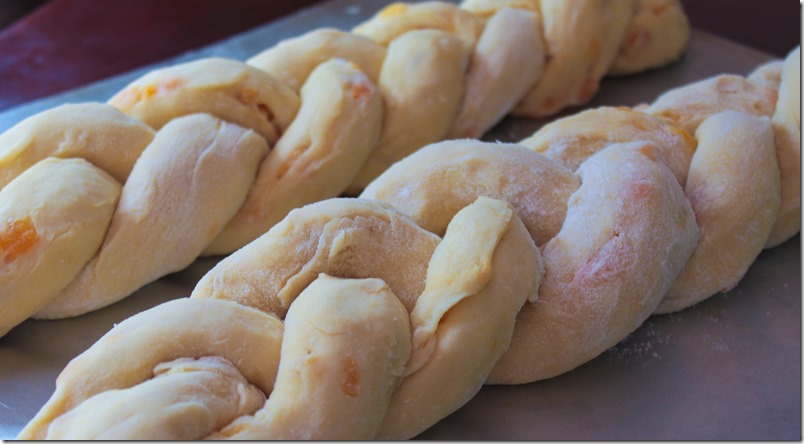 I have a real weakness for Brioche. It's so rich, moist, and fattening. It's even better when you add fruit, nuts, or chocolate to the dough! This recipe started out as a craquelin recipe from the Bouchon cookbook. I first had the idea to use dried apricots instead of the candied orange peel. I then decided that instead of making individual rolls, I'd make a plait. A plait also makes a nice gift, which is what this batch was meant for. I recently made a quadruple batch to give as gifts. I did save enough dough to make one plait for myself…I couldn't make all that brioche and not enjoy some for myself.
Apricot Brioche Breakfast Plait (Adapted from the Bouchon Bakery Craquelins)
For the starter:
3 1/2 Tbsp. – Whole milk, warm
2 3/8 tsp. – Instant yeast
3/4 cup – All-purpose flour
For the dough:
2 3/4 cups – All-purpose flour
1/2 cup – sugar, separated
4 tsp. – Kosher salt
5 – Eggs
10.5 ounces – Butter, cut into small cubes
1 cup – Dried apricots, separated
2 tsp. – Rum
1 – Egg, for egg wash
Mix all of the ingredients for the starter in a small bowl. It will form a very dry dough. Cover and let sit for one hour.
Take 1/4 cup of the dried apricots and the rum and pulse on high speed in a blender until smooth. It may require scraping down the sides several times. Set aside. Take the remaining 3/4 cup of apricots and finely dice. Mix with 1/4 cup of sugar and set aside.
In the bowl of a stand mixer add the flour, salt, remaining sugar, and starter (I break the starter up with a knife first). Mix using the dough hook on low speed for one minute. Add the 5 eggs, one at a time, while the mixer continues mixing. Knead for 15 minutes. Add the butter, several pieces as a time, allowing the butter to mix in before adding more. Add the reserved blended apricot mixture and knead for several more minutes until well incorporated. The dough should be very sticky.
Place the dough out on a well floured surface. Press the dough to form a large flat square then spread the diced apricot mixture on top. Fold the dough in around it and knead several times to incorporate. Form a ball and place in a large oiled bowl. Cover and let rise at room temperature for 1 hour.
Rest in the refrigerator overnight.
Remove the cold dough from the bowl and place on a floured surface. Working quickly while the dough is still cold, cut the dough into 6 equal portions. Roll each ball into a long snake of equal size. Take three of these 'snakes' and braid into a plait. Pinch both ends tightly so that they do not come undone. Repeat with the remaining snakes. Place the plaits on a baking sheet, cover, and let rise for 2 hours or until doubled in size.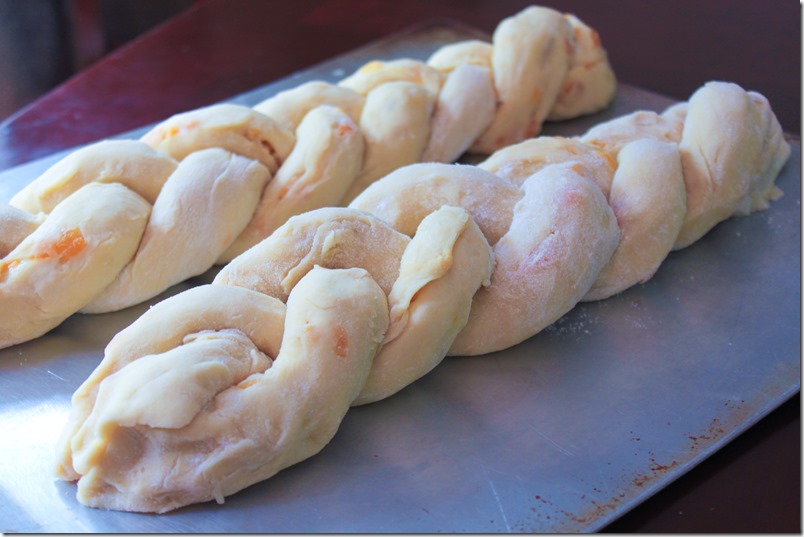 Preheat oven to 350 degrees. Crack the remaining egg into a small bowl or cup. Add a Tbsp. of water and beat well. Using a pastry brush, brush the surface of each plait. Sprinkle liberally with pearl sugar.
Bake for 25 minutes or until golden brown. Let cool completely.