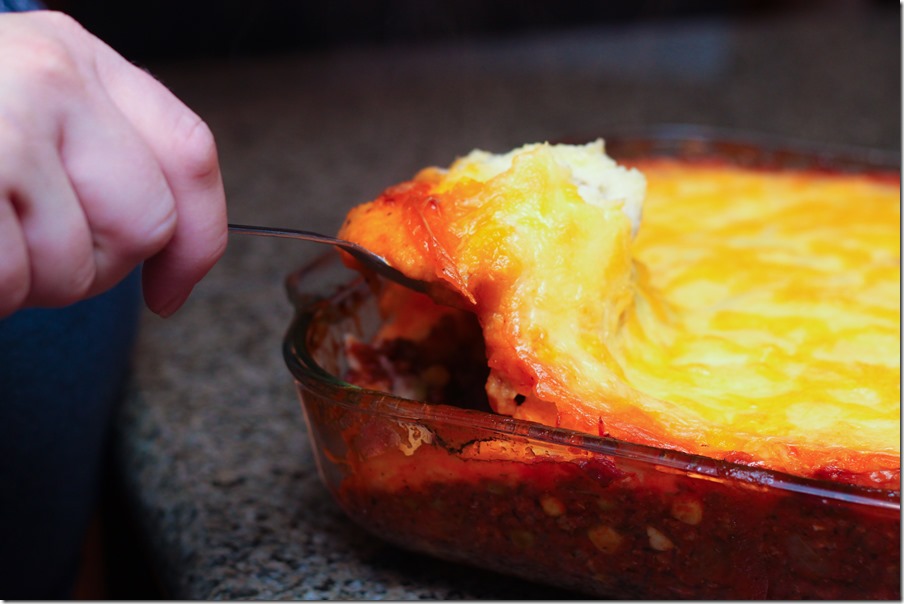 This is a tasty, comfort-food style dish that is simple to make and is very much an Americana style recipe. It is not an authentic English style shepherd's pie, but rather the style that I ate while growing up in a small town in the Rockies. I don't make it often but every once in a while on a cold wintery day, I crave simple comfort foods like the ones that I grew up with. When I made this batch, my kids didn't even remember me having made it before (I guess it had been a while) but ate every bite and asked for more. It's a simple food that sticks to your ribs and can be made with ingredients that you likely already have in your house. Next time maybe I'll make an authentic styled English shepherd's pie with mutton (and no tomatoes, of course) but for now, try a slice of America!
Shepherd's Pie
Note: I made a pretty large batch here (hey, I told you this is American style!) so feel free to halve it for a smaller family.
1 Tbsp. – Olive oil
8 oz. – Pork sausage
1 lb. – Ground Beef
1 – Large Onion, chopped
5-6 cloves – Garlic, minced
1 cup – Red wine
2 Tbsp. – Basil (fresh or dried), minced
2 Tbsp. – Oregano (fresh or dried), minced
2 tsp. – Paprika
1 Tbsp. – Sugar
1 28oz. can – Crushed tomatoes
1 15oz. can – Tomato sauce
1 6oz. can – Tomato paste
15 oz. – Corn (fresh, frozen, or canned)
15 oz. – Peas and Carrots (frozen)
2 lb. – Potatoes
4 Tbsp. – Butter
1/3 cup – Heavy whipping cream
1/4 cup – Whole milk
1 cup – Cheddar (I used a mix of aged and medium) shredded
Salt and Pepper
Heat a large skillet on medium-high heat and add oil. Once the oil starts to smoke, add the sausage and ground beef, fry until well browned, stirring occasionally, about 10 minutes. Add the onions and garlic, stir well, and continue to sauté until the onions become clear. Add the basil, oregano, and paprika, along with a Tbsp. or two of salt and pepper to taste. Turn the heat to high and add the wine, simmer until the wine has cooked down and all but evaporated.
Add the tomatoes, sauce, paste, and sugar. Lower the heat to medium-low and bring to a simmer, stirring occasionally. Simmer on low heat for ten minutes or until slightly thickened. Check the taste for salt and pepper and add more as needed. Add the corn, peas, and carrots. Stir well and let rest. Spread into a large casserole dish.
Peel and dice the potatoes. Add to a large pot and cover with cold water, boil until soft. Remove the water and mash. Add the butter, cream, and milk. Whip with an immersion blender. Add salt and pepper to taste. They should be smooth, light mashed potatoes (but not watery). Let cool then spread on top of the cooled sauce in the casserole.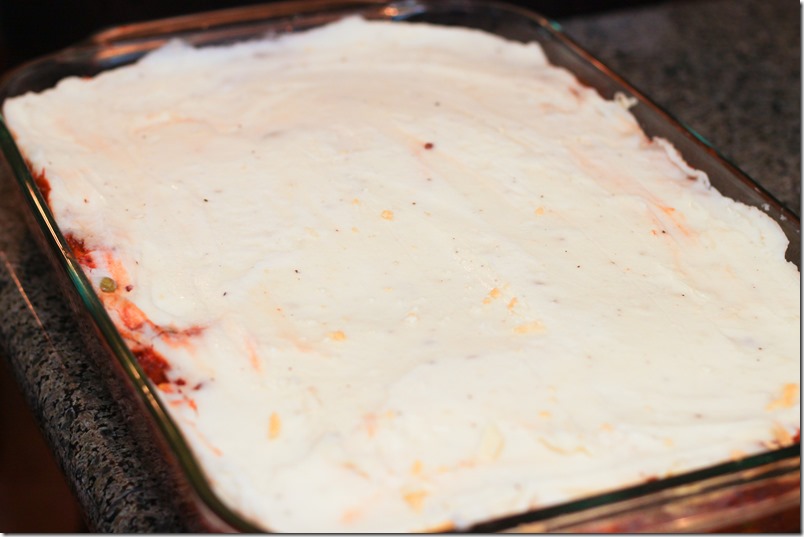 Top with the shredded cheese. At this point the pie can easily be stored (even frozen) until needed.
Preheat oven to 350 degrees. Bake for about an hour or until the sauce starts to bubble up on the sides. Remove from the oven and let cool slightly (or it will burn every taste bud off of your tongue!).