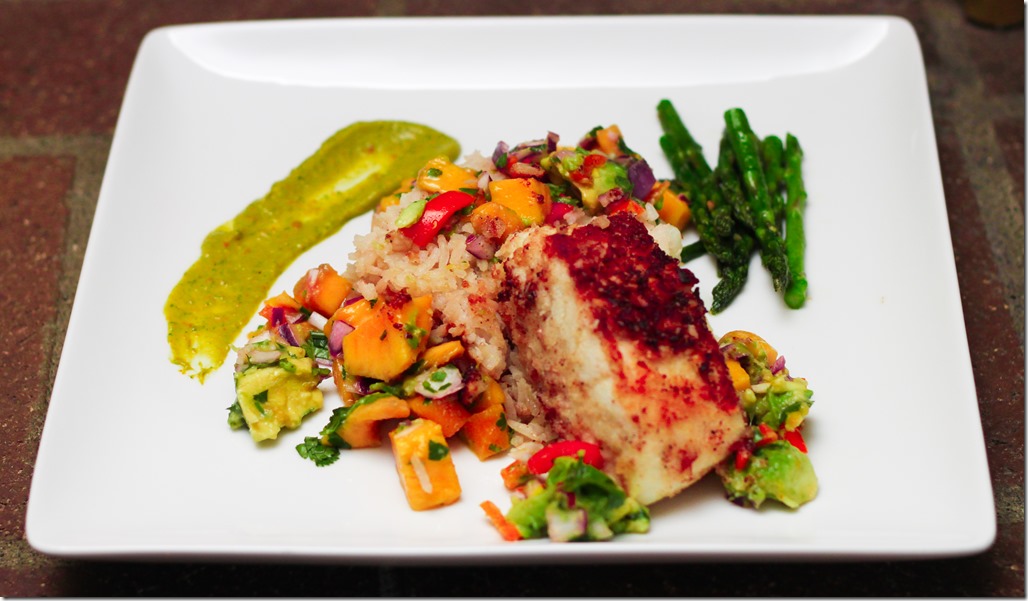 This dish is a bit of island inspired deliciousness. It's light and fresh and reminds me of something I would eat in my favorite beach shack in Hawaii.
Macadamia Nut Encrusted Halibut
1 lb – Fresh Halibut fillet
1 cup – Macadamia nuts, chopped
1 cup – Panko flakes
1/2 cup – Coconut flour (alternatively use All-purpose flour)
1 – Egg, beaten
2 – Whole avocados, divided
2 – Whole Mangos, diced
1/2 cup + 1 Tbsp. – Yellow and Red sweet peppers, divided
1/2 cup – Red onion, diced
1/2 cup – Fresh cilantro, minced
2 – Fresh limes
1 – Small potato, diced
1/2 cup – Onion, diced
2 cups – Rice, uncooked
4 cups – Chicken broth
2 cups – Fresh asparagus
Kosher salt, pepper, and light olive oil
First prepare the rice. Heat a large heavy skillet on medium heat. Add 2-3 Tbsps. oil then add the 1/2 onion and potato. Sauté until clear, avoid browning. Add an additional 2 Tbsps. oil and then rice. Toast the rice, stirring frequently for several minutes. Add the rice, onions, and potatoes to a rice cooker, along with the chicken broth. Cook until the broth is fully absorbed, salt to taste.
While the rice is cooking, prepare the chutney by adding dicing 1 1/2 avocados. Add to a medium bowl along with the mango, 1/2 cup of the sweet peppers, the red onion, and the cilantro. Add lime juice, salt, and pepper to taste. Mix and let rest.
Prepare the avocado spread by first sautéing 1 Tbsp of finely minced sweet peppers until soft. Add to a blender along with 1/2 an avocado, salt, pepper, lime juice to taste along with 3-4 Tbsp. oil. Blend until smooth, reserve.
Prepare the halibut by cutting first cutting the fillet unto individual servings. Pat dry with a paper towel. Dust with salt, pepper, and coconut flour. Dip each piece into the beaten egg then into a mixture of finely chopped Macadamia nuts and panko flakes.
Heat a large skillet on medium-high heat. When the hand begins to smoke, add 1/4 oil. Add fish and sauté until well browned on each side, about 6 minutes.
To serve, add rice to plates and top with halibut and chutney. Serve with steamed asparagus and avocado spread to the side.