This year's Mother's Day dinner had a rough time getting started but sure turned out to be a wonderful evening. First off, we were out of town on Mother's day so we had to move our annual dinner back. Then after we had set a new date and sent out the invitations, we had a conflict come up and had to change again. Then to top it all off, on the evening of the event as our guests started to arrive, our sink backed up and we started an hour behind (thanks to all of our guests for patiently waiting!). Once all of that was out of the way, everything else went swimmingly. We did twelve courses this year. As usual, most of the courses have a heavy French influence and this year many also had local foraged ingredients. I want to make a special call out to Brian, who took these wonderful pictures, Val, for lending us some great camera gear, Yossi, on sous chef, and all those who helped to pull it off. Now, on to the courses!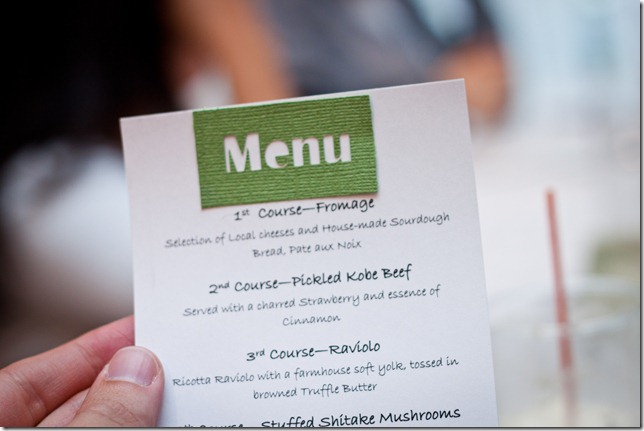 Wow, we had a big enough group this year that it took two tables!
1st Course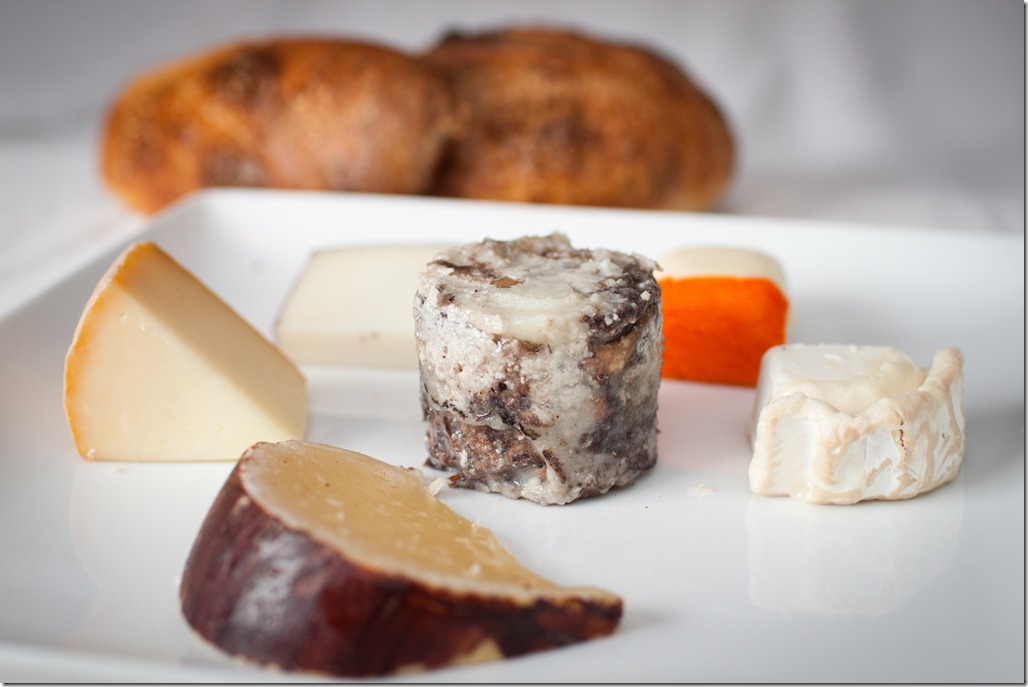 We started out with a cheese course. This included 5 different cheeses (ack! I don't have all of the types of cheese written down so I'll omit the types here, sniff). In the center was a pate au noix that a friend had brought be back from Normandy.  I also included fresh wild honey, candied pecans, and a selection of homemade sourdough breads.
2nd Course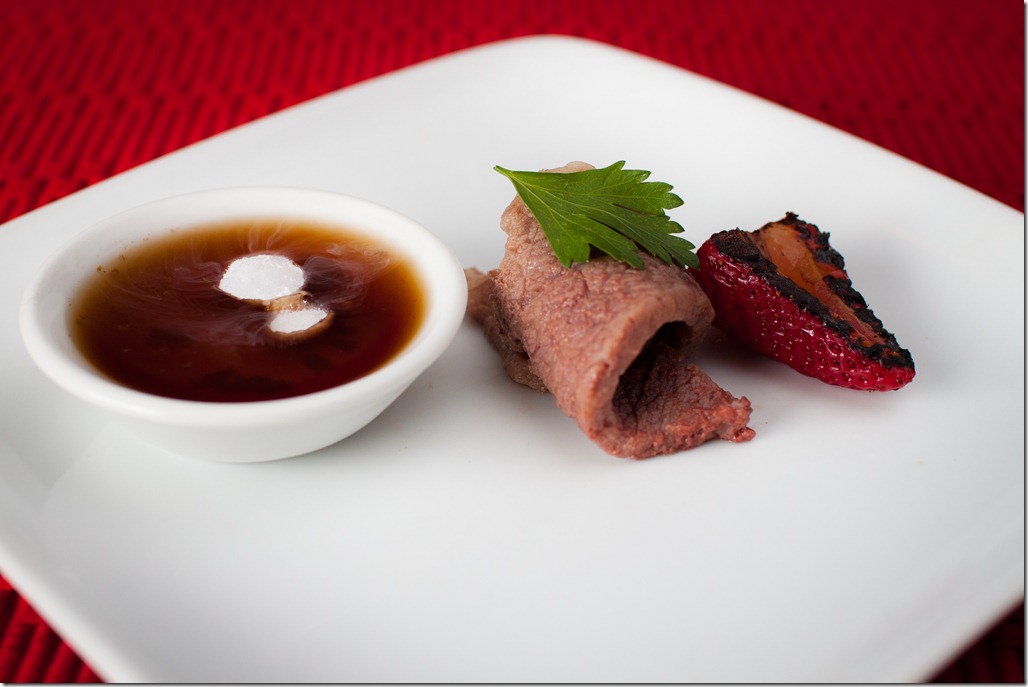 The 2nd course was a pickled Kobe beef short rib served with a charred strawberry and a cinnamon vanilla 'essence'. The essence came in a small dish with some dry ice.  The dish was covered by a small bowl. As each guest lifted their bowl, a waft of the cinnamon vanilla scent would rush out, adding to the experience of the dish. The dish was served warm.
3rd Course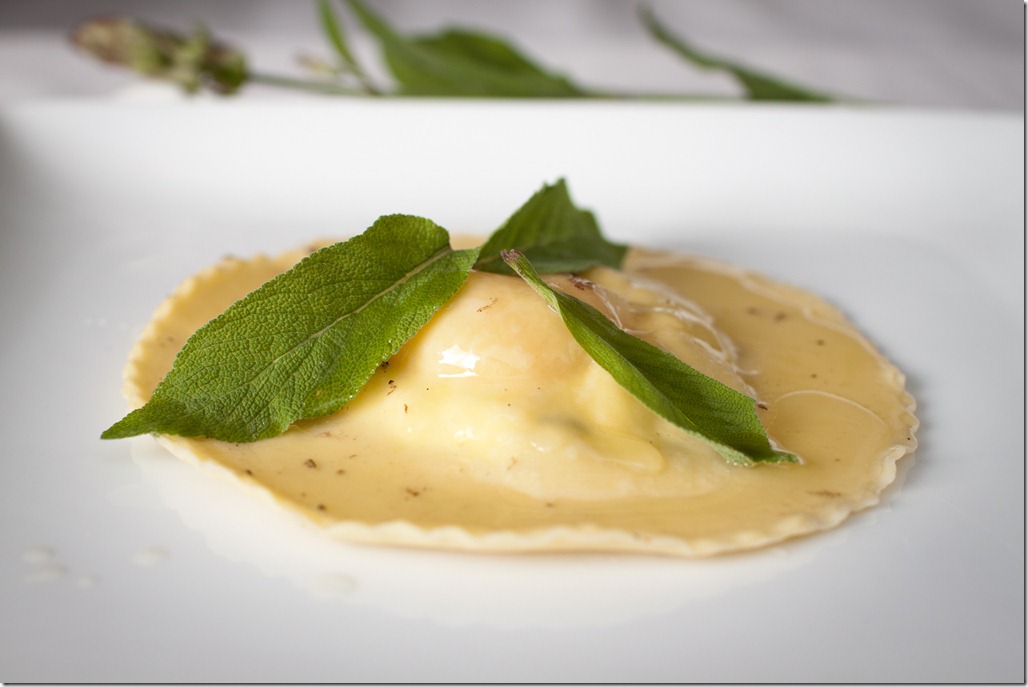 The 3rd course consisted of a single ravioli or raviolo (see the recipe here in a previous post). It was filled with homemade ricotta, mustard greens, truffle oil, and a soft egg yolk that each guest would break as they cut into the raviolo. It was tossed in homemade truffle butter and sautéed sage.
4th Course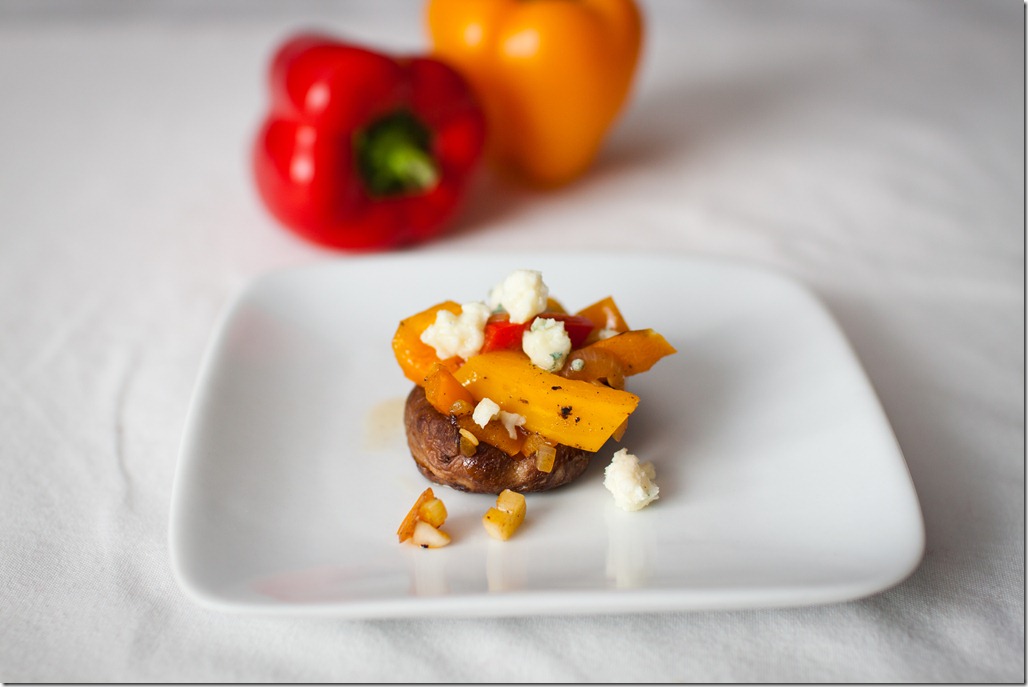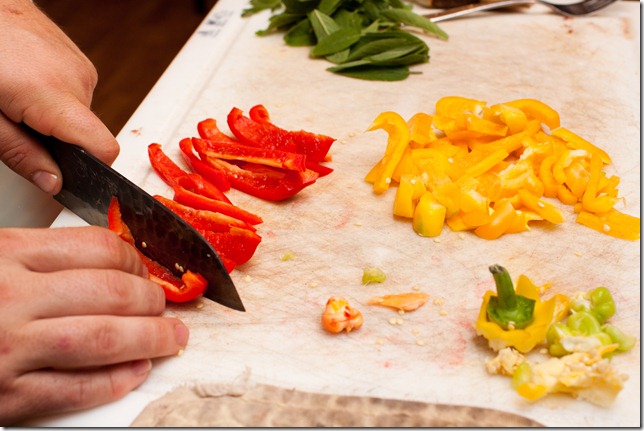 The 4th course was a shitake mushroom topped with grilled peppers and gorgonzola cheese.  It was a a simple vegetarian course but delicious in its simplicity.
5th Course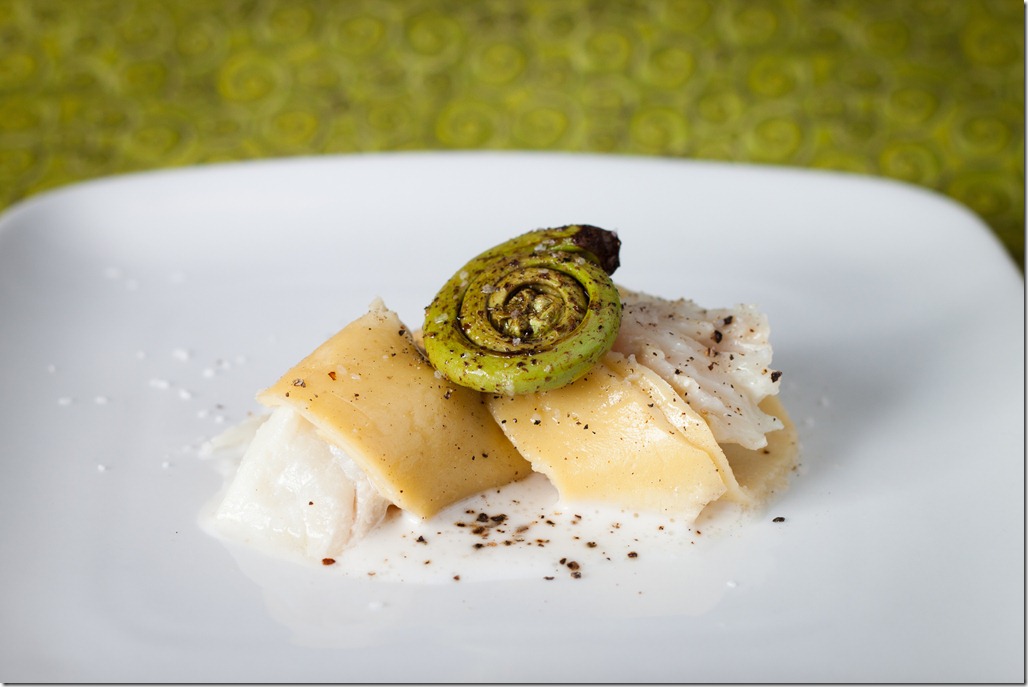 The 5th course was halibut poached in truffle butter and wrapped in a coconut crepe. It was served with a light curry sauce and seared locally foraged fiddleheads. (You can find the recipe here)
6th Course
The sixth course was risotto with locally foraged ramps, prosciutto, and fresh parmesan. It was rich and silky…a guest favorite.
7th Course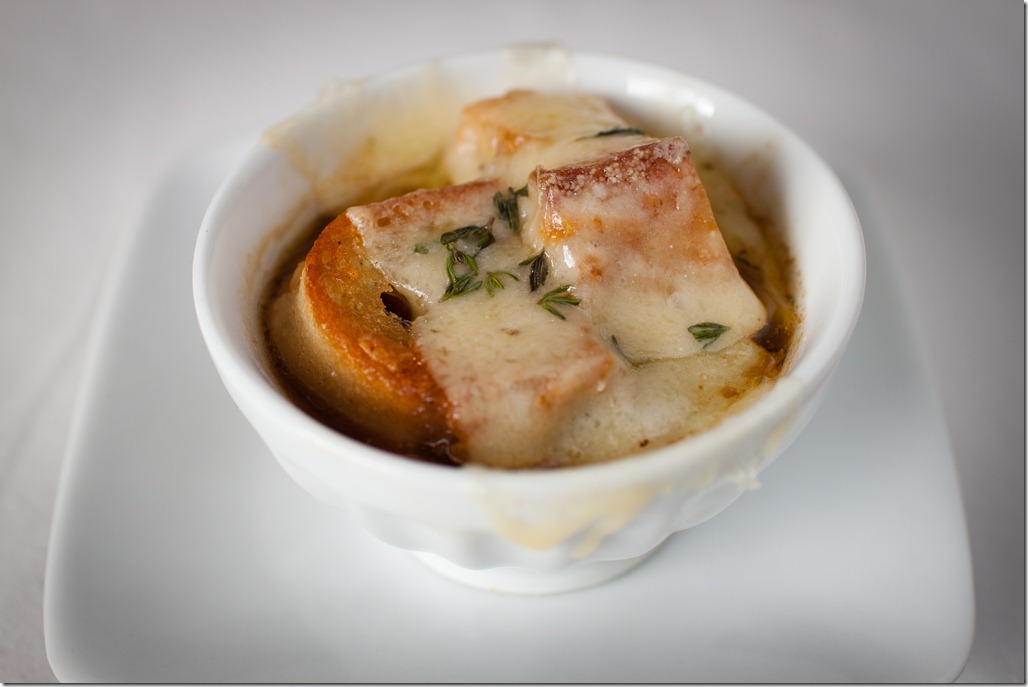 The 7th course was French onion soup with fresh thyme and gruyere cheese. The onions used were local sweet Vidalia and the broth was made with beef shanks.
8th Course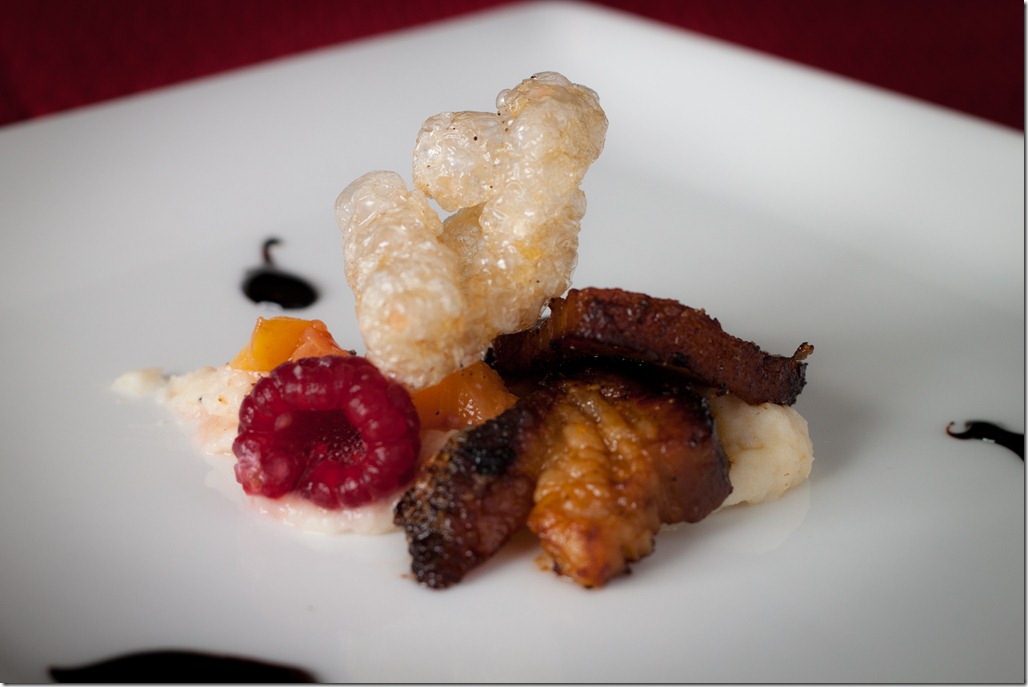 The 8th course was roast pork belly (a la David Chang) served with celeriac root puree, a peach raspberry chutney, and topped with a chicharron (he he, pork rind from the pork belly).
9th Course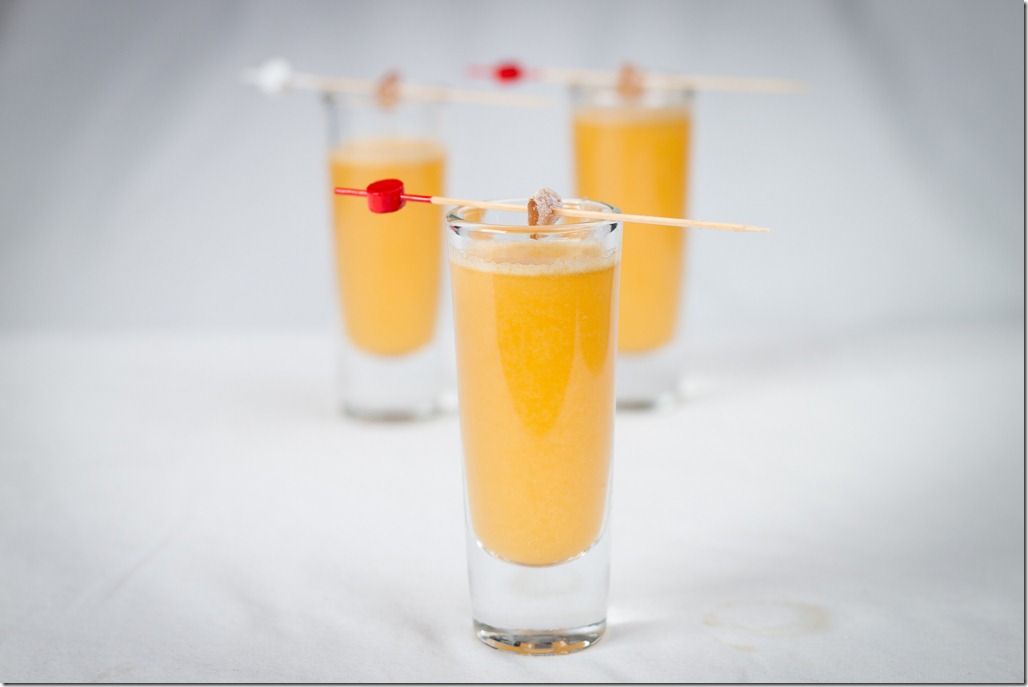 The 9th course was a palate cleanser between the heavy 8th and 10th courses. It was a shot of pear ginger juice (with some citrus as well) and served with a bit of candied ginger. The shot was strong, peppery, sweet, and refreshing.
10th Course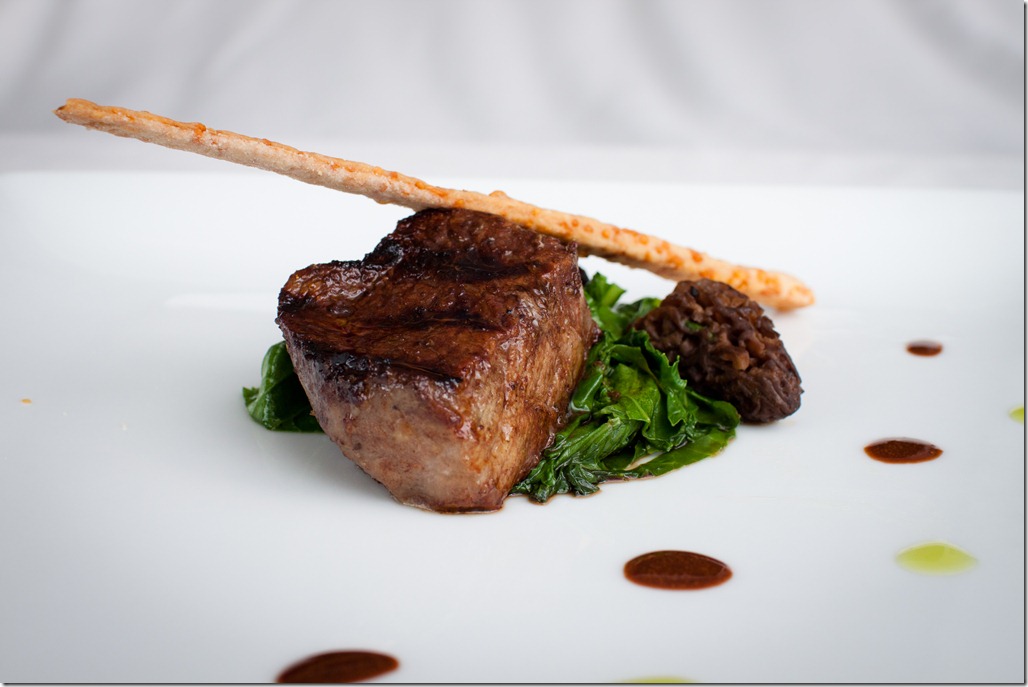 The 10th course was a grilled rib eye steak, blackened with Godiva chocolate, toasted malt barley, and oregano. The steak was served with grilled mustard greens, locally foraged morel mushrooms, and cured Guanciale from Salumi. It was served with a crispy cheese cracker, oregano infused oil, and chocolate oil.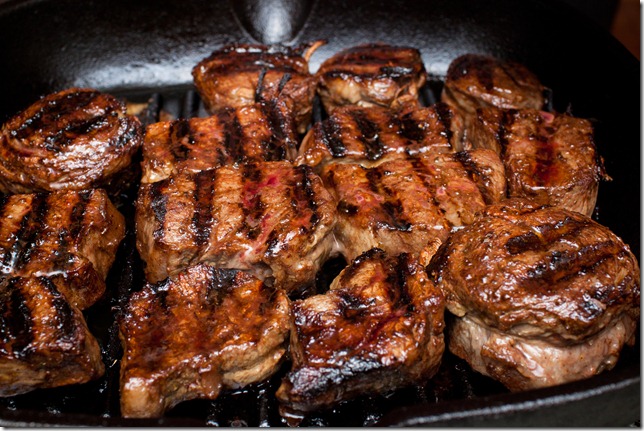 11 Course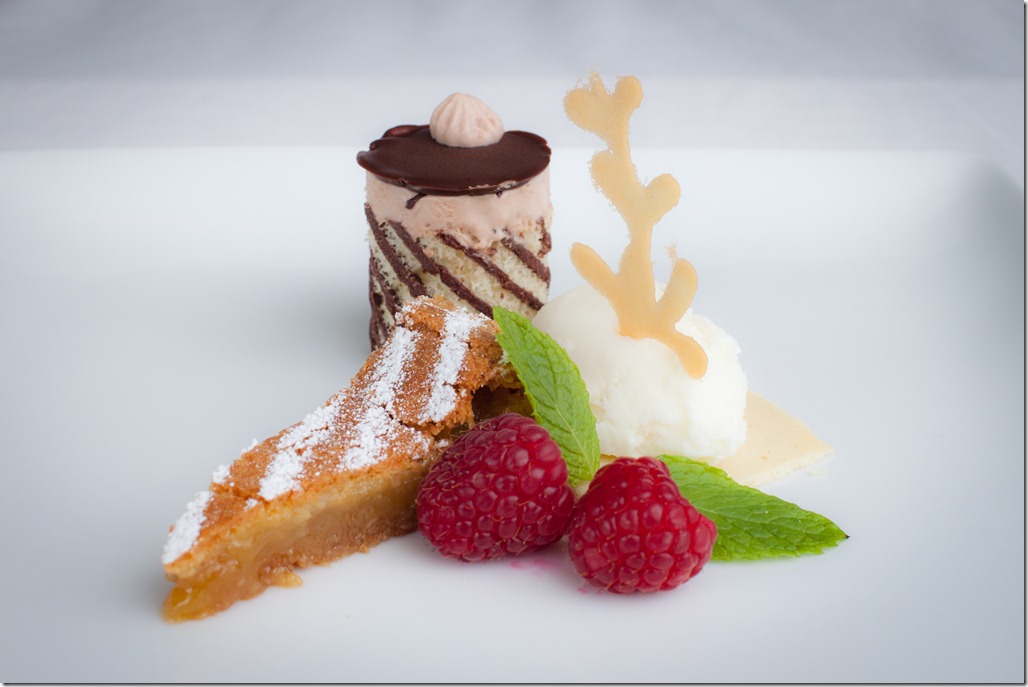 The 11th course was dessert. It included a slice of 'crack' pie as made famous by the Momofuku Milk Bar. It was served with milk ice cream on a vanilla tuile, and a chocolate hazelnut joconde.
12th Course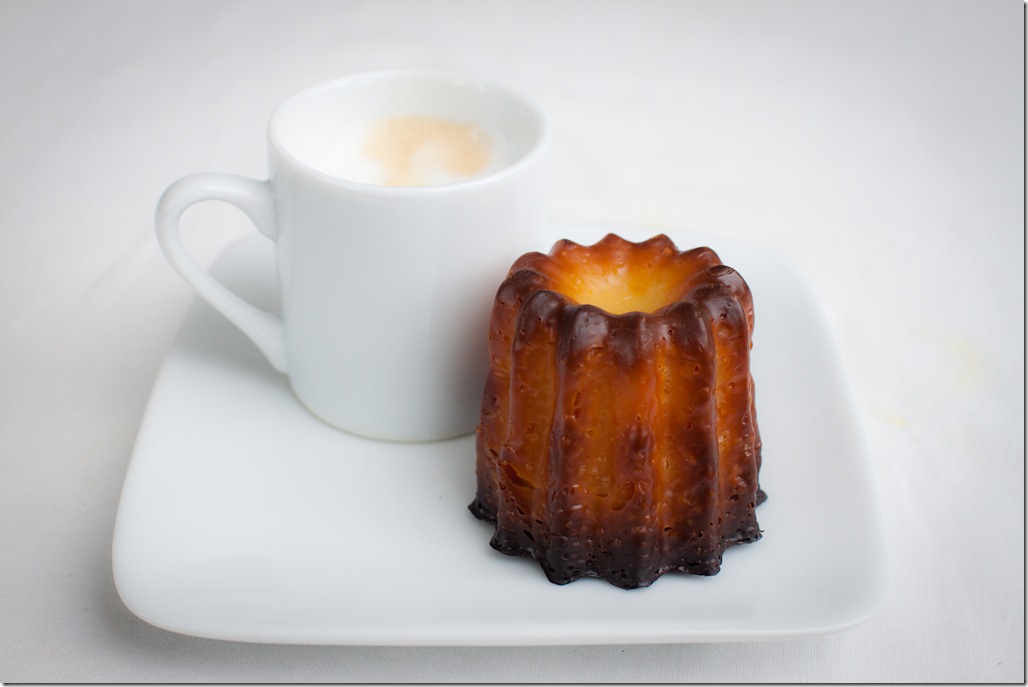 The 12th and final course was a petite four. It was a French canele served with a toasted malt barley and hazelnut 'latte'.
With that the meal was finished. It was a wonderful night with good friends. I recommend trying something similar if you are up to it. It takes time and work but the time spent with good friends eating good food is something to be cherished.