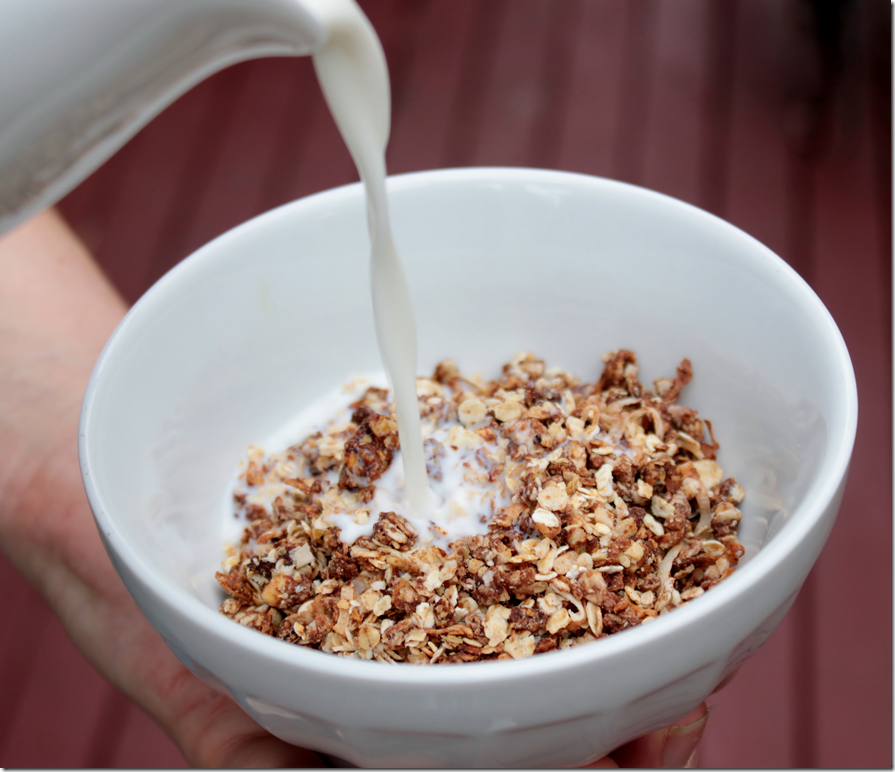 So I have to admit…this granola is not diet granola!  But it is so yummy that every time we make a batch its gone within a day (usually a double batch too).  It incorporates my favorite flavor combination of chocolate and peanut butter into a salty sweet granola that could be served as a dessert.  I'm a big fan of granola and this one is also surprisingly cheap and simple to make.  As always, the best part about making your own granola is that you can add/change ingredients to your liking!  This recipe remains very simple but it wouldn't be hard to add peanuts, cashews, etc into it, or dried fruits like raisins, craisins, dried cherries, etc..
Now, on to the recipe!
Note: This recipe is originally adapted from here.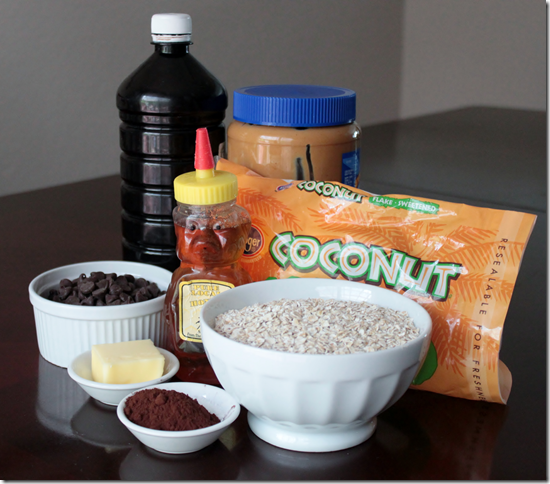 Ingredients
4 Tbsp. Butter
2/3 cup crunch peanut butter
1/3 cup honey
1/3 cup raw sugar
2 Tbsp. Dutch process cocoa
1/2 tsp. vanilla
1/2 tsp. kosher salt
5 cups rolled oats
1 cup shredded coconut
1/2 cup wheat germ (optional)
1 cup semisweet chocolate chips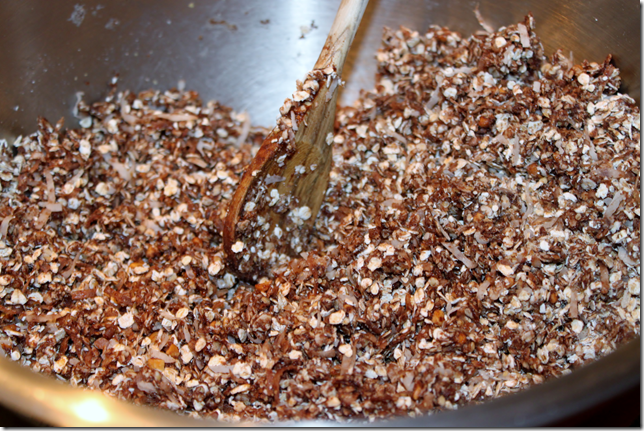 Directions
Preheat oven to 375 degrees Fahrenheit.
In a small saucepan add butter and peanut butter and heat on medium-low heat until the butter melts and is well incorporated, stirring often.  Add the honey, sugar, vanilla, salt and cocoa.  Stir mixture until smooth and well incorporated (it does not need to boil).   In a large bowl mix together the oats, coconut, and wheat germ.  Slowly pour the butter mixture over the dry ingredients while stirring.  Stir until everything is well mixed.  The mixture should be slightly sticky but still loose.  Prepare two baking sheets by lining them with parchment or a silpat.  Divide the mixture evenly between the two baking sheets and spread evenly.  Sprinkle half of the chocolate chips on top of each sheet (sometime I add more chocolate, depending on how fattening/sweet I want to make it

).
Place in the preheated oven and bake 15-20 minutes or until the tops are quite browned.  Retrieve from the oven and let cool for a few minutes.  While the mixture is still warm (but not hot), pour into a good food grade container to store.  The reason why you want to do it while it is still warm is that it will help the chocolate chips to mix slightly with the granola, creating chocolately gobs of granola after it cools.
Let it cool entirely before eating.
Eat with milk (and I like a sliced banana on top)!