Today I have two recipes to share. The first is for one of my favorite brownie recipes. I went to Brigham Young University for my undergrad and one of my clearest memories (and apparently the memory of many alumni, as I've found out as I've shared these) is of the brownies made by the school's catering company. They would sell these chocolate brownies at various locations around campus and they were a favorite of all there. When I eat these, they take me instantly back in time.
The second recipe that I have to share is for a gluten and wheat free flour replacement. While I personally don't have any issues with wheat or gluten, I have friends who do and I was curious as to what sorts of flour replacements where out there. As I've tried the different commercial options, I was pretty disappointed. They are awful! Most don't hold up to be anything like real flour and leave the baked goods that use them a mealy, heavy mess. Then I came upon a recipe on a blog that I like to follow, Ideas in Food. It's a great blog, written by someone who really knows food and science behind it. I think the real trick is that this recipe has powdered milk which gives the flour protein and weight. I went ahead and tried out their flour replacement recipe and was very impressed. The brownies turned out essentially the same. The difference was so subtle that one would never guess that the brownies were wheat free.
Now, the recipe for this flour replacement is a lot more expensive than all-purpose flour, so unless you need it, I'd recommend using traditional flour. But, if you know someone who can't eat wheat or gluten, brighten their day by making a fresh batch of these brownies with this gluten free replacement!
What Iif Flour (from Ideas in Food)
175 grams – cornstarch
112 grams – tapioca starch
112 grams – white rice flour
50 grams – brown rice flour
50 grams – non-fat milk powder
5 grams – xanthum gum
Measure ingredients using a scale and mix well.
BYU Mint Brownies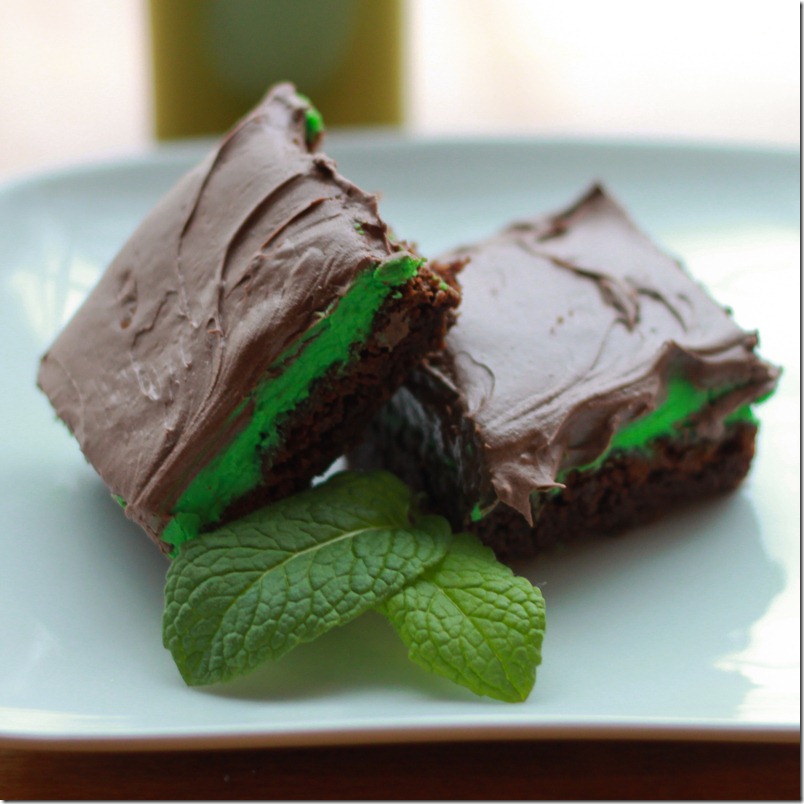 Ingredients
1/2 cup – Butter flavored shortening
1/2 cup – Butter
1/2 cup – Dutch processed cocoa powder
2 Tbsp. – honey
4 – eggs
2 cups – sugar
1 3/4 cups – all purpose flour (or What Iif Flour from above)
1/2 Tbsp. – baking powder
1/2 tsp. – salt
1 cup – chopped walnuts (optional)
12 oz. chocolate icing (Use your own icing recipe)
mint icing
Mint Icing
5 Tbsp. – Butter (or butter flavored shortening)
dash salt
3 Tbsp. – Milk
1 Tbsp. – corn syrup
2 1/3 cup – powdered sugar
1/2 tsp. – Mint extract
1-2 drops – Green food coloring
Preheat oven to 350 degree Fahrenheit. Melt shortening and butter and add to the bowl of a stand mixer, add cocoa and stir well. Allow to cool. Add eggs, honey, sugar, flour, baking powder, and salt. Mix well using the beater blade until well incorporated. Add optional walnuts and mix until incorporated. Pour batter into a greased and floured 9" by 13" metal cake pan. Bake for 25 minutes or until they test clean with a toothpick. Cool completely.
In the picture below, you can see the brownies using the replacement flour. The sides seem a little weird as seen in the picture, but this might be because I forgot to flour the greased cake pan.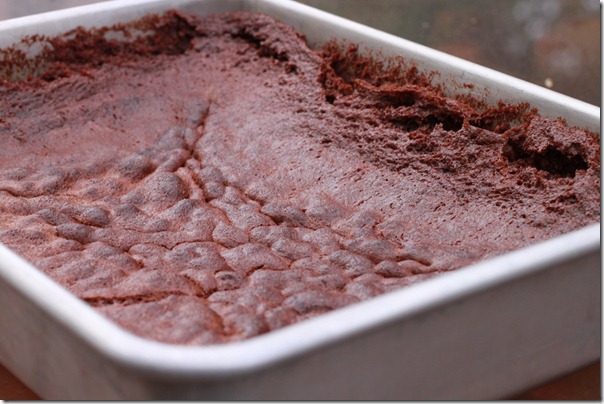 Add all ingredients for mint icing to the bowl of a stand mixer. Using the whisk, whip until light and fluffy, scraping the sides with a rubber scraper as needed. Add the mint frosting in an even layer onto the brownies. Place the brownies in the freezer for 20 minutes or until the mint icing is very firm then add the chocolate icing.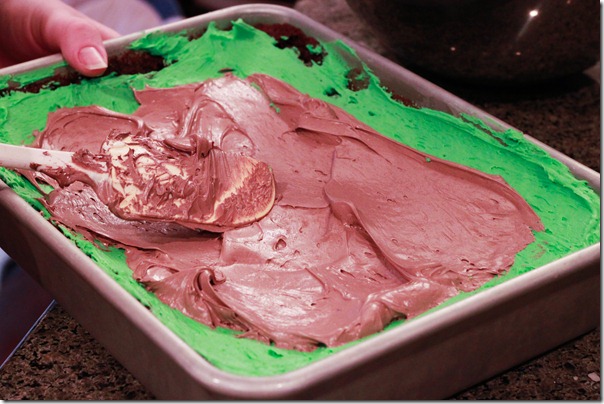 Enjoy and try to eat just one!