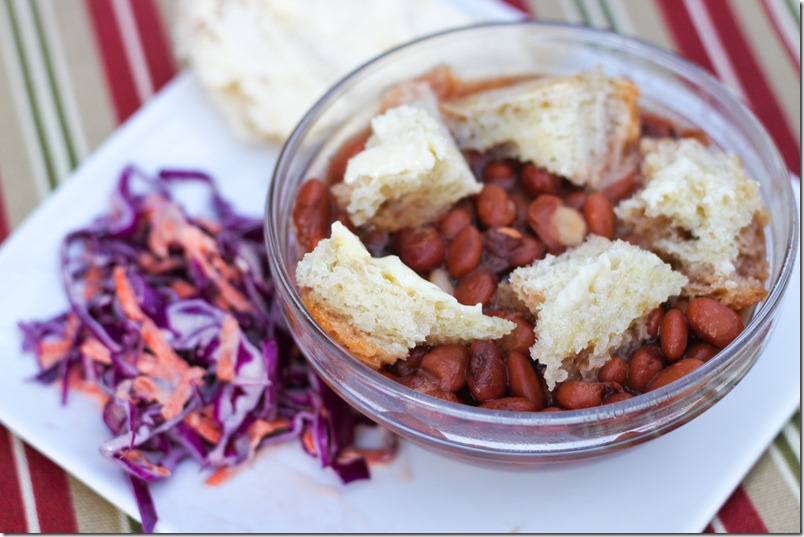 Beans and ham hocks is one of the simplest recipes that I know, but is it also one of the recipes that I can most describe as comfort food. It's also considered "soul food". When I eat this, it invokes memories of childhood and home. This recipe originates from a time of extreme poverty in the South and is often eaten with sautéed greens to the side (which is wonderful, by the way and not pictured above). My family has eaten it for many generations. I've heard stories of my great-grandfather eating it while working on the railroad. I find it amazing and slightly ironic that this recipe requires a handful of ingredients and yet is both delicious and incredibly healthy. While I don't want to get into the politics of eating healthy, this is a great example of a food that is filling, flavorful, and full of nutrients while being inexpensive to make and requiring little cooking ability.
An aspect of this dish that some might find odd is the "soggy bread" but believe me that it is tasty!
Bean and Ham Hocks with Sautéed Greens
2 – Smoked ham hocks (recipe below or can be bought in most stores)
2 cups – Dried pinto beans
1 bunch – Kale (or other greens will do as well)
1 Tbsp – Olive oil or rendered pork fat
white vinegar
kosher salt
1 – Crusty baguette
butter
Rinse beans in cold water. Add hocks and beans to a crock pot, along with enough water to cover it all. Cook all day (about 8 hours) or until the beans are soft and cooked and the hocks are falling apart. Remove the hocks from the beans and pick the meat from the bones, skin, and connective tissue. Shred the meat and return it to the beans. Taste for salt. Most smoked hocks will have enough salt to have adequately salted the beans, if not then add to taste.
Heat a large skillet on medium-high heat (I prefer a cast iron skillet). Rinse and chop the kale into 1/2 inch strips. Add the olive oil or pork fat to the skillet. Once the oil starts to smoke, add the greens, tossing quickly for about 10 seconds. Remove from heat and sprinkle with vinegar and salt to taste. Cover the pan and let sit for 1 minute (they will continue cooking).
To serve, ladle portions into bowls and add vinegar to taste (about 1/2 tsp.). Slice and butter the baguette. Tear pieces of the buttered bread into each bowl (which will sop up much of the broth). Serve with greens to the side.
Smoked Ham Hocks
1/4 cup – sugar
1/4 cup – kosher salt
2 – Raw ham hocks
Combine the sugar and salt to make a simple curing rub. Pack the hocks in a plastic bag with the rub and refrigerate overnight. The next day, rinse the hocks and pat dry. Smoke on 160 degree heat with hickory smoke for 3 hours. Let cool.