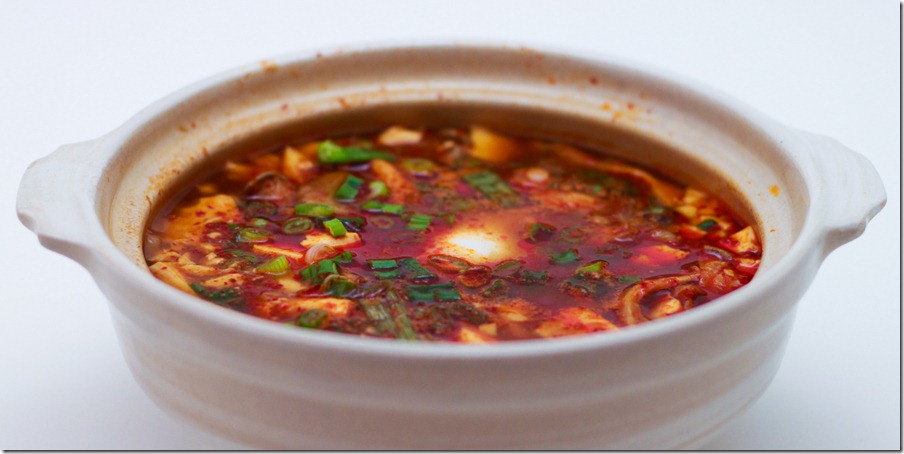 Lately I've been cutting carbs (unless you are counting the blueberry donuts) and looking for simple low carb, low glycemic meals that I can quickly make and still enjoy. This classic Korean stew/soup has become one of my go-to recipes. It literally takes 15 minutes or less to make (once you have some of the base in the fridge), making it a tasty, healthy, SPICY meal that is satisfying, filling, and easy to make. Jjigae is becoming more and more popular among Americans. I love to go to a little Korean restaurant near my work and order a bowl on a cold winter day. It always comes in a stone or ceramic bowl and arrives at the table literally at a rolling boil. The mixture of spice and heat warms me down to the core.
Jjigae is a simple soup that can be made with many different ingredients.  You can put kimchee, mushrooms, whole baby shrimp, clams, mussels, and all sorts of seafood and veggies. I've had it with zucchini and other squashes. The version that I have here is very simple, using ingredients that I always have on hand. Make it how you like it.
You need to start by making the soup base. It can be made in large quantities and stored in the fridge for several months. Just place a couple of tablespoons into the soup (according to your pain tolerance) and you are set.
Yangnyum (Jjigae soup base)
2 Tbsp. + 1 tsp. – Korean red chili powder/flakes (고추가루 gochugaru)
1 Tbsp. – Soy sauce
1 Tbsp. – Garlic, minced
1/2 tsp. – Sugar
1 tsp. – Oyster sauce
1/4 tsp. – Kosher salt
1 Tbsp. – Mirin
2 Tbsp. – Light oil
Black pepper
Add all of the ingredients into a small bowl except for the oil. Please do not substitute the chili powder with standard chili powder, it is not the same. I bought a massive bag of the stuff at a local Korean supermarket. It is the same ingredient used to make Kimchee (recipe coming soon) and has a distinct flavor profile. I've included a link to where you can buy it on Amazon if you can't find it locally. Heat a small sauce pan over medium heat then add the oil. Add the mixture of spices and stir continually for about 5 minutes. Let cool and store in the fridge in an air tight container for up to several weeks.
Mushroom Shrimp Jjigae (Single serving size)
1/2 container – Silken Tofu, cubed into roughly 1 inch cubes
2-5 Tbsp. – Yangnyum (see recipe above)
1 tsp. – Fish sauce
3/4 cup – water
1/3 cup – Oyster mushrooms, coarsely chopped
1/3 cup – Shrimp, peeled and coarsely chopped
1 – egg
1/4 cup – Scallions (green onions), finely chopped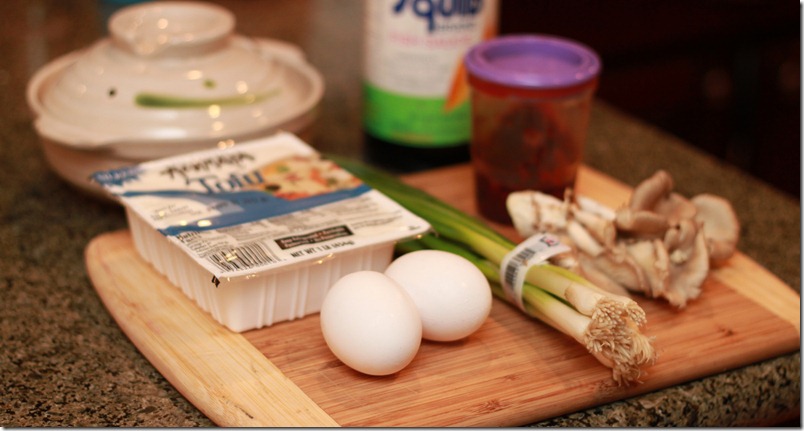 Add tofu, yangnyum, fish sauce, and water to small pot (preferably a stone or ceramic bowl).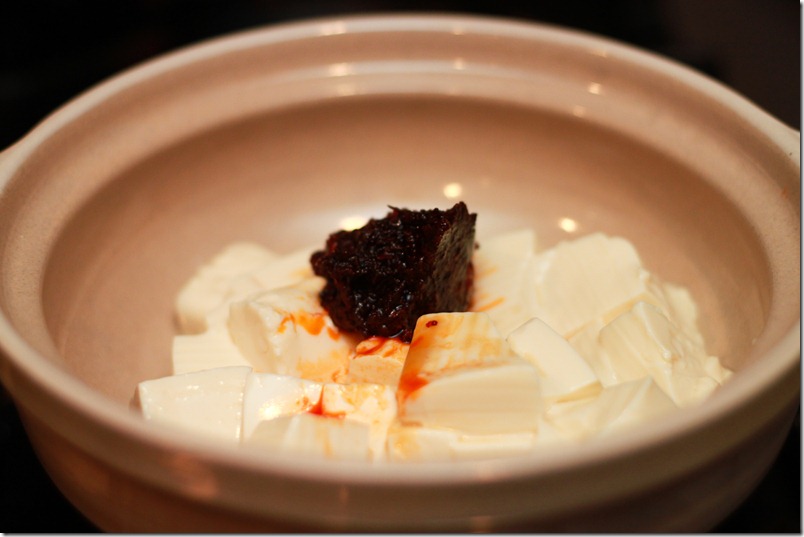 Cover and bring to a boil, stirring occasionally to mix the ingredients.
Once the soup has come to a hard boil, add the shrimp and mushrooms, stir quickly then drop the whole egg into the center. Remove from heat and recover. Let sit for 3-5 minutes as the shrimp and egg cook.
Top with scallion and add more fish sauce to taste (the fish sauce will act as salt here). Enjoy…and caution, I end up burning my taste buds almost every time I make this because I get impatient and start eating before the soup has cooled (it just smells too good!).