This is a continuation of my series on creating the perfect Napolitano style pizza. In this post we discuss homemade ricotta cheese. In our last post in the series we discussed making a wood fired pizza oven.
Fresh ricotta cheese is an amazing addition to any Napolitano style pizza and a topping that is surprisingly easy to make. Of all cheeses, this is the easiest that I know as it doesn't require a culture or rennet, and is very forgiving on temperature. A close second would be mascarpone (which is why it always amazes me when I see how much they charge for it in stores).
Ingredients
1/2 gallon whole milk (I use the non-homogenized milk from Twin Brooks Creamery)
1/2 cup heavy whipping cream
1 Tbsp. kosher salt
1/2 cup buttermilk (optional)
1/4 cup freshly squeezed lemon juice
Combine milk, cream, salt, and buttermilk in a medium sized heavy pot (in my image below you can see the separated cream from the non-homogenized milk, yum).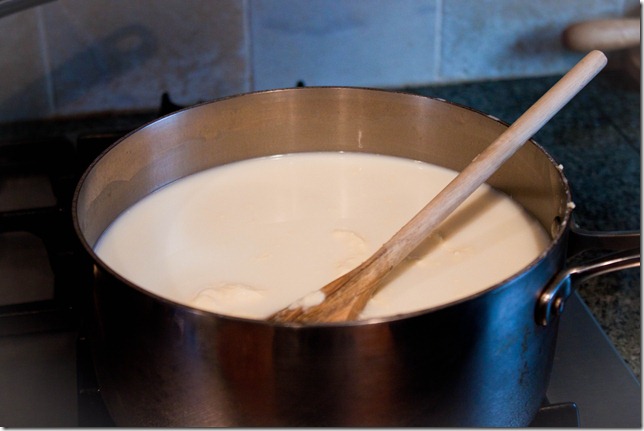 Slowly heat to 180 degrees Fahrenheit (you can go as high as 200 but it won't come out quite as soft as you need for a pizza topping). Once it reaches 180, remove from heat, add the lemon juice, and stir well. Within a few seconds you will begin to see the curd separate from the whey.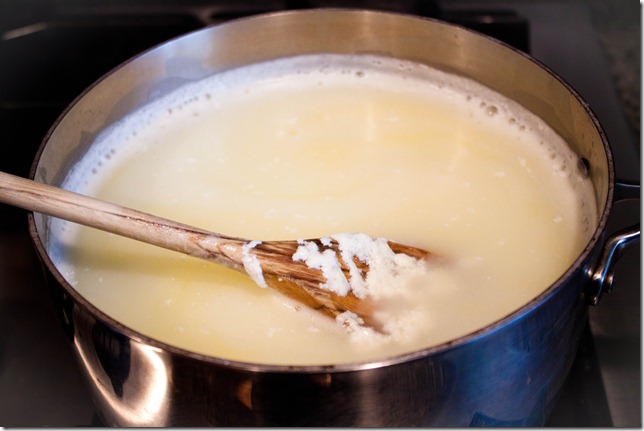 Depending on the milk, your curd will either appear blue-ish or yellowish (I find that the gentler pasteurized milks stay more yellow, maybe it's the fat content?). For most uses of ricotta, you want to now let it sit for about 10 minutes. This is called 'cooking the curd' but I find that it is preferable for pizza to remove it almost instantly after the curd has separated. This allows for a softer ricotta and doesn't seem dry on the top of the pizza. Now strain the mixture through a fine sieve (no need for cheese cloth, see, I told you it was easy). Let sit in the sieve for several minutes to avoid extra water on your pizza.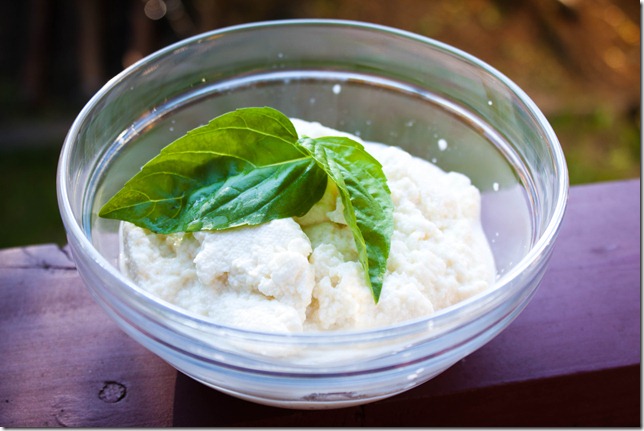 Your finished product will be miles ahead of any ricotta that you can buy at the store. It will have a light lemony flavor that is quite wonderful and will be soft and mellow on a pizza! Ricotta doesn't melt so simply place in small dollops on the top of your pizza before baking and enjoy.