With summer in full bloom, light dishes, heavy on fresh ingredients seem to always sound good. One of my favorite crops out of the garden is fresh basil. Here in the northwest we had a very late summer and my basil suffered (the slugs didn't help!). Luckily my parents visited and brought a huge bag of basil from their garden. I decided to whip up a batch of pesto with homemade pasta (we cut it spaghetti size) with a quick basil bacon chicken sausage. The dish basically had three components: fresh pasta, pesto, and chicken sausage.
Chicken Sausage
2 lbs – boneless, skinless chicken thighs
1 lb – bacon, finely chopped
1/2 cup – minced basil
4 cloves – minced garlic
1 tsp. – paprika
fresh ground black pepper
This is a very simple sausage recipe. Start by frying up the bacon until crispy. Usually in a bacon chicken sausage, you would leave the bacon raw and grind it up with the rest of the meat, but in this case, I decided that I wanted the crispy bacon flavor to come through (and for there to be less fat). I fried the bacon up and rendered it crispy then chopped it very fine and set it aside.
Next I ground the chicken. The best way to create sausage is for the meat (whatever type you may be using) to be chopped coarsely then to be chilled to almost freezing. This allows it to grind much cleaner. If you don't have a grinder, you can mince it by hand but you should use the same method of par-freezing the meat before mincing.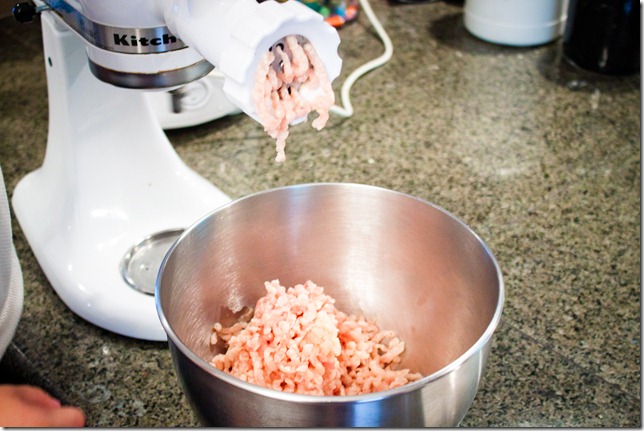 I next chilled it again then mixed in the remaining ingredients. Avoid the temptation to add much salt. The bacon is salty enough. Usually, when I make sausage, I take a small spoonful of it and fry it up to check the seasoning then adjust. I then normally pack the sausage in natural casings. In this case I didn't bother with the casings. Instead I just rolled the sausage into little logs and fried it.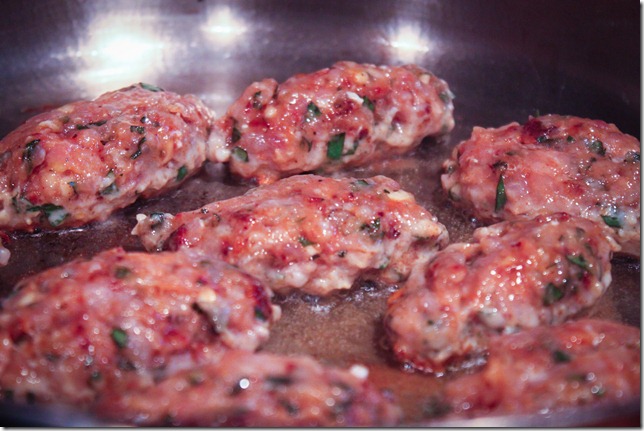 Pesto
2-3 cups – fresh basil
1/3 cup – pine nuts
minced garlic to taste
fresh ground black pepper to taste
1/2 cup – extra virgin olive oil
1/2 cup – grated parmesan cheese
Add the basil and pine nuts into a food processor (I use my Blendtec blender). Pulse until finely minced. Add garlic and black pepper. Start the food processor and slowly pour in the olive oil until it emulsifies (like dressing or mayonnaise). Stir in the cheese and then check the salt, pepper, and garlic. Add more if needed.
Bringing It All Together
Fresh Pasta
Chicken Sausage
1/2 cup – Pesto Sauce
1/2 cup – heavy whipping cream
halved grape tomatoes
minced basil
black pepper
Fry up the chicken sausage in a large stainless skillet (avoid nonstick if possible as the bits of browning will improve your pasta). Cook a large batch of fresh (or dried) spaghetti in lightly salted water. Once the pasta is al dente, drain lightly (I think a pasta should still be rather wet and hot) and toss into the large skillet with the sausage. Add the pesto and cream and toss everything well. Let it heat through (about 1 minute). Remove from heat and garnish with tomatoes, basil, and fresh black pepper.