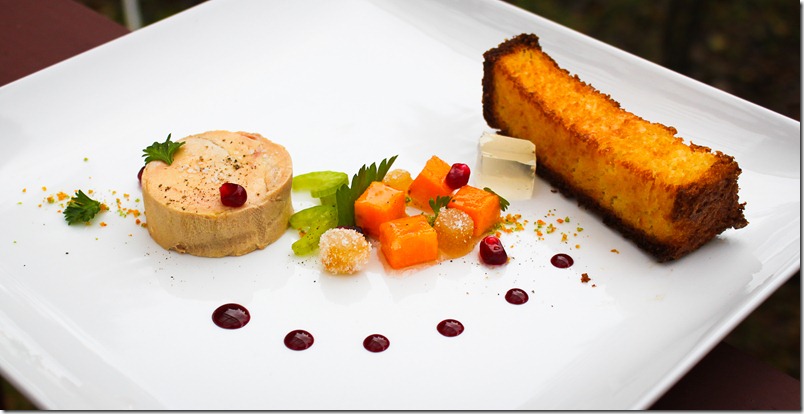 I made this lovely dish recently. It is fun, sophisticated, and I guess a bit controversial. These days you only hear about foie gras as something that certain groups are fighting against as cruelty to animals. While I don't want to enter that fight, I think Dan Barber's TED talk is an awesome take on the direction this industry should go. I also think that foie gras is delectable. I like to explain it as being really good duck flavored butter rather than as liver (it's not tinny like liver at all). When I went to purchase my foie, I found that my source, a butcher shop hidden deep within the Pike's Place Market was gone and had been replaced by a new shop that focused on locally grown fancy meat. When I asked the butcher if he carried it, he got all red in a face and started into some militant rant about how it is unsustainable. Oh well. Luckily, I found that Don and Joe's Meats (also in Pike's Place) carried a beautiful Grade A foie, sourced from an organic farm in California. They were even nice enough to cut a lobe in half for me, which at $75 a pound, was a kind gesture.
This recipe is basically the recipe from Thomas Keller's French Laundry cookbook (which I highly recommend), but dressed up in a different way. Here I combine three flavors that are currently in season: persimmons, celery, and pomegranate. Warning, this is a pretty tricky recipe. The first time I made foie gras, I pretty much ruined $50 worth. Foie gras has an amazingly low melting temperature. Just touching it can cause it melt. You should keep it cold at all times (minus the 90 seconds that it poaches), until the moment you plate it (then serve it at room temp).
Also, this recipe has many components…you've been warned (but still try it, seriously

).
The components are:
Foie Gras au Torchon
Brioche Toast
Merlot-Pomegranate Reduction
Candied Citron (for this I used the following recipe)
Terma Serrano Gelee
Persimmon and Celery flakes
Foie Gras au Torchon (as adapted from the French Laundry cookbook)
300 grams – Grade A Foie Gras (Moulard)
3 grams – kosher salt
1/2 gram – fresh ground white pepper
1/2 gram – sugar
1/4 gram – fresh ground nutmeg
1 gram (minus a bit) – sodium nitrite (pink salt)
Michael Ruhlman has a great photo deck with steps on doing there here. I started by rinsing the liver in cold water then letting it soak, fully immerse in milk, overnight in the refrigerator. The next day comes the fun part, which is removing all of the bleed vessels. Remove the very cold liver from the milk and place on a cutting board (or piece of parchment). Slowly and carefully butterfly it open with your fingers along the lines where primary veins are. This is pretty messy and difficult. I find that when my fingers heat up enough to melt the foie, it helps to rinse my hands in cold water. Don't be afraid to "break" the foie, you can always press it back together. Thomas Keller refers to is as being like PlayDoh, which is a great metaphor. It is better to err on the side of mashing the liver up rather than leave some vessels.
Now grind all of the remaining ingredients using a mortar and pestle until it is very fine. Add half of this mixture evenly to the bottom of a small airtight container. Press the deveined liver into this container tightly then sprinkle the rest of the seasoning on top. Now take a piece of plastic wrap and press it tightly over the top of the liver itself so that no air is touching the liver. Cover with the airtight lid and return to the refrigerator to rest overnight.
The next day, remove liver and wrap it tightly in parchment paper, rolling it into a tight log. The goal here is to form the foie gras into the desired shape and remove all of the air and gaps. Twist the ends of the paper to tighten the roll as well. If the foie seems to have warmed up (it will start to feel a little soggy), then return it to the refrigerator for a few minutes. Now remove the foie from the paper and wrap it tightly in a piece of cheese cloth. Start at the end of the cloth and roll it very tightly then twist the ends of the cloth. Using butcher twine, wrap the log tightly, tying at the ends, return to the refrigerator.
Add 2 quarts of filtered water and a 1/4 cup of kosher salt in a large sauce pot to make a light brine and bring to simmer. Prepare a large bowl with ice water (have a lot of ice still floating in the water) and set it near the stove. Plunge the foie gras log, cloth and all, into the simmering brine for exactly 90 seconds. Remove and set directly into the ice bath. Once the liver has completely cooled, suspend by one end and leave hanging in the refrigerator over night. I have found that placing it in a large vase suspended by a shish kabob stick works well.
Brioche (as adapted from the Bread Baker's Apprentice)
2.25 oz – unbleached bread flour
0.33 oz – instant yeast
4 oz – whole milk, lukewarm
5 – large eggs
16 oz – unbleached bread flour
1.25 oz – sugar
1 1/2 tsp – kosher salt
16 oz – unsalted butter
1 egg for egg wash
Begin by making the sponge. Place the 2.25 oz of flour and yeast into a large bowl, mix well. Pour the warm milk on top (without mixing in) then cover with plastic wrap. Allow to ferment for 20 minutes or until the sponge rises aggressively. Add the sponge to a food processor. Using the dough cutting attachment, whisk in the eggs, one at a time. Add the remaining dry ingredients and beat until smooth and the gluten has begun to develop. Let sit for 10 minutes. Add the butter, a quarter stick at a time, beating the dough with the food processor until the butter is completely incorporated before adding more.
Once the dough is fully incorporated, oil some plastic wrap and place the dough in a large flat rectangle onto it. Oil the rest of the plastic and cover tightly so that no air is between the plastic wrap and the dough. Place in the refrigerator and allow to slow ferment for no less than 48 hours.
On the day you are going to bake the bread, remove the dough from the refrigerator and divide into two pieces. Being careful not to overwork the dough or deflate it, carefully form a loaf on a lightly floured counter. Grease two bread pans press the dough firmly into the bottom of the pans. Allow to rise for 5-6 hours or until the dough has doubled and almost tripled.
Preheat oven to 350 degrees. Add 1 Tbsp of water to egg wash egg and beat until frothy. Lightly brush on the entire top of both loaves. Bake loaves until the centers read at 180 degrees (about 35 minutes). Cool on a rack.
Merlot-Pomegranate Reduction
1 cup – Merlot wine
1 cup – Pomegranate juice, divided
1 Tbsp – Agave syrup
1/2 cup – raw sugar
pinch of kosher salt
Add wine, 1/2 cup of the juice, agave, sugar, and salt in a sturdy medium sauce pot. Heat to a simmer and allow to reduce for 10-15 minutes or until it begins to thicken. Add the remaining juice and return to a simmer. Simmer until the reduction coats the back of a wooden spoon. Allow to cool completely then add to a fine tipped squeeze bottle.
Terma Serrano Gelee
There is a wonder drink product in Argentina called Terma Serrano. It is a mixture of bitter aromatic herbs that grow locally there. They often add a hint of citrus as well to cut the bitterness. I find this to be a great palate cleanser as you eat the rich foie gras so that you can better taste each bite.
1 cup – Terma Serrano
1 cup – Water
1 packet – Unflavored Gelatin
2 Tbsp. – Honey
Add 1/4 cup cold Terma to a bowl, sprinkle in the gelatin. Let sit for 10 minutes or until the gelatin has hydrated and absorbed all of the liquid. Heat water until boiling. Add boiling water and honey to the gelatin mixture. Mix until the gelatin and honey are fully dissolved. Add the remaining 3/4 cup of Terma and chill until set up.
Persimmon and Celery Flakes
1 – Hachiya Persimmon
3 stalks – Celery
Slice persimmon and celery across the grain as thinly as humanly possible into thin sheets. Line a baking sheet with parchment or a silpat and lay the slices flatly on the tray. Heat the oven to 200 degrees and dry the slices for several hours, flipping occasionally until the persimmon and celery have shrunk and dried to firm leather. Turn the oven off, crack the oven door, and allow the tray to dry overnight. The following morning, mince the dried persimmon and celery into tiny flakes, the size of pepper flakes.
Plating
1 – Jiro Persimmon
1 Tbsp. – Sugar
1 stalk – Celery
Sparse handful – Fresh Pomegranate Seeds
Sparse handful – Mixture of Crinkle Leaf and Flat Leaf Parsley
Salt/Pepper
Slice brioche into strips and toast in broiler. Peel and cube the persimmon, toss in sugar. Slice the celery as thin as possible. Cut a one inch thick slice of the foie gras and place on the plate. If it is not round enough, consider cutting the slab with a round biscuit cutter. Place bits of parsley, celery, persimmon, pomegranate, and citron artfully on the plate. Add the brioche toast and lightly sprinkle the dish with salt, fresh ground white pepper, and persimmon and celery flakes. Carefully drop a semicircle of the reduction on the plate. Cube the gelee and place as well.