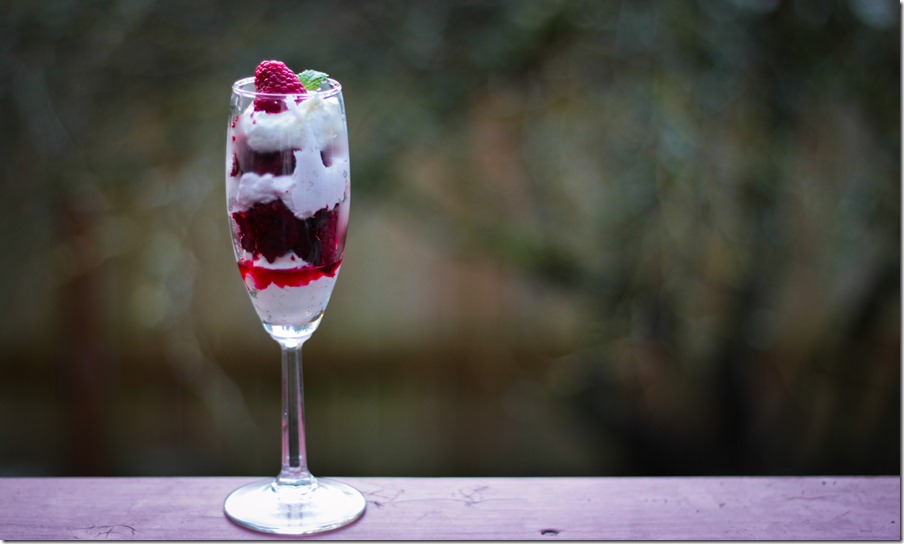 I made a simple trifle over the holidays that makes for nice party desserts. Rather than place the trifle in one big trifle dish, I made individual ones in wine flutes. This is a very simple recipe yet elegant and delicate, plus the colors are bright and festive. Since the colors are so bright and contrasting, the dessert would probably work well as the centerpiece of a party themed with the same colors.
Red Velvet Trifle
1 – Red velvet cake in a 13×9 inch baking pan (I just used a cake mix here. I know, I know, I always say to avoid processed foods, but in this case, its just a simple dessert, let's keep it that way)
4 cups – Heavy whipping cream
1 cup – white chocolate
1 cup – raspberry freezer jam (or another raspberry preserve of your liking), divided
1 cup – fresh raspberries
mint leaves for garnish
Dice the cake into 3/4 inch cubes. Whip the cream to soft peaks. Place the white chocolate in a microwave proof bowl. Heat the chocolate on 50% power for 1 minute. Stir well, if the chocolate needs more time, return to the microwave on 20 second intervals at 50% power. Once the chocolate is mostly melted, stop heating and stir until smooth. Once smooth, fold in a half a cup of the whipped cream into the bowl of chocolate gently using a rubber spatula. Add chocolate and cream mixture into the rest of the whipped cream and whisk until well incorporated and smooth (about 15-20 seconds). Divide the resulting white chocolate mousse into two bowls. One should contain 1/3rd of the mousse and the other 2/3rds. In the first 1/3rd, gently fold 1/4 cup of the raspberry jam.
Take a wine flute and add a small dollop of the white mousse in the bottom. Place 2-3 cubes of cake on top, pressing lightly. Then add a Tbsp. of raspberry jam (if your jam is thick, consider watering it down until it is slightly runny).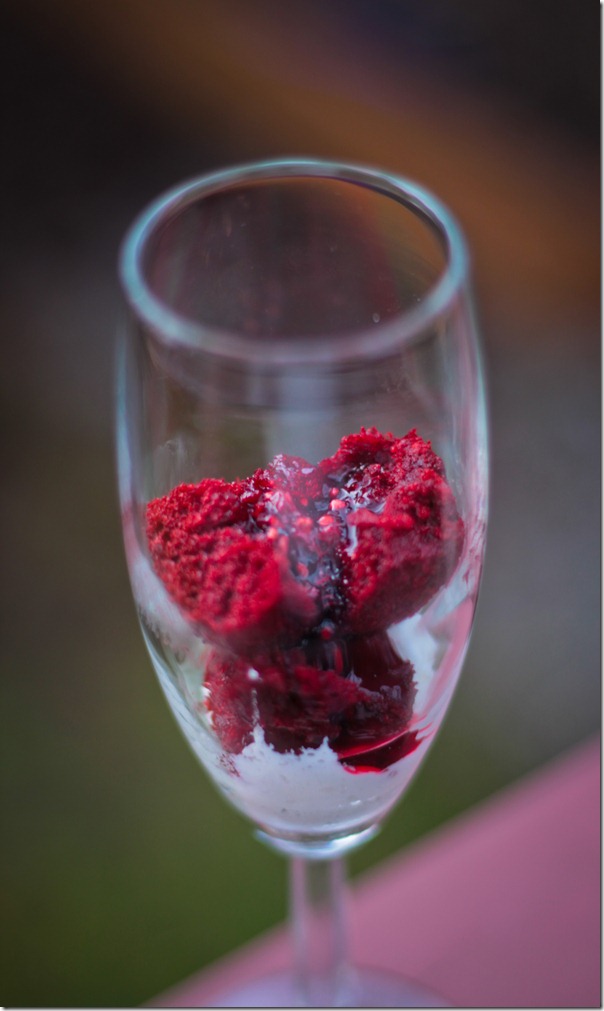 Now add a dollop of the pink (raspberry) mousse. Top with 2-3 fresh raspberries, then add 2-3 more cubes of cake. Now add a final dollop of white mousse. Garnish with a single fresh raspberry and a mint leaf. Repeat with more flutes.