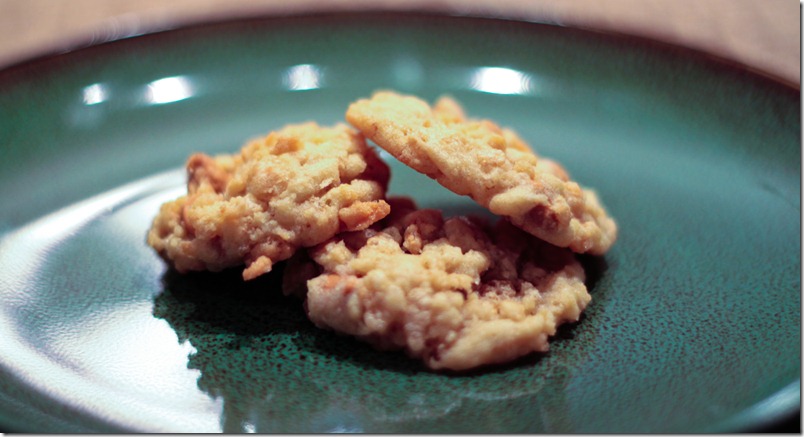 These cookies were a pleasant surprise. They are sweet, salty, and crispy. They remind me of the sort of cookies that the Momofuku Milk Bar have become famous for. I'm not always a fan of butterscotch but that great balance of salty sweet is the perfect use for it.
Crispy Butterscotch Cookies (original source)
1/2 cup – butter (room temp)
1 cup – sugar
1 – egg
1 tsp. – vanilla extract
1 1/4 cups – all-purpose flour
1/4 tsp. – salt
1/2 tsp. – baking soda
2 cups – rice crispy cereal
1 cup – butterscotch chips
Cream the butter and sugar in a large mixing bowl (or stand mixer) until very fluffy. Add vanilla and egg and cream again. Add flour, soda, and salt. Mix until well incorporated. Add cereal and chips and incorporate. Let chill at least one hour.
Preheat oven to 350 degrees Fahrenheit. Using a small ice cream scooper, scoop dough onto cookie sheet and bake for 12-15 minutes or until just done (they are already crispy so you can cook them very lightly so that they are a mix of soft and crispy at the same time).