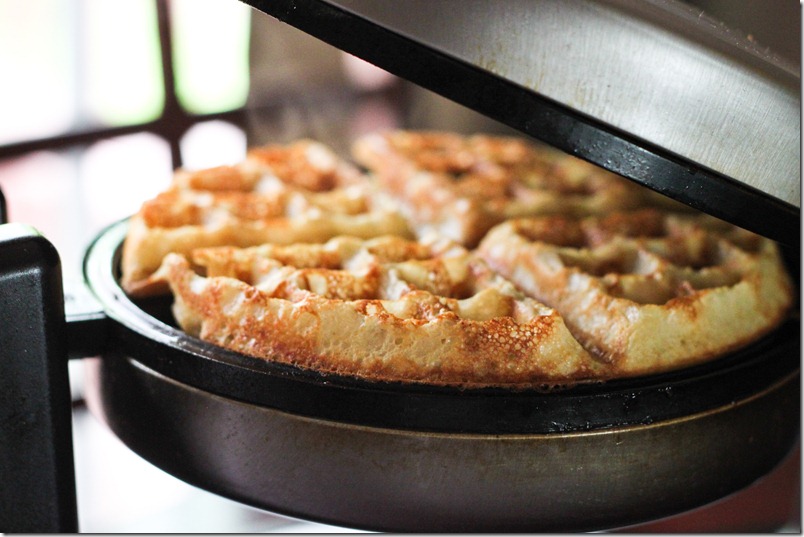 About a year ago I discovered overnight Belgian waffles. Since then, no other waffle has even tasted good in comparison. I don't want to over-hype a recipe, but this recipe really is in a different class from your standard waffle. When I make a waffle using most waffle recipes, I tend to cook them and cook them in an attempt to make them crispy. In this effort to have a crispy exterior, the waffles end up dry and often tough to eat. I also find most waffles to often be dense overly chewy.
This recipe is something entirely different. It is light to the point of being 'lacy'. It's almost like the waffle itself is mostly hollow. You feel like you can eat a dozen of them. They crisp well on the outside but stay light and moist on the inside. Also, due to the long yeasted rise time, the batter itself has a depth and flavor like you get in a good sourdough bread. This recipe requires a Belgian waffle maker (or at least, I've never tried it in a traditional waffle maker). I use a Waring Pro Belgian Waffle Maker because it has the flipping action (this also makes for a lighter 'hallow' waffle).
I've also used a press that didn't flip. I poured the batter in then flipped the waffle maker upside down until it was finished.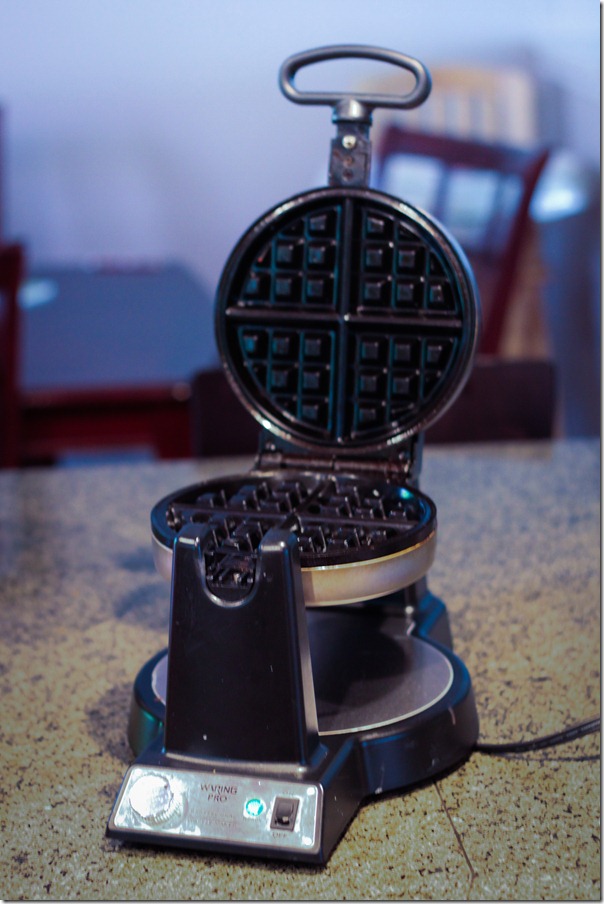 Overnight Waffles (adapted from the Waring Cookbook)
½ cup – luke warm water
1 tsp – sugar
2 ¼ tsp – yeast (one packet)
2 cups – warm whole milk
½ cup – melted butter
1 tsp – salt
2 cups – all purpose flour
2 – large eggs (beaten)
1 tsp – vanilla extract
¼ cup – dark rum (optionally use an additional 1 Tbsp vanilla extract and 1 tsp. of rum extract if you don't have rum or are concerned about it not cooking out)
¼ tsp – baking soda
The night before
Combine warm water, yeast, and sugar. Let sit for 5-10 minutes (or until it starts to foam). Add milk, butter, and salt (make sure that the butter isn't too hot or it will kill the yeast). Add flour (often good to sift flour in) and mix very well until all of the lumps are broken up and the batter is smooth.
Cover and let sit on the counter overnight.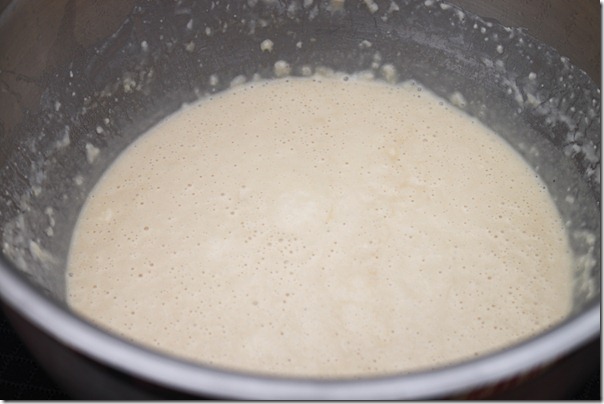 In the morning
Preheat waffle iron.
Add beaten eggs, vanilla, rum, and baking soda all at once. Mix well. The batter should be very thin.
Bake ½ cup amounts in the waffle iron.