For the most part, I tend to fall on the purist side of most food trends. I like to figure out how to make the 'authentic' version of a dish. I abhor most 'Americanized' dishes. Now, don't get me wrong. I love plenty of 'American' foods like hamburgers, pot roast, beans and ham hocks, and plenty of other foods, but I am not really a fan of corrupted foods like Taco bell and Panda Express. Let's face it, most Chinese food in the US isn't remotely authentic.
I have one very big exception to this rule, and that is when it comes to some of the Asian 'fusion' foods coming out of California right now. For example, fusion sushi is in no way authentic, I still love the authentic version, but it is innovative and delicious. With fusion sushi you will often find some of the fish has been broiled (so it's not really sushi) and it often includes various aioli's which adds richness and balance.
Another form of fusion food that is beginning to spread from California is Korean fusion. It is a mix of Mexican and Korean flavors and does a great job of capturing the great aspects of both! Often Korean fusion is attached to the Food Truck Movement since it likely originated from Mexican food trucks doing Korean food and Korean food trucks doing Mexican food. Actually, there is a (kind of poor quality) Korean food truck that sells burritos and tacos outside of the building where I work. While not every food truck knocks it out of the park, Korean fusion can be really great! I recently tried some Bulgogi tacos at Toi Tacos and loved them. I loved the combination of acidity with sweetness that comes from combining the bulgogi with the pickles, and I loved the flavor of the corn tortillas and the cilantro with the added texture from the crunchy cabbage (make sure and slice it as thinly as possible!). I decided that I had to find ways to improve on them so give these a try and tell me what you think!
Bulgogi Tacos
1 lb – Thinly sliced rib-eye steak (you can also just purchase a roast and ask your butcher to thinly slice it for you)
1/3 cup – Soy sauce
3 Tbsp. – Sugar
1 1/2 Tbsp. – Rice wine vinegar
1 Tbsp. – Sesame oil
3 cloves – Garlic, minced
1/2 – Onion, sliced into thin slivers
2 – Green onions, chopped
2 Tbsp. – Sesame seeds
black pepper
minced ginger
1/4 head – Cabbage, thinly sliced
1/2 cup – Kimchee, minced
2 – limes, quartered
1 cup – Cilantro, minced
1 cup – Simple pickles (from the Momofuku cookbook, see recipe below)
20 – Fresh corn tortillas
Sriracha (of course it has to have Sriracha if it's going to be great!)
Peanut oil
Mix the soy sauce, sugar, vinegar, sesame oil, garlic, and onion in a large bowl or dish. Mince the sliced beef, then add to the marinade mixture. Stir well, cover, and let rest for several hours in the refrigerator.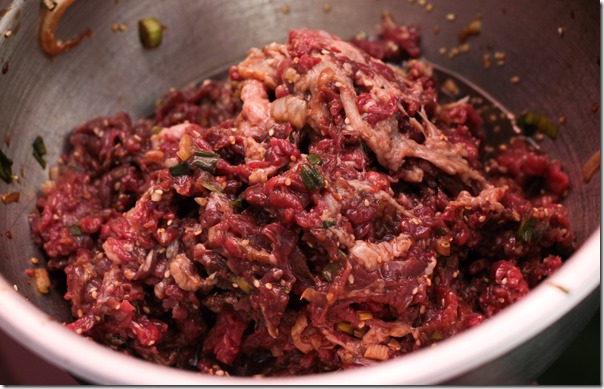 Prepare the pickles at least 15 minutes ahead of time. Prepare all of the toppings and have them on hand for building your tacos.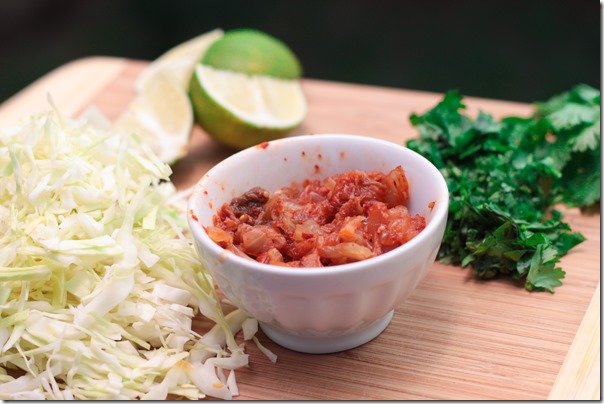 Heat a large cast iron pan or skillet on high heat. Add several tablespoons of oil and wait until it begins to smoke. Add the marinated meat and spread it somewhat thinly around the pan. Do not stir! Allow the beef to caramelize on one side before stirring or flipping.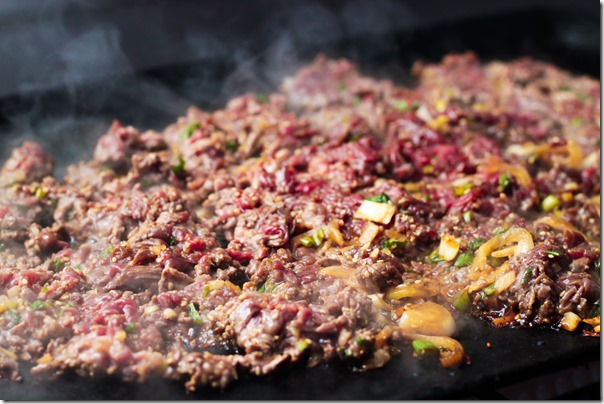 Allow the beef to caramelize well. It has a lot of sugar in the marinade, so if you cook it fast enough it will stay tender and moist while caramelizing the outside.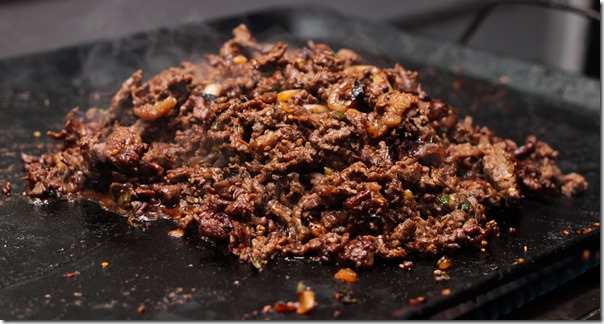 Warm the tortillas in a tortilla warmer. You can do this by placing them for 30-45 seconds in the microwave or until they are soft and pliable.
To prepare the tacos, lay two tortillas on a plant, one on top of the other. Place a generous serving of meat, cabbage, kimchee, pickle, and cilantro. Add Sriracha to taste.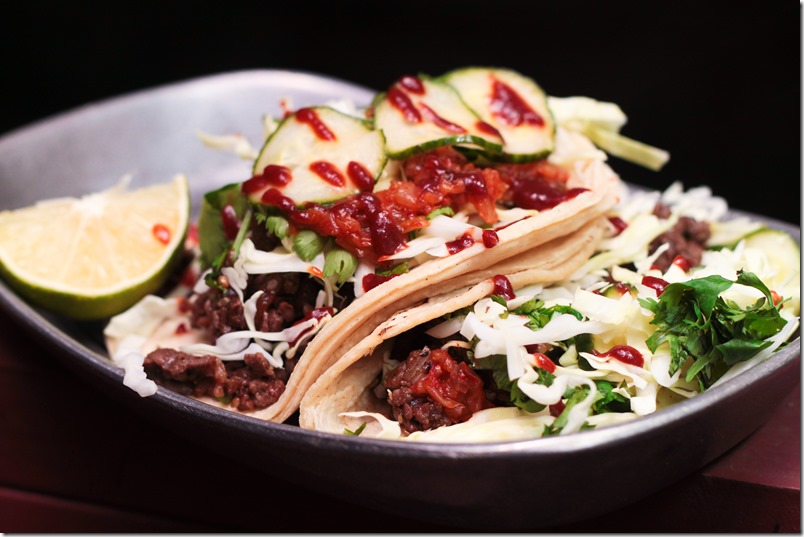 Simple Pickles (from the Momofuku cookbook)
1 – English cucumber
1 cup – Boiling water
1/2 cup – Rice wine vinegar
3 Tbsp. – Kosher salt
6 Tbsp. – Sugar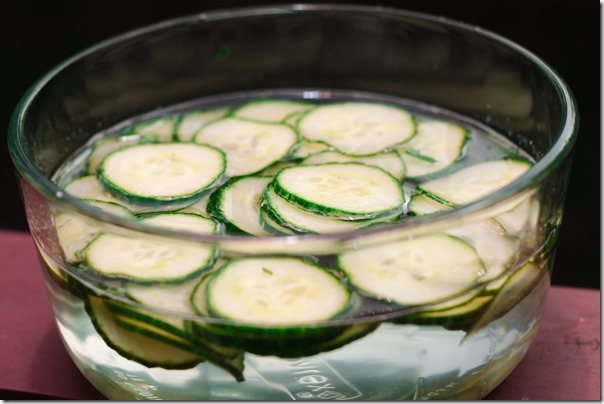 Stir all of the ingredients together except for the cucumbers in a small bowl. Stir until the sugar and salt dissolve completely. Add the cucumber slices and let rest at room temperature for at least 15 minutes. Stays good in the fridge for several weeks.